Holiday Cheer for FUV 2022: Recap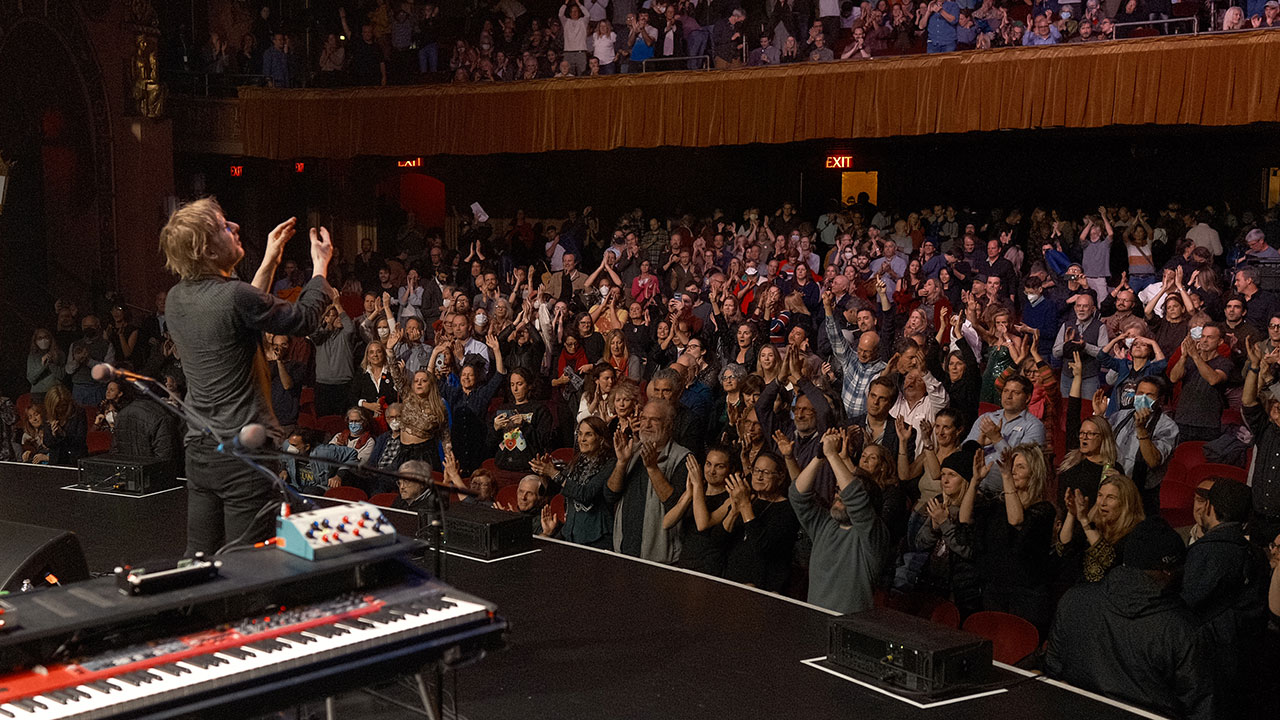 See: Holiday Cheer Photo Album on Flickr
"Holiday Cheer is back!" Those wondrous four words, spoken by this year's host, Anthony Mason of CBS News as he led off 2022's Holiday Cheer for FUV, have never sounded sweeter.
As Mason pointed out, it has been 1092 days since the last Holiday Cheer for FUV in 2019, a three-year arc of absence that embodied a global experience — the pandemic, profound loss, renewal, and hope. This year's 16th benefit concert for the radio station, back at the Beacon Theatre, was no ordinary event, but an affirmation of resilience and fresh beginnings for FUV staffers, the musicians on the bill, and the many listeners and station supporters in the audience — a night of nocturnal sunshine on a rain-drenched December evening in New York City.
And what a lineup of musicians — Spoon, Lucius, Christone "Kingfish" Ingram, and newcomers Say She She. The quartet of acts represented the breadth of what listeners love about WFUV, the deft segues between diverse genres: funked-up soul, gritty blues, ethereal folk-pop, and straight-up rock 'n' roll.
Mason, one of this country's greatest music journalists, was a new face too, serving as emcee. Stepping into the well-worn cowboy boots of FUV's late program director and former Cheer host Rita Houston wasn't an easy task. Mason graciously introduced himself to the crowd as a "first-time host, longtime listener" and spoke tenderly about Houston's cool "Cheshire cat grin" and their own friendship, forged over years of concerts, and now carried through this baton pass of hosting. His affection for Rita, the radio station, and the night's musicians was a trifecta of bonhomie, and as a music lover, Mason's own insight on songs as salvation in times of crisis set the evening's emotional tone.
"In the deepest, darkest days of the pandemic, some great music was made," said Mason — a fact quickly affirmed by opener Say She She, a fast-rising New York collective that bloomed during the lockdown. Led by vocalists Sabrina Cunningham, Piya Malik, and Nya Gazelle Brown, Say She She released their debut album this year, Prism, which brims with the sleek grooves and scrappy mood of New York clubbing in the Seventies.
While usually a septet, tonight's turnout of nine players — brass, guitar, keys, drums and the honeyed harmonies of Cunningham, Malik and Brown — might have lacked a glittering disco ball spinning in the rafters, but the vintage Studio 54 vibe was clearly palpable. Say She She's chiming single "Prism," a decadent descendant of the Three Degrees, kicked off their short but effective set.
Decked out in ethereal white mini-dresses, like a celestial chorus of snow angels, Cunningham, Malik, and Brown adroitly switched off lead vocals, showing off their fluidity and confidence. Debut single "Forget Me Not," inspired by feminist activists Guerilla Girls, and album track "Norma," a reproductive rights anthem, not only dived into the steely funk chops of Say She She, but their own mission. They might dub themselves as "disco-delic" and revel in forebears like Chic and Rotary Connection, but there's a heartening, arresting sociopolitical side to what Cunningham, Malik, and Brown want—and need—to say lyrically.
In fact, conversations and frank exchanges were an undertow to this night's Cheer. The dialogue that blues prodigy Christone "Kingfish" Ingram has not only with his audience, but his guitar — on this night his dark purple Kingfish Telecaster Deluxe (the color meant to evoke a "dark winter sky" in his hometown of Clarksdale, Mississippi)—is startling in its intimacy, touched with hues of grief, courage, and longing. In his intro, Mason spoke of Christone's father showing the then five-year-old Ingram a video of Muddy Waters playing the guitar—and the child's realization of his own destiny. That ferocious determination, a life's work for this 23-year-old marvel, was breathtaking to behold on stage.
Nominated for a Grammy for his 2019 debut album, Kingfish, and a 2022 Grammy winner in the category of Best Contemporary Blues Album for 2021's 662 (an homage to the Clarksdale area code), Ingram's mastery of his guitar is manifold. He's not only an intuitive interpreter of classic blues, but his performance tonight spoke to something far more primordial and psychological — that volcanic emotional release for everyone navigating the harshness and unpredictability of the last handful of years. The internal inferno evident in Ingram's performance, as he threw his head heavenward and his fingers cascaded down the fretboard in the explosive language of the blues, brought the audience to its feet.
Kingfish plays his guitar tightly against his body, with a meditative stillness, even when careering through stompers like "She Calls Me Kingfish" or a moody cover of Warren G and Nate Dogg's 1994 hit "Regulate," which samples the repetitive lope of Michael McDonald's "I Keep Forgettin' (Every Time You're Near)." Although Ingram sings, his Telecaster is the true lead vocalist — keening, growling, sighing, and seducing in a constant dialogue with the man holding it.
Decked out entirely in black, aside from cardinal red sneakers, Ingram sometimes tugged at a woolly watch cap on his head — at one point completing a tricky riff with his right hand while concurrently adjusting his hat with the left.
Joined by bass guitarist Paul Rogers, keyboardist Claude Hinds, and drummer Chris Black, Ingram also brought out special guest Vernon Reid of Living Colour fame for an absolutely mesmerizing duet on Jimi Hendrix's twelve-bar blues masterpiece, "Red House." Reid, playing a Hamer guitar from the '90s, later said backstage that he and Kingfish met on a blues cruise and hit it off — which seems an understatement for the two men who have struck up such an obvious artistic camaraderie onstage. They unwrapped Hendrix's song with a playful, thorny ferocity, prowling the stage, and truly conducting a master class in guitarmanship for everyone at the Beacon Theatre. The audience roared and gave the pair another standing ovation — and again at the end of Ingram's five-song set. The response was so rapturous that an overwhelmed Ingram returned to the stage to document it with his smartphone (Catch up to Ingram's equally compelling FUV Live show at Rockwood Music Hall earlier this year).
At intermission, Mason brought out all of the FUV DJs who were at Cheer this evening — Paul Cavalconte, Delphine Blue, Dennis Elsas, Darren DeVivo, Russ Borris, George Evans, Benham Jones, Alisa Ali, Eric Holland, Kara Manning, Janet Bardini, and Corny O'Connell (Don McGee, Bob Sherman, and John Platt were there in spirit).
As the air staff left the stage, a band that bridged FUV Cheers of past and Rita Houston's legacy — Lucius — were in the wings. First appearing at Cheer back in 2015, Lucius's return in 2022 was a snapshot of what FUV does so well — supporting new artists from the beginning and then happily watching their careers take off. Lucius has certainly done that; they are nominated for a batch of Grammys this year, including Record and Song of the Year, thanks to their collaboration with Brandi Carlile, "You and Me on the Rock."
Lucius's latest album, 2022's Second Nature, was produced by Carlile along with Dave Cobb, and it expands on Holly Laessig and Jess Wolf's folk-pop proclivities, dipping into disco-thumping dancefloor turns and country ballads.
For their Cheer performance, Laessig and Wolfe stripped things back to an acoustic set, accompanied by just two guitars and a standup bass, which offered a different, dreamier angle to Second Nature's "The Man I'll Never Find," a torchy heartbreaker, and the sensually sleek "Promises," their own disco-delic single from that album.
A cover of Gerry Rafferty's 1978 classic "Right Down the Line," recorded by Lucius for their 2018 acoustic album, Nudes, was also a set highlight, doubling down on the beautiful convergence of Laessig and Wolfe's voices, oceanic waves of pure harmony.
As is their habit, Laessig and Wolfe faced each other as they sang and, akin to Ingram and Reid's instrumental colloquy, Lucius's vocal dialogue throughout their set was concurrently intimate and inclusive, especially on their final song, "Woman," again from Nudes. The lyrics certainly fit this inclement night: "Why you in my every moment? Why you in my every mood? And when I look at you, It's through the pouring rain."
Few duos do full-throttle style quite like Jess and Holly — and rather than bringing along a disco ball, they pretty much dressed as two, with Holly (pantsuit) and Jess (baby doll dress) shimmering in outfits made entirely of silver paillettes — serving as both a canny salute to Audrey Hepburn and her famous '60s Paco Rabanne dress and a multitude of stars atop a Christmas tree.
It was Lucius's last gig of the year and this New York show seemed especially meaningful for the band — when an audience member shouted out "I love Lucius!" mid-set, they beamed. "It has been so wonderful being back on the road after such a long time," said Laessig at their performance's end, as they thanked WFUV and, again, were cheered on by an appreciative crowd.
If any Cheer band best demonstrated Mason's top-of-the-show theory that the dark days of the pandemic produced some truly great music — plus perseverance — that would be Spoon.
The Austin, Texas rockers celebrate their 30th year as a band in 2023, and in 2022, they've just scored their first Grammy nomination, in the Best Rock Album category, for Lucifer on the Sofa, their first album in five years and the first to be recorded in Austin after they recorded for years in other far-flung locales, from Portland, Oregon to Los Angeles, California.
Lucifer on the Sofa, which has also made dozens of Best Of 2022 album lists (including those of some of FUV's DJs) is very much a homecoming album for original members Britt Daniel and Jim Eno. Their shows this year have reflected their happiness with this new album, and that satisfaction has pumped their performances with the fresh, fierce energy, very much an ascendance from pandemic darkness to light. In fact, that's just how the band walked onstage, in pitch black, to Toots and the Maytals' "54-46 Was My Number" (one of Spoon's faves), as the stage brightened to reveal the quintet, who launched into "Wild," a song they also smashed on "The Late Show with Stephen Colbert" on the eve of FUV Cheer.
"We thought we were almost done with the record when the pandemic hit," Daniel told the Austin American-Statesman earlier this year, about Lucifer on the Sofa. "And then I ended up writing a lot more songs. It was the thing that made me feel the most normal during the thick of the lockdown. Then I knew that we had to get rid of some of the songs we had recorded, because these were better. So it just gave us more songs, and probably made it a stronger record."
Guitarist Gerardo Larios and bassist Ben Trokan are Spoon's newest members and add a gritty depth. Eno is as low key and fantastic as ever (The face of Little Richard was splashed across his bass drum), and guitarist and keyboardist Alex Fischel is a headbanging cyclone and Britt Daniel's best foil. 
Time didn't get in the way of a set that highlighted all aspects of this long-lived band's career. They ricocheted from older material, like "The Fitted Shirt" from 2001's Girls Can Tell and "Got Nuffin" from their 2009 EP of the same name, to some of those standouts on Lucifer on the Sofa, like "Wild" and slow-burning "My Babe."
But their live version of "The Hardest Cut" from totally nailed why Spoon has a Grammy nod for their feverish tenth album — Daniel left his guitar to the side for the song's first half and wailed with unbridled freedom and physicality; the brute force of the song, and its torrential, juicy hooks, really draws parallels between Spoon and the Rolling Stones, a bridge that casual fans of Daniel might not have spotted in the past. (As well as Queens of the Stone Age; Lucifer on the Sofa was produced by QOTSA vet Mark Rankin). Daniel exuberantly indulged in a few Jaggeresque-style theatrics, clasping his hands to his heart and falling to his knees.
Of course, it's impossible not to dance when Spoon unleashes "The Underdog," which is (astonishingly) 15 years old this year. After hurtling through "I Turn My Camera On," from 2005's Gimme Fiction, and "Inside Out," found on 2014's They Want My Soul, Daniel checked the time (10:52 p.m.) and plaintively asked "We gotta go?" before squeezing in "Rent I Pay," also from They Want My Soul and a common set closer for Spoon on their gigs this year.
It was, without question, the hardest rocking denouement to any FUV Cheer — and one that also left no doubt that Cheer audiences, on their feet and throwing abundant affection at a very sweaty Spoon and every performer on the bill, were the absolute best. We've made it through 1092 days, and some days were far harder than others, but in the end, we all got back to the Beacon. And damn, did we celebrate.
Find Holiday Cheer for FUV photos via our Flickr stream. The full Holiday Cheer for FUV: Live from the Beacon Theatre concert will be broadcast on Saturday, December 24 at noon and Sunday, December 25 at 6 p.m.
Thanks to everyone who attended this year's Holiday Cheer for FUV, and you can find video clips and photos via all of our social media platforms: Facebook, Twitter and Instagram.
Setlists:
Say She She
"Prism"
"Forget Me Not"
"Norma"
"Blow My Mind"
Christone "Kingfish" Ingram
"She Calls Me Kingfish"
"Empty Promises"
"Red House" featuring Vernon Reid (Jimi Hendrix cover)
"Regulate" (Warren G and Nate Dogg cover)
"Long Distance Woman"
Lucius
"Dusty Trails"
"Right Down the Line" (Gerry Rafferty cover)
"Promises"
"The Man I'll Never Find"
"Tempest"
"Two of Us on the Run"
"Woman"
Spoon
"Wild"
"The Fitted Shirt"
"You Got Yr. Cherry Bomb"
"The Hardest Cut"
"My Mathematical Mind"
"Lucifer on the Sofa"
"The Underdog"
"My Babe"
"Got Nuffin"
"Do You"
"I Turn My Camera On"
"Inside Out"
"Rent I Pay"
Special thanks to MSG Entertainment and The Beacon Theatre.
Holiday Cheer for FUV is supported by Little Pub: A rustic neighborhood gathering place with a relentless focus on customer service, value, and fun. Connecticut locations in Fairfield, Greenwich, Old Saybrook, Stratford, and Wilton.
WFUV is supported by the Surfside Beach Hotel and Surf Club in Point No Point, CT. What will be your Surf Side Story?
Holiday Cheer for FUV is supported by Little Pub: A rustic neighborhood gathering place with a relentless focus on customer service, value, and fun. Connecticut locations in Fairfield, Greenwich, Old Saybrook, Stratford, and Wilton.
WFUV is supported by the Surfside Beach Hotel and Surf Club in Point No Point, CT. What will be your Surf Side Story?