Lucius: Holiday Cheer for FUV 2022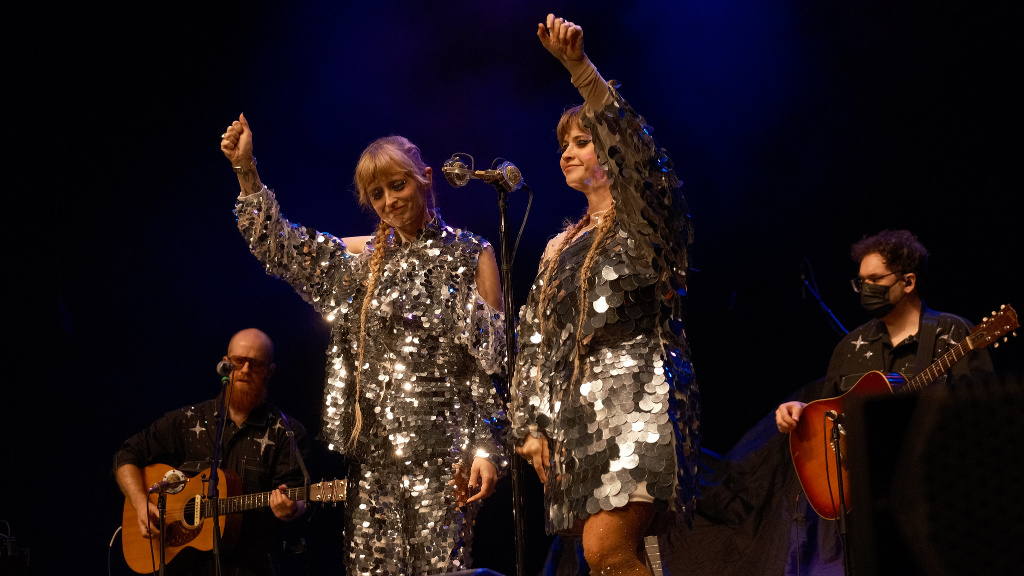 Listen to Lucius's set above, or stream 2022's Holiday Cheer for FUV: Live from the Beacon Theatre in its entirety.
---
Lucius eloquently bridges FUV Cheers of past — they first appeared at Cheer back in 2015. Their return in 2022 was a snapshot of what FUV does so well — supporting new artists from the beginning and then happily watching their careers take off. Lucius has certainly done that; they are nominated for a batch of Grammys this year, including Record and Song of the Year, thanks to their collaboration with Brandi Carlile, "You and Me on the Rock."
Lucius's latest album, 2022's Second Nature, was produced by Carlile along with Dave Cobb, and it expands on Holly Laessig and Jess Wolf's folk-pop proclivities, dipping into disco-thumping dancefloor turns and country ballads.
For their Cheer performance, Laessig and Wolfe stripped things back to an acoustic set, accompanied by just two guitars and a standup bass, which offered a different, dreamier angle to Second Nature's "The Man I'll Never Find," a torchy heartbreaker, and the sensually sleek "Promises," their own disco-delic single from that album.
A cover of Gerry Rafferty's 1978 classic "Right Down the Line," recorded by Lucius for their 2018 acoustic album, Nudes, was also a set highlight, doubling down on the beautiful convergence of Laessig and Wolfe's voices, oceanic waves of pure harmony.
As is their habit, Laessig and Wolfe faced each other as they sang and, akin to Ingram and Reid's instrumental colloquy, Lucius's vocal dialogue throughout their set was concurrently intimate and inclusive, especially on their final song, "Woman," again from Nudes. The lyrics certainly fit this inclement night: "Why you in my every moment? Why you in my every mood? And when I look at you, It's through the pouring rain."
Few duos do full-throttle style quite like Jess and Holly — and rather than bringing along a disco ball, they pretty much dressed as two, with Holly (pantsuit) and Jess (baby doll dress) shimmering in outfits made entirely of silver paillettes — serving as both a canny salute to Audrey Hepburn and her famous '60s Paco Rabanne dress and a multitude of stars atop a Christmas tree.
It was Lucius's last gig of the year and this New York show seemed especially meaningful for the band — when an audience member shouted out "I love Lucius!" mid-set, they beamed. "It has been so wonderful being back on the road after such a long time," said Laessig at their performance's end, as they thanked WFUV and, again, were cheered on by an appreciative crowd.
Lucius Set List:
"Dusty Trails"
"Promises"
"The Man I'll Never Find"
"Tempest"
"Two of Us on the Run"
"Woman"
(Lucius's version of Gerry Rafferty's "Right Down the Line" is not available)
Special thanks to MSG Entertainment and The Beacon Theatre.
Holiday Cheer for FUV is supported by Little Pub: A rustic neighborhood gathering place with a relentless focus on customer service, value, and fun. Connecticut locations in Fairfield, Greenwich, Old Saybrook, Stratford, and Wilton.
WFUV is supported by the Surfside Beach Hotel and Surf Club in Point No Point, CT. What will be your Surf Side Story?