Be part of the community of listeners who support this non-commercial public radio station. Join the family: WFUV Contribution Form or 833-907-WFUV (833-907-9388)
Become a Member
WFUV members help create great radio with their tax-deductible financial support, contributing most of WFUV's funding.
 Become a Sustaining Member: Your monthly contribution by credit card is an option that saves us all time, paper and postage, and helps us plan for long-term support. We'll remind you annually that you're eligible to choose a new thank-you gift, and you can opt out anytime, of course. Join us with your monthly gift. 
FUV Live CDs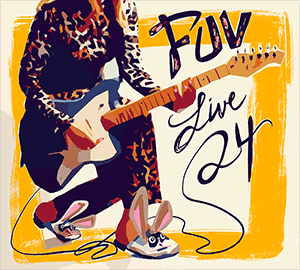 Every year, we comb through all our Studio A live sessions and culls the most outstanding performances from our radio sessions. Only the most recent collection is available at any time.
FUV Live 24, available Fall 2021-2022
Track list:
1. Lake Street Dive, "Hypotheticals"
2. Sylvan Esso, "Ferris Wheel"
3. Future Islands, "For Sure"
4. Arlo Parks, "Hurt"
5. Ani DiFranco, "Simultaneously"
6. Manchester Orchestra, "Bed Head"
7. Adrianne Lenker, "Anything"
8. Local Natives with Sharon Van Etten, "Lemon"
9. Steve Earle, "Devil Put the Coal in the Ground"
10. Deep Sea Diver, "Impossible Weight"
11. Nicole Atkins, "Forever"
12. Black Pumas, "Sweet Conversations"
13. Julien Baker, "Faith Healer"
14. The Hold Steady, "Family Farm"
15. Kathleen Edwards, "Options Open"
16. Matt Berninger, "One More Second"
17. Jade Bird, "Headstart"
18. The Mountain Goats, "Picture of My Dress"
19. The Avett Brothers, "Victory"
20. Laura Marling, "Strange Girl"
21. David Gray, "Heart & Soul"
22. Tune-Yards, "Hold Yourself"
23. Nada Surf, "So Much Love"
 
 Give the Gift of WFUV!
WFUV membership makes a great gift for a birthday or holiday. The new member receives a nice present from us, plus twelve months of love (and MemberCard discounts, and Member Line chances for tickets). Use the WFUV Contribution Form - Choose 'Give membership as a gift.' You can print out one of our cards to notify your giftee: 'Somebody Loves You' or 'You've Been Given a Gift.'
Play a Bigger Role
You're invited to begin a deeper relationship with WFUV. Every community needs a few "stars" to shine a light on the future. Your generous gift at one of our WFUV Marquee levels helps us grow, and brings you closer to the music. Read more on our WFUV Marquee page. Gifts of any amount are also welcome in the form of bequests, annuities, or gifts of stock. Contact Alexis Harrigan for more info.
More Ways to Support FUV
Benefit your radio station with your Amazon.com and iTunes purchases, by donating a car to us, with employee matching gift programs, and more.
See: More Ways to Support FUV
Questions? Write us: Membership Department, WFUV, Fordham University, Bronx, NY 10458. By phone: 718 365-2970, or e-mail membership@wfuv.org. Our toll-free contribution line: 833-907-WFUV (833-907-9388)
PDF
WFUV 'Love' Gift Certificate
WFUV Gift Certificate