Say She She: Holiday Cheer for FUV 2022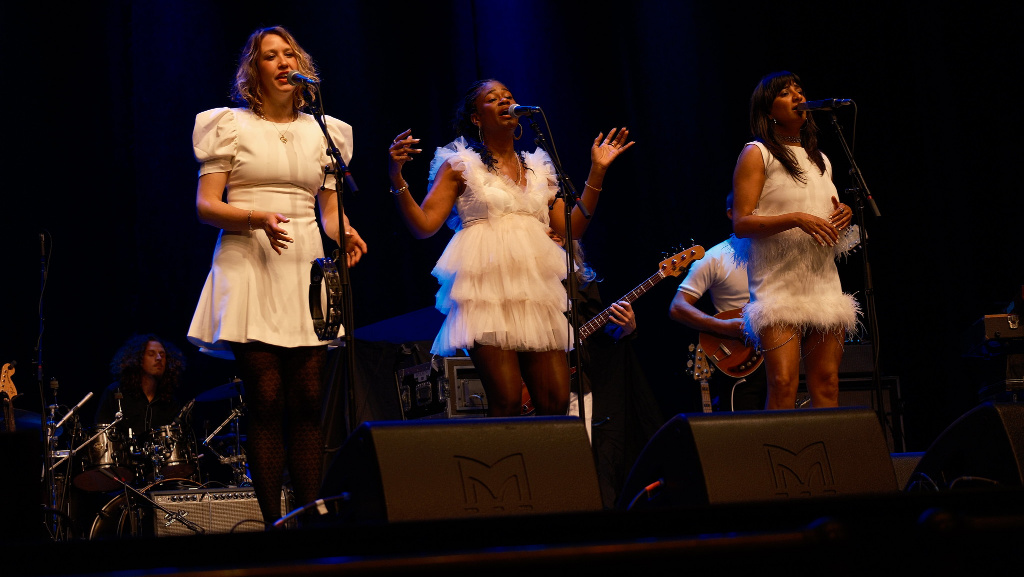 Listen to Say She She's set above, or stream 2022's Holiday Cheer for FUV: Live from the Beacon Theatre in its entirety.
---
"In the deepest, darkest days of the pandemic, some great music was made," said Anthony Mason of CBS News, the host of this year's Holiday Cheer for FUV, as he introduced the evening's journey of terrific music and much-needed camaraderie.
Mason's observation was quickly affirmed by opener Say She She, a fast-rising New York collective that bloomed during the lockdown. Led by vocalists Sabrina Cunningham, Piya Malik, and Nya Gazelle Brown, Say She She released their debut album this year, Prism, which brims with the sleek grooves and scrappy mood of New York clubbing in the Seventies.
While usually a septet, this night's turnout of nine players — brass, guitar, keys, drums and the honeyed harmonies of Cunningham, Malik and Brown — might have lacked a glittering disco ball spinning in the rafters, but the vintage Studio 54 vibe was clearly palpable. Say She She's chiming single "Prism," a decadent descendant of the Three Degrees, kicked off their short but effective set.
Decked out in ethereal white mini-dresses, like a celestial chorus of snow angels, Cunningham, Malik, and Brown adroitly switched off lead vocals, showing off their fluidity and confidence. Debut single "Forget Me Not," inspired by feminist activists Guerilla Girls, and album track "Norma," a reproductive rights anthem, not only dived into the steely funk chops of Say She She, but their own mission. They might dub themselves as "disco-delic" and revel in forebears like Chic and Rotary Connection, but there's a heartening, arresting sociopolitical side to what Cunningham, Malik, and Brown want—and need—to say lyrically.
Say She She Set List:
"Prism"
"Forget Me Not"
"Norma"
"Blow My Mind"
Mixed by Jim O'Hara and produced by Sarah Wardrop. Special thanks to MSG Entertainment and The Beacon Theatre.
Holiday Cheer for FUV is supported by Little Pub: A rustic neighborhood gathering place with a relentless focus on customer service, value, and fun. Connecticut locations in Fairfield, Greenwich, Old Saybrook, Stratford, and Wilton.
WFUV is supported by the Surfside Beach Hotel and Surf Club in Point No Point, CT. What will be your Surf Side Story?