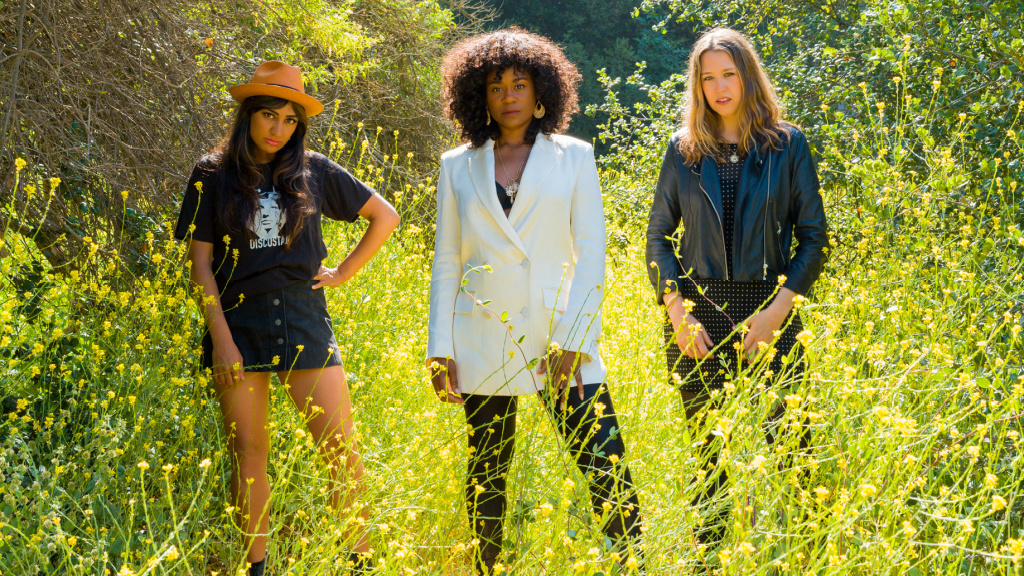 This year's Holiday Cheer for FUV is just days away — a night of stellar musicians in concert and camaraderie, featuring 2023 Grammy nominees Spoon and Lucius, and a 2022 Grammy winner, blues prodigy Christone "Kingfish" Ingram.
Also part of that starry roster is the night's opening act — a fast-rising young band based right here in New York City: Say She She. Over the many years of Holiday Cheer history, FUV has always set aside a prominent slot to an emerging artist or group that we think our listeners will love as much as we do — and those selections have included The Lone Bellow (2014), The Record Company (2016), Lo Moon (2017), and even Lucius themselves, back in 2015.
Say She She, a self-described "disco-delic" soul band, originally hails from New York (Sabrina Cunningham), London (Piya Malik), and Washington D.C. (Nya Gazelle Brown). They released their debut album, Prism, earlier this year, and the bandmates that accompany this core trio of singers (and close pals) are from Los Angeles, Detroit, Cincinnati, and Colombia.
I reached out to Sabrina, Piya, and Nya over email and learned more about their journey from friendship to this first album:
Prism has come galloping out of the gate with positively buzzy reviews and airplay. But this hardly happened overnight. What has the release of your debut album meant personally to you?
Sabrina: We feel so lucky that we've been able to put this music out into the world — we really see this album as a time capsule of what we were going through during those years. Bad breakups, the loss of a parent, finding a new love.
Piya: And the culmination of us being in lockdown, when we came to bring them together as a record, made us adopt a particular mixing sound that felt soothing for the listener.
Sabrina, you and Piya met as New York neighbors with very thin walls and conflicting rehearsal schedules. Do you remember what you were each singing? Who knocked on whose door first?
Sabrina: Yes! I had been living in my studio apartment in the Lower East Side for about a year and then one day I heard someone singing from the apartment above. The voice was a bit muffled, so it was hard to make out exactly what it was, but I realized after a few minutes that she was singing in another language (Hindi!) and of course I was immediately intrigued.
I assumed that she may have heard me singing as well, given I was in a couple other bands at the time. Turns out she had. We still hadn't met, but I left a plateful of thumbprint cookies on her doorstep before I drove upstate for the holidays that year. When I returned in January there was a bottle of champagne on my doorstep and we finally met a few weeks later and became fast friends!
And Piya, in turn, you met Nya at a DIY house show in Harlem. When did the three of you come together and find that your harmonies and songwriting instincts — or even mutual goals — made sense?
Piya: We already had a sense of that having been friends for years and having written songs with both of them, I knew they would really enjoy each other's sensibilities too.
How did the pandemic affect that forward momentum? Did it interfere with the recording of the album?
Sabrina: The limitations we faced during the pandemic sort of defined our sound in a way. Luckily, we had the most beautiful instrumental tape stems that we had recorded at Joey Crispiano's studio down in DUMBO in 2019, so when the lockdown hit, we made it our mission to utilize those stems and remote produce and mix our songs.
Nya: Additionally, we were able to get into our friend Merle's spot – Atomic Studios in Red Hook, Brooklyn — and safely record our vocal overdubs. The studio is incredible, with three separate isolated vocal booths, so we were able to lay down our parts without the fear of spreading Covid.
Sabrina: Many hours of remote production and mixing followed, thanks to our collaborators Max Shrager (additional production) and Shawn Simmons (mixing engineer) and Sean Brennan. Prism finally came together in 2021.
Your debut single, "Forget Me Not," has a title that might give a nod to Patrice Rushen, but it's inspired by the feminist movement Guerilla Girls, which evolved in the '80s. What have you learned from Guerilla Girls, especially your friend Alice Neel, that has informed you in the message or mission of Say She She?
Piya: We learnt the value and power of working with other women to create social change. We wanted to look to these women's movements who had achieved so much and take lessons without feeling the need to reinvent the wheel.
Sabrina: Organization, being forthright, unafraid, and using your art to make a statement. Using art to protest is not a new idea, but they did it in a unique way with statistical and evidenced-based campaigning through the use of visual and tangible posters.
Say She She is now seven members — and you record live to tape and self-produce. How does analog recording augment the overall vibe and mood of what you seek in a final mix?
Piya: We love recording live to tape! Using analog recording techniques can actually make things more simple, as it forces us to work with tangible limitations and can make us more honest in the expression of who we are. There is something so truthful about singing together in the room while we record and capture the live performance as is.
We love listening to the old girl groups of the '60s and '70s with all the imperfections and fragility in the voices at times. It's those vulnerabilities that make us feel so connected to them as the listener. We lean into the hope people will also feel the same about us. We don't record anything that we can't sing and recreate live. Ultimately we are a live band that lives and strives for the show and so in some ways, if the recording process can also somehow emanate that performance aspect too, then we are more likely to have fun. We always believe that the mood of a song or a performance is always transferred somehow to the listener.
Your album also reflects some of the side projects you've done and friends you've made over the years with other bands via guest musicians from Chicano Batman; The Shacks, The Dap-Kings, Twin Shadow and Antibalas. What does that eclectic mix of musicians bring to the Say She She aesthetic? 
Nya: We've got an incredible lineup of musicians on this album! Prism features contributions from so many of our friends who really pulled together and chipped in to help us make it! From Dap-Kings' Joey Crispiano and Victor Axelrod, to Max Shrager (The Shacks), Bardo Martinez (Chicano Batman), Nikhil Yearwadekar (formerly of Antibalas), Andy Bauer (Twin Shadow), Matty McDermot (NYPMH), Steve Okonski (Durand Jones and The Indications), and Mike Sarason (Combo Lulo).
Piya: The title track, "Prism," was produced by Max Shrager, and "Pink Roses" was produced by Bardo Martinez (Chicano Batman). The rest of the record was produced by me and Sabrina, primarily out of necessity, and we were lucky enough to have Max come in at the eleventh hour and add some additional production on many of the tracks, which really helped bring them to fruition!
I think all these collaborations have been so exciting because they are all musicians we already share a language with and [we] share a similar taste and aesthetic. It has been amazing to breathe life into these works together with friends you admire. Hopefully they make Say She She's aesthetic feel like something universally relatable and mood lifting!
When I first heard you, I instantly thought of classic SWV, but the production acuity of Nile Rodgers and Bernard Edwards have really served as your prime inspirations. If you could ask Nile to play guitar or remix one of your songs from Prism, which would you select and why? 
Nya: Wouldn't that be a dream come true!
Sabrina: We'd love to hear him remix "Apple of My Eye" — this is a love song to New York City where we all met and fell in love with playing music together. This is also where Nile is from and where he formed Chic! It would be so cool to hear what he might do with it.
If you could time travel to another era and collaborate with any of your other music influences - what would you choose and why?
Sabrina: Time travel back to 1968 and make a tune with Rotary Connection and Minnie Riperton!
And finally, we're so looking forward to welcoming you to "Holiday Cheer for FUV." What song are you most looking forward to performing that evening and why?"
Nya: We are super excited to share one of our brand new songs, "Astral Plane." We hope it'll take the crowd on a seasonal psychedelic trip in time for the holidays!