Spoon: Holiday Cheer for FUV 2022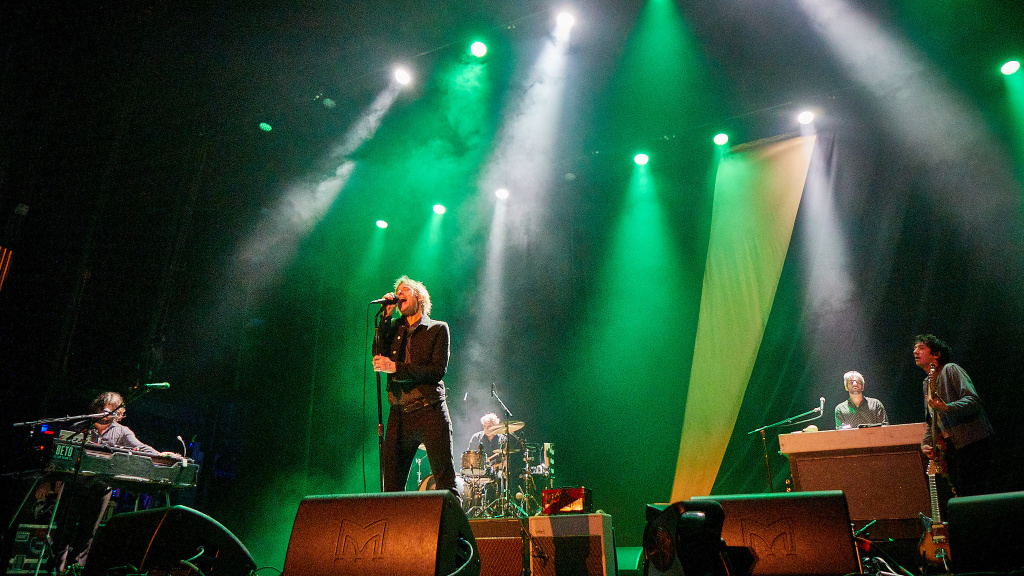 Listen to Spoon's set above, or stream 2022's Holiday Cheer for FUV: Live from the Beacon Theatre in its entirety.
---
Spoon celebrate their 30th year as a band in 2023, and they've just scored their first Grammy nomination in 2022, in the Best Rock Album category, for Lucifer on the Sofa, their first album in five years and the first to be recorded in Austin after they recorded for years in other far-flung locales, from Portland, Oregon to Los Angeles, California.
Lucifer on the Sofa, which has also made dozens of Best Of 2022 album lists (including those of some of FUV's DJs) is very much a homecoming album for original members Britt Daniel and Jim Eno. Their shows this year have reflected their happiness with this new album, and that satisfaction has pumped their performances with the fresh, fierce energy, very much an ascendance from pandemic darkness to light. In fact, that's just how the band walked onstage, in pitch black, to Toots and the Maytals' "54-46 Was My Number" (one of Spoon's faves), as the stage brightened to reveal the quintet, who launched into "Wild," a song they also smashed on "The Late Show with Stephen Colbert" on the eve of FUV Cheer.
"We thought we were almost done with the record when the pandemic hit," Daniel told the Austin American-Statesman earlier this year, about Lucifer on the Sofa. "And then I ended up writing a lot more songs. It was the thing that made me feel the most normal during the thick of the lockdown. Then I knew that we had to get rid of some of the songs we had recorded, because these were better. So it just gave us more songs, and probably made it a stronger record."
Guitarist Gerardo Larios and bassist Ben Trokan are Spoon's newest members and add a gritty depth. Eno is as low key and fantastic as ever (The face of Little Richard was splashed across his bass drum), and guitarist and keyboardist Alex Fischel is a headbanging cyclone and Britt Daniel's best foil. 
Time didn't get in the way of a set that highlighted all aspects of this long-lived band's career. They ricocheted from older material, like "The Fitted Shirt" from 2001's Girls Can Tell and "Got Nuffin" from their 2009 EP of the same name, to some of those standouts on Lucifer on the Sofa, like "Wild" and slow-burning "My Babe."
But their live version of "The Hardest Cut" from totally nailed why Spoon has a Grammy nod for their feverish tenth album — Daniel left his guitar to the side for the song's first half and wailed with unbridled freedom and physicality; the brute force of the song, and its torrential, juicy hooks, really draws parallels between Spoon and the Rolling Stones, a bridge that casual fans of Daniel might not have spotted in the past. (As well as Queens of the Stone Age; Lucifer on the Sofa was produced by QOTSA vet Mark Rankin). Daniel exuberantly indulged in a few Jaggeresque-style theatrics, clasping his hands to his heart and falling to his knees.
Of course, it's impossible not to dance when Spoon unleashes "The Underdog," which is (astonishingly) 15 years old this year. After hurtling through "I Turn My Camera On," from 2005's Gimme Fiction, and "Inside Out," found on 2014's They Want My Soul, Daniel checked the time (10:52 p.m.) and plaintively asked "We gotta go?" before squeezing in "Rent I Pay," also from They Want My Soul and a common set closer for Spoon on their gigs this year.
It was, without question, the hardest rocking denouement to any FUV Cheer — and one that also left no doubt that Cheer audiences, on their feet and throwing abundant affection at a very sweaty Spoon and every performer on the bill, were the absolute best.
Spoon's set list:
"Wild"
"The Fitted Shirt"
"You Got Yr. Cherry Bomb"
"The Hardest Cut"
"My Mathematical Mind"
"Lucifer on the Sofa"
"The Underdog"
"My Babe"
"Got Nuffin"
"Do You"
"I Turn My Camera On"
"Inside Out"
"Rent I Pay"
Special thanks to MSG Entertainment and The Beacon Theatre.
Holiday Cheer for FUV is supported by Little Pub: A rustic neighborhood gathering place with a relentless focus on customer service, value, and fun. Connecticut locations in Fairfield, Greenwich, Old Saybrook, Stratford, and Wilton.
WFUV is supported by the Surfside Beach Hotel and Surf Club in Point No Point, CT. What will be your Surf Side Story?