Christone "Kingfish" Ingram: Holiday Cheer for FUV 2022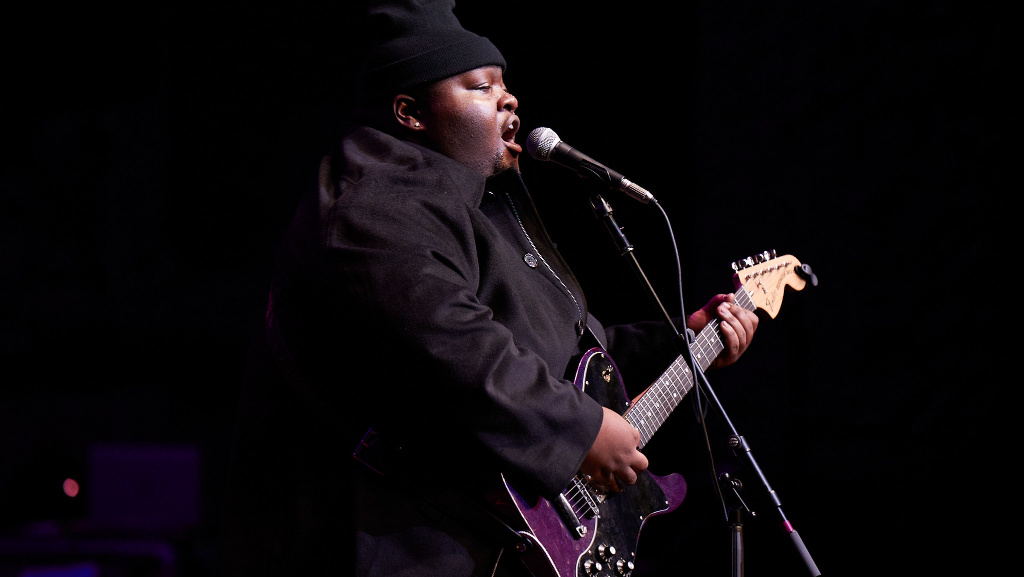 Listen to Christone "Kingfish" Ingram's set above, or stream 2022's Holiday Cheer for FUV: Live from the Beacon Theatre in its entirety.
---
Conversations and frank exchanges were an undertow to this night's Cheer. The dialogue that blues prodigy Christone "Kingfish" Ingram has not only with his audience, but his guitar — on this night his dark purple Kingfish Telecaster Deluxe (the color meant to evoke a "dark winter sky" in his hometown of Clarksdale, Mississippi)—is startling in its intimacy, touched with hues of grief, courage, and longing. In his intro, Mason spoke of Christone's father showing the then five-year-old Ingram a video of Muddy Waters playing the guitar—and the child's realization of his own destiny. That ferocious determination, a life's work for this 23-year-old marvel, was breathtaking to behold on stage.
Nominated for a Grammy for his 2019 debut album, Kingfish, and a 2022 Grammy winner in the category of Best Contemporary Blues Album for 2021's 662 (an homage to the Clarksdale area code), Ingram's mastery of his guitar is manifold. He's not only an intuitive interpreter of classic blues, but his performance tonight spoke to something far more primordial and psychological — that volcanic emotional release for everyone navigating the harshness and unpredictability of the last handful of years. The internal inferno evident in Ingram's performance, as he threw his head heavenward and his fingers cascaded down the fretboard in the explosive language of the blues, brought the audience to its feet.
Kingfish plays his guitar tightly against his body, with a meditative stillness, even when careering through stompers like "She Calls Me Kingfish" or a moody cover of Warren G and Nate Dogg's 1994 hit "Regulate," which samples the repetitive lope of Michael McDonald's "I Keep Forgettin' (Every Time You're Near)." Although Ingram sings, his Telecaster is the true lead vocalist — keening, growling, sighing, and seducing in a constant dialogue with the man holding it.
Decked out entirely in black, aside from cardinal red sneakers, Ingram sometimes tugged at a woolly watch cap on his head — at one point completing a tricky riff with his right hand while concurrently adjusting his hat with the left.
Joined by bass guitarist Paul Rogers, keyboardist Claude Hinds, and drummer Chris Black, Ingram also brought out special guest Vernon Reid of Living Colour fame for an absolutely mesmerizing duet on Jimi Hendrix's twelve-bar blues masterpiece, "Red House." Reid, playing a Hamer guitar from the '90s, later said backstage that he and Kingfish met on a blues cruise and hit it off — which seems an understatement for the two men who have struck up such an obvious artistic camaraderie onstage. They unwrapped Hendrix's song with a playful, thorny ferocity, prowling the stage, and truly conducting a master class in guitarmanship for everyone at the Beacon Theatre. The audience roared and gave the pair another standing ovation — and again at the end of Ingram's five-song set. The response was so rapturous that an overwhelmed Ingram returned to the stage to document it with his smartphone.
(Catch up to Ingram's equally compelling FUV Live show at Rockwood Music Hall earlier this year).
Christone "Kingfish" Ingram Set List:
"She Calls Me Kingfish"
"Empty Promises"
"Red House" featuring Vernon Reid (Jimi Hendrix cover)
"Regulate" (Warren G and Nate Dogg cover)
"Long Distance Woman"
Mixed by Jim O'Hara and produced by Sarah Wardrop. Special thanks to MSG Entertainment and The Beacon Theatre.
Holiday Cheer for FUV is supported by Little Pub: A rustic neighborhood gathering place with a relentless focus on customer service, value, and fun. Connecticut locations in Fairfield, Greenwich, Old Saybrook, Stratford, and Wilton.
WFUV is supported by the Surfside Beach Hotel and Surf Club in Point No Point, CT. What will be your Surf Side Story?