Holiday Cheer for FUV 2019: Recap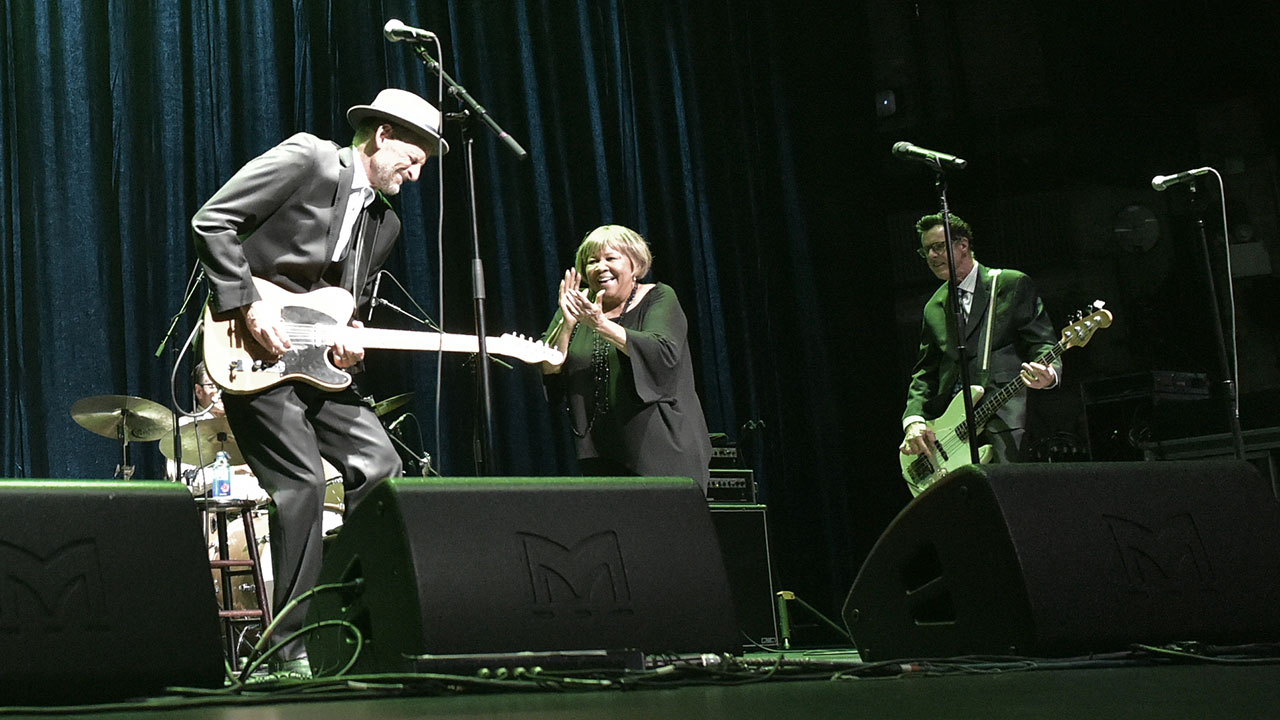 Gather Mavis Staples, Mumford & Sons, Nathaniel Rateliff and Yola on a stage together — and a rare kind of magic unfolds. At last night's sold-out 15th annual Holiday Cheer for FUV, the Beacon Theatre served as a cathedral of seasonal comfort, joy, and remembrance, thanks to a quartet of poignant performances that reveled in the transcendent power of song. This benefit concert for member-supported WFUV has always been a way for the radio station to thank listeners for their year-long support: a congregation of artists, DJs, staff, and fans, united in one of New York's most beautiful venues.
"For me, connections matter," observed Rita Houston, FUV's program director, in her affecting introduction, explaining the serendipitous journey that would eventually link two American (Staples, Rateliff) and two British (Mumford & Sons, Yola) artists on the Beacon stage on this evening. "All the artists love Mavis and all the artists love WFUV," said Houston, clearly moved by the assembly of four of FUV's most beloved acts.
Houston has become a good talisman for the artists she gathers for FUV Cheer. Back in 2015, Brandi Carlile headlined the concert and three years later, she walked away from the Grammys clutching multiple awards. That kind of Cheer-meets-Grammys mojo could extend to Yola, who has had an extraordinary 12 months. Last winter she released her arresting debut album, Walk Through Fire, and visited the station for an FUV Live session; by late July, Rolling Stone had dubbed her "the voice" of the 2019 Newport Folk Festival, as she became the artist most in demand by other musicians, nimbly shifting between her own solo set and guesting with The Highwomen, Dolly Parton, and Dawes. This autumn, Yola was nominated for four Grammy awards, including Best New Artist. On a cloud of life-altering success, she walked onstage at the Beacon buoyed by that heady buzz of anticipation that accompanies superstars-to-be in early blossom.
Yola is a commanding presence with a preternatural, effortless charisma. Her collaboration with producer Dan Auerbach on Walk Through Fire, which also included an array of storied Nashville session musicians, has made this Bristol-born singer and guitarist a confident time traveler too, sashaying into the lounge-cool of the early Sixties via songs like the torchy, Dusty Springfield rasp of "Faraway Look" or the Stax-punctuated Memphis soul of the brand new "I Don't Wanna Lie," found on the expanded edition of her debut album.
That reissue also includes a towering cover of Elton John and Bernie Taupin's majestic jeremiad "Goodbye Yellow Brick Road," a 46-year-old song which Yola spins with contemporary reverence, her tempest of a voice lifting the chorus with grandeur, bite, and wistful yearning. Huskily soft-spoken in her transitions, chatting with the audience, Yola touched on the catastrophic accident in her kitchen years ago, when her dress caught on fire and her house burned down, which inspired "Walk Through Fire" — a song which aptly serves as a metaphor for Yola's own resurrection and resistance. Accompanied by a full band, Yola played acoustic guitar on three of the tracks, including the loping "Ride Out in the Country," a deceptively breezy track about the end of a love affair. Her voice is a thesaurus of textures and stormy emotional tides — an astonishing instrument that she wields with both tenderness and temerity.
The surprise announcement of Mumford & Sons' set at 2019's Holiday Cheer for FUV might have only come about over the last week, but the quartet's addition has been secretly in the works for a while. Introduced by DJs Russ Borris and very expectant mother-to-be Alisa Ali — who draped a Santa Claus cape over her shoulders as FUV's sparky "Santa Baby" — singer and guitarist Marcus Mumford, banjo maven Winston Marshall, pianist Ben Lovett, and Ted Dwane on upright bass were joined by a three-piece string section for a phenomenal acoustic set that nostalgically drifted back to the early roots of the band.
Mumford & Sons might regularly play sold-out arenas and gargantuan festivals, but these "gentlemen of the road" are artisans of a perfectly-crafted intimate set. "What a pleasure to finally play this room," said Mumford. "We'll try not to f**k it up too much." Beginning with the broken heart lament of "Ditmas," from 2015's Wilder Mind, the band's five-song set routed directly back to their folky, early years — Marshall's adroit banjoing and Mumford's wily acoustic guitar always guides their Americana ship. A blissful "Lover of the Light," from 2012's Babel, was made even more luminous by the sweet sigh of strings, and the song, a doleful apology, transcended into a communal moment of shared feelings, one that lifted much of the crowd to its feet. Two Delta-era songs, "October Skies" (the first time the band has ever performed the song in concert) and "Guiding Light," felt emotionally connected to the night at hand, that search for light in darkness. "The fear of what's to come has been crippling me," sang Mumford in "October Skies" with a gentle earnestness. "So to your silhouette, I turn once more."
"It's a f**king honor to be on this lineup," declared Mumford, also teasing, "We love to work with new artists; we really think Mavis is coming along." And when the band left the stage, the marvelous Ms. Staples was right there in the wings, waiting to embrace Marcus and his bandmates in a loving bear hug. That exchange of happy energy was absolutely infectious.
Words of welcome from general manager Chuck Singleton and Houston; an introduction of the weekend, fill-in, and overnight DJs by Paul Cavalconte; and a brief intermission led up to the surprising and deeply moving solo acoustic set from Nathaniel Rateliff, introduced by DJs Dennis Elsas and Darren DeVivo. Although DeVivo joked that Rateliff & the Night Sweats' breakout song gave FUV's DJs the chance to say "S.O.B." regularly on the air, Rateliff's set couldn't have been further from the boisterous, bluesy sing-alongs found on last year's Tearing at the Seams or the band's self-titled 2015 debut.
The July 2018 death of Rateliff's close friend, the musician and producer Richard Swift, has had a profound impact on the Denver-based musician, and his raw grief was evident throughout his Cheer set. "What he and I went through together," Rateliff explained, wiping away tears several times, "there's something that we shared more than brothers and friends." Rateliff's determination to honor Swift, who was to produce Rateliff's forthcoming 2020 solo album, has spun itself into an arresting collection of songs, like "Time Stands" and "Rush On." Leaning toward Townes Van Zandt or John Prine in mood (Rateliff had joined headliner Prine onstage at last year's Holiday Cheer), Rateliff wrestled with his loss with riveting depth and candor.
The set also showcased another gift— Rateliff is a remarkable fingerstylist, plucking out a flamenco-style tremolo leading into his first song, "Tonight #2," and playing with fiery intensity throughout this performance of all-new material. The three guitars he brought onstage for his six-song set were his conduit to a torrent of emotions, this man in black tenderly grasping a pale blond guitar, dealing with his pain in a way that was courageous and unforgettable. He seemed shocked when the anguished "Time Stands," with its anguished, guttural howls, was rapturously received ("That's a really good feeling," he nervously admitted. "I didn't think that anyone would like that song") and he also spoke to the broader theme at hand: empathy. "We need to start talking about unexplainable emptiness and pain," he said, voice cracking. "It's part of you." The audience heard him and responded with love — at the conclusion of his final song, a lamentation for Swift called "Rush On," he was thanked with a standing ovation. Overcome by emotion, he released his guitar skyward into the wings.
Corny O'Connell and Eric Holland brought on Mavis Staples. An icon — and a civil rights and political activist — she has had her share of pain, loss, frustration, and disappointment, but hope is her kick drum and change is her mission. This exuberant powerhouse, an astonishing 80 years young, excels in building her humanitarian message of love and liberty throughout the arc of her set, leading to a galvanizing crescendo of action at hand. Staples is driven to celebrate the good in people, not proselytizing with anger, but using humor, motherly sass, and joy to make her point. It's the heart of gospel teachings, in its purest form, and Mavis is always an iridescent presence. Being in the same orbit as this legendary woman is a rare gift.
Opening her set with the Staple Singers classic "If You're Ready (Come Go With Me)," Staples shimmied, punched the air with glee, and beckoned the crowd to follow her on a transformative ride. "Take Us Back," from 2016's Livin' On a High Note, an exultation about the "people who love me," and her sage cover of Talking Heads' "Slippery People," gently link: Staples' songs all flow like a soulful river to an ultimate destination. A cover of Stephen Stills and Buffalo Springfield's 1966 call to action, "For What It's Worth," soared as a rallying cry as Staples extended her microphone to the audience for a call and response, and gleefully growled a key line — "a thousand people in the streets, singing songs and carrying signs" — with unabashed relish. (The song has Holiday Cheer history — The Lone Bellow tackled it in 2018 too.)
Mavis involved the crowd throughout her set, dubbing them her "a cappella choir" and warmly shaking hands with fans in the front rows. "We are so happy to be here to party!" she exclaimed at one point, giving an affectionate shout-out to Rita Houston, to Mavis's own hometown of Chicago, and the blues legends of the Windy City, like Muddy Waters, Buddy Guy and Howlin' Wolf. Her backing band for Cheer was guitarist Rick Holmstrom (who frequently played Staples' puckish foil), bassist Jeff Turmes, drummer Steve Mugalian, and backing vocalists Donny Gerrard and Saundra Williams (who used to sing backup with Sharon Jones & the Dap-Kings).
"We got work to do!" Staples preached through "Change," from 2019's We Get By, her 14th solo album, before slipping into "Touch a Hand," found on her 2019 concert release, Live From London. An extended vamp of "No Time for Crying," shared by Williams and Staples, gave Mavis the freedom to invoke her final sermon: As a woman "tired of guns, tired of grown men laying in the street homeless, tired of babies being put in cages," she has an eye to make her way to Washington D.C. and run for President herself. It's exactly how you'd expect Mavis Staples to go out — fighting with a big, beatific smile on her face. She was glorious.
Over the years, Holiday Cheer for FUV has not only been a deeply satisfying denouement of the past dozen months, but a springboard for the new year. With the unified voices of Yola, Mumford & Sons, Nathaniel Rateliff and Mavis Staples reverberating in the Beacon Theatre, with their mantras of compassion, strength and change, it's a positive way to greet 2020, just over two weeks away.
Find Holiday Cheer for FUV photos below and via our Flickr stream. The full Holiday Cheer for FUV: Live from the Beacon Theatre concert is available in the player above.
Thanks to everyone who attended this year's Holiday Cheer for FUV, and you can find video clips and photos via all of our social media platforms: Facebook, Twitter and Instagram.
Setlists:
Yola
"Faraway Look"
"Ride Out in the Country"
"Walk Through Fire"
"Goodbye Yellow Brick Road" (Elton John cover)
"I Don't Wanna Lie"
"It Ain't Easier"
Mumford & Sons
"Ditmas"
"Lover of the Light"
"October Skies"
"Guiding Light"
"The Cave"
Nathaniel Rateliff
"Tonight #2"
"All or Nothing"
"Expecting to Lose"
"And It's Still Alright"
"Time Stands"
"Rush On"
Mavis Staples
"If You're Ready (Come Go With Me)" (The Staple Singers)
"Take Us Back"
"Slippery People" (Talking Heads cover)
"Who Told You That"
"For What It's Worth" (Buffalo Springfield cover)
"You Are Not Alone"
"Change"
"Touch a Hand"
"No Time for Crying"
Special thanks to MSG Entertainment and The Beacon Theatre.