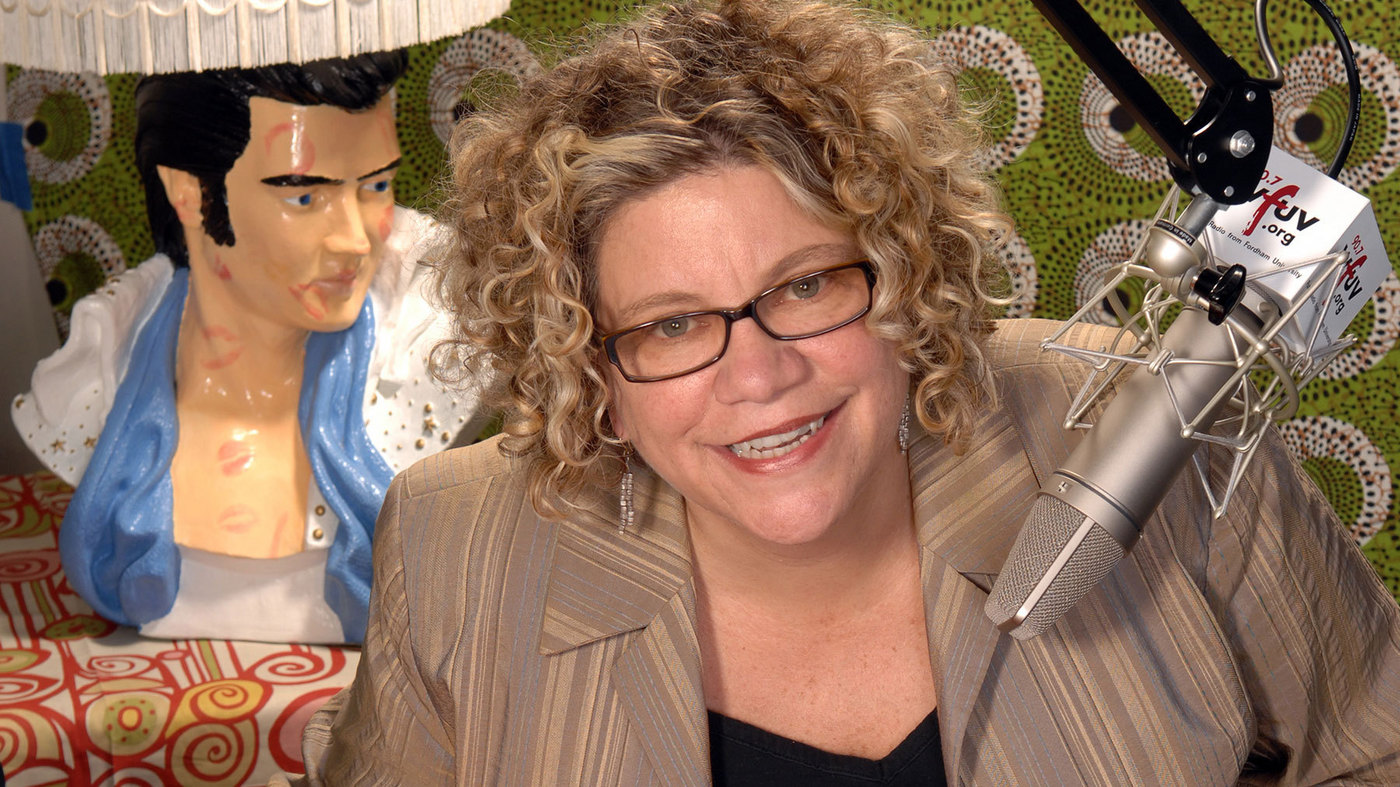 WFUV remembers Rita Houston in this collection of announcements, features, and program archives compiled after her passing, leading with General Manager Chuck Singleton's full announcement on December 15, 2020. Other specials and reminiscences can be found via the links below:

Thank You, Rita Houston | Rita's Words and Music | Rita Houston: Apostle of Artistry | Paul Cavalconte: Playlist For Rita | Rita Houston's "Whole Wide World" Finale
Rita Houston
September 28, 1961 — December 15, 2020
It is with great sadness that we at WFUV share news that we have lost Rita Houston, our much-loved program director and iconic DJ to generations of listeners — listeners who regarded her as their radio friend. Rita left this world on December 15, 2020, in the loving company of her wife and our colleague, Laura Fedele, and her family. Our hearts are with Laura, with Rita's sister Deb, her brothers Rich and Rob, and their families, and the family of her late brother, Bill.
You may know that Rita had been fighting cancer for six years. Her courage and resolve were an inspiration. Cancer or no cancer, she gave her all every day — to her dear Laura and their family, to her friends and colleagues, to WFUV and our listeners, and to artists and music lovers everywhere.
Rita was the north star of WFUV's sound and its public service, guiding the station's musical direction for decades. She was a New York original, a trailblazing woman of exceptional talent who shaped a unique style behind the microphone — informed and informal, intimate, warm, genuine. But also, one of tremendous joy.
In 2019, when she celebrated 25 years at WFUV, Mayor Bill de Blasio congratulated Rita for the "indelible mark" she has made on New York as an epicenter of creative expression, "bringing joy to listeners throughout the five boroughs, providing a platform for new talent that deserves to be heard, and enriching the cultural vitality of our city." That was our Rita, and so much more.
Together, we will remember and celebrate her in the weeks ahead. But right now, Rita, we see you on that stage with Sharon Jones, Bowie, Prince, and especially your beloved John Prine, emceeing the most heavenly edition of Holiday Cheer for FUV.
Rest in Power, our very dear friend.
Chuck Singleton
General Manager, WFUV
---
A three-hour tribute to Rita, co-hosted by Delphine Blue and Paul Cavalconte, featuring messages from the DJs, musicians, and friends who loved her, including Brittany Howard, Citizen Cope, Brandi Carlile, Amy Ray, Joseph Arthur and many others. Originally aired on Friday, January 1 and Sunday, January 3 at 6 p.m., EST on WFUV.
Listen in the Archives
---
Two hours of interview highlights from over the years, sharing Rita's gift and love for talking music with artists. Includes conversations with John Prine, Mavis Staples, Sharon Jones, Tom Jones, Joan Osborne and Gomez. Originally aired on Friday, January 1 and Sunday, January 3 at 9 p.m. EST on WFUV. (Produced by Sarah Wardrop)
Listen in the Archives
---
A written retrospective on Rita's life, legacy, and her journey to WFUV (by Kara Manning)
Read more
---
A three-hour mix of songs to remember and celebrate Rita Houston, selected by Paul Cavalconte and broadcast on WFUV at noon on December 15, as we shared the news of Rita's passing.
Listen to the Playlist
Recorded with her good friend and colleague Paul Cavalconte in early December, an archive of Rita's last edition of "The Whole Wide World," broadcast on December 18, 2020.
Listen in the Archives
---