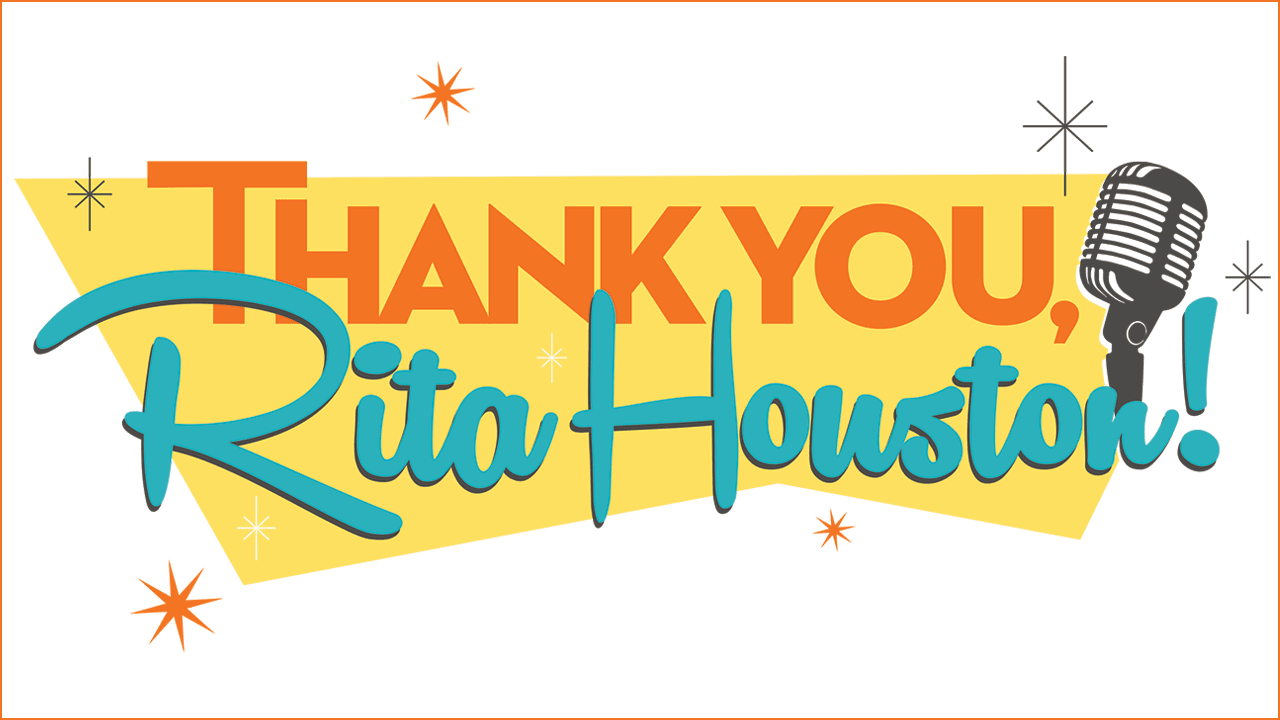 In March of 2020, a benefit concert honoring Rita Houston, called "Thank You, Rita Houston," was sadly postponed due to the pandemic.  On Friday, January 1, FUV resurrected that caring message for Rita via a radio special hosted by Paul Cavalconte and Delphine Blue, which you can hear in the player above. It's three hours of nonstop Rita love, with music, anecdotes, and remembrances from artists, DJs, and friends. Following"Thank You, Rita Houston," we aired "Rita's Words and Music," featuring Rita's interview highlights from across her time at FUV.  All shows are available in the Weekend Archives. (There are plans to reschedule the "Thank You, Rita Houston" live event in the future. We'll keep you posted.)
For 19 years, Friday nights were Rita Houston's on-air hang, most of the time from 6 to 9 p.m. On "Thank You, Rita Houston," we're reflecting back our "Whole Wide World" respect to Rita, honoring a woman who was not only a DJ and the face of FUV,  but its heart and soul. 
Rita was the captain of our ship and, triumphantly, a woman playing in what has mostly been a man's world.
Over these three hours, you hear the voices of the FUV family inside the station, as well as our extended family of musicians, always ready to show up for their champion. You get to know the team that Rita worked with closely to produce the wonderful live events we all enjoyed, both in person and on the air.
As keeper of the flame moving forward, where Fridays from 6-9 p.m. are concerned, I was asked to turn the first "Whole Wide World" of the new year into a space to honor Rita. That quickly morphed into a collaboration between myself and Paul Cavalconte.
Paul and I first met in 1986 when we were DJs at WLIR. Small world this radio thing is. As we approached the project, recorded and written comments and songs began to pour in from the likes of Brandi Carlile, Citizen Cope, Brittany Howard, Amy Ray, Dan Auerbach, David Gray, Joseph Arthur and so many others, as you can hear. We soon had a wealth of embarrassments in terms of content. But we also wanted to include Rita's voice, which was brought to life in a few incredible interviews where Rita, for once, was the subject.
As for me, I had a complicated relationship with Rita that developed and changed over many years. When I first met her, I was a bit of a wild horse. Rita invited me in and let me be me. And I'm deeply grateful to her for that immense generosity. I know I'm not alone in this sentiment. She was a proud Italian-American gay woman in a world trying to catch up with acceptance, and a radio friend to all her listeners.
It's difficult to picture the future of FUV without that big ball of sunshine, but Rita's spirit is so deeply infused in WFUV.  We will feel her presence as part of this radio station for a long time.
- Delphine Blue
December 27, 2020