Paul Cavalconte: Playlist for Rita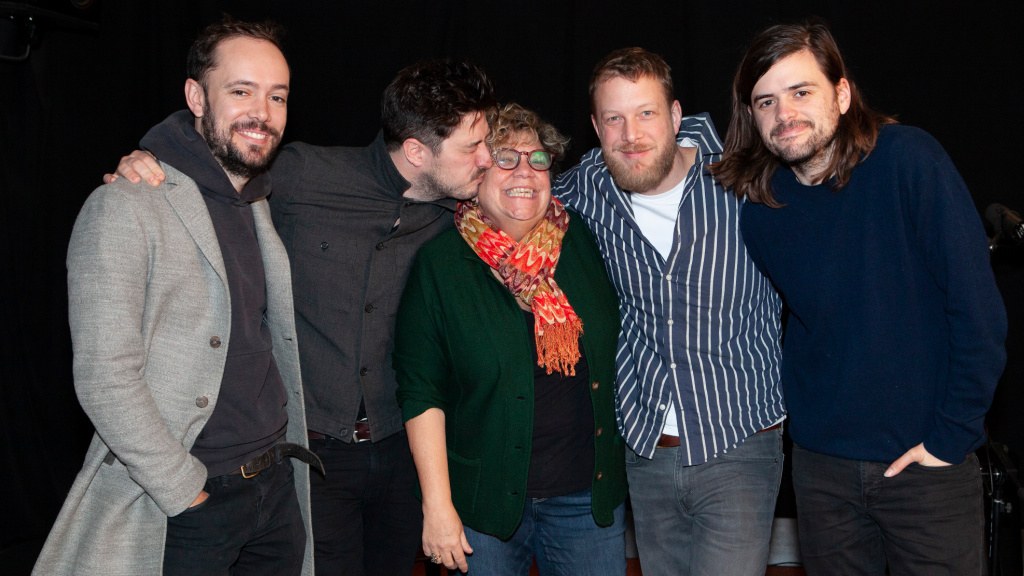 With the wonderful and comforting outpouring from WFUV listeners on the passing of Rita Houston, I feel that a little backstory on our preparation as a station, and as as loving friends, can be shared in return.
We knew that when we got the word, we would want to air music and simple messaging that attended to the needs of the moment: being clear about what had transpired, and allowing music to speak most eloquently in a circumstance where anyone would be at a loss for words. I was asked to prepare three hours of continuous music mixes that anticipated these needs, and would give us a buffer of reaction time to prepare the personal and spontaneous words and selections that followed on Dennis, Eric and Darren's programs, and from Corny and Alisa on the following morning.
So when we did get the word, at noon on Tuesday, December 15, the three hours of music were rolled out, with simple, dignified messaging, and without the usual song-title announcing that hosts normally do. Many people have inquired about those songs, and it's my honor to share them now as a Spotify list, and with a few notes.
To compile thematic programming about the loss of a colleague and dear friend was a somber and surreal experience. The choices had to be unequivocally sad, but not maudlin. They needed to make the moment clear without ambivalence, and be familiar and universal enough to resonate in a setting where the heavy news may or may not have been broken to a listener yet. For me personally, the songs needed to be big cogs in the Rita musical wheelhouse, things that she loved and would want to be remembered by.
That's why the disco diva anthem "Don't Leave Me This Way," the soaring "Ain't No Mountain High Enough," and the conciliatory "How Can You Mend A Broken Heart" would share a stage with the Flaming Lips' trippy "Do You Realize," Lou Reed's allegorical rocker, "What's Good," and Jane Siberry and k.d. lang's eerily comforting "Calling All Angels," which was a deep standard from Rita's early 1990s radio show, "Starlight Express."
I wanted Rita's heroes to all be present and supportive, so Willie Nelson got to sing Pearl Jam's "Just Breathe;" Elvis Presley handled Dylan's "Tomorrow Is A Long Time;" and Frank Sinatra weighed in with Harold Arlen's heartbroken "Don't Like Goodbyes," featuring words by Truman Capote.
Dylan himself, Leonard Cohen, Joni, Mavis, Johnny and Rosanne Cash, Emmylou, and Lucinda all needed to lend their support. And artists that Rita was a hero to: Brandi Carlile, Mumford & Sons, and Norah Jones were all on board.
My only regret is that this list could not be shared with Rita, but I sense that it reached her spirit, which always dwelled within the grooves of these wonderful records that now speak for everyone at a time when words fail. Save and share this tender journey through songs that we'll never hear the same way again, and thank you.
Listen
A Playlist for Rita (Spotify playlist compiled by FUV's Paul Cavalconte)
Songs played:

1. Willie Nelson, "Just Breathe"
2. Norah Jones with Mavis Staples, "I'll Be Gone"
3. The Flaming Lips, "Do You Realize??"
4. Joni Mitchell, "Urge for Going"
5. Brandi Carlile, "The Story"
6. Thelma Houston, "Don't Leave Me This Way"
7. Bette Midler, "Hello In There"
8. John Prine, "Summer's End"
9. Jason Ibell & The 400 Unit, "If We Were Vampires"
10. Alison Krauss and Gillian Welch, "I'll Fly Away"
11. Lucinda Williams, "2 Kool 2 Be 4-Gotten"
12. Stevie Wonder, "Joy Inside My Tears"
13. George Harrison, "All Things Must Pass"
14. David Bowie, "I Can't Give Everything Away"
15. Diana Ross, "Ain't No Mountain High Enough"
16. Sting, "Fragile"
17. Toni Childs, "Many Rivers to Cross"
18. The Rolling Stones, "Waiting on a Friend"
19. Sharon Jones & The Dap-Kings, "Call on God"
20. Jeff Buckley, "Corpus Christi Carol"
21. Yusuf/Cat Stevens, "The Wind"
22. Mumford & Sons, "Winter Winds"
23. Rod Stewart, "Mandolin Wind"
24. Rickie Lee Jones, "On Saturday Afternoons in 1963"
25. Dawes, "When My Time Comes"
26. Elvis Costello, "Days"
27. Bob Dylan, "Buckets of Rain"
28. Frank Sinatra, "Don't Like Goodbyes"
29. St. Vincent, "New York"
30. Natalie Merchant, "Kind and Generous"
31. The Staple Singers, "I Want To Thank You"
32. k.d. lang and Roy Orbison, "Crying"
33. Al Green, "How Can You Mend a Broken Heart?"
34. Rosanne and Johnny Cash, "September When It Comes"
35. Mark Knopfler and Emmylou Harris, "If This Is Goodbye"
36. Leonard Cohen, "Hey, That's No Way to Say Goodbye"
37. Adele, "When We Were Young"
38. Elton John, "Don't Let the Sun Go Down on Me"
39. Lou Reed, "What's Good"
40. Elvis Presley, "Tomorrow Is a Long Time"
41. Jane Siberry and k.d. lang, "Calling All Angels"
42. Bruce Springsteen, "I'll See You In My Dreams"
43. Joe Brown, "I'll See You In My Dreams" (live from Concert for George)