Rita Houston: Apostle of Artistry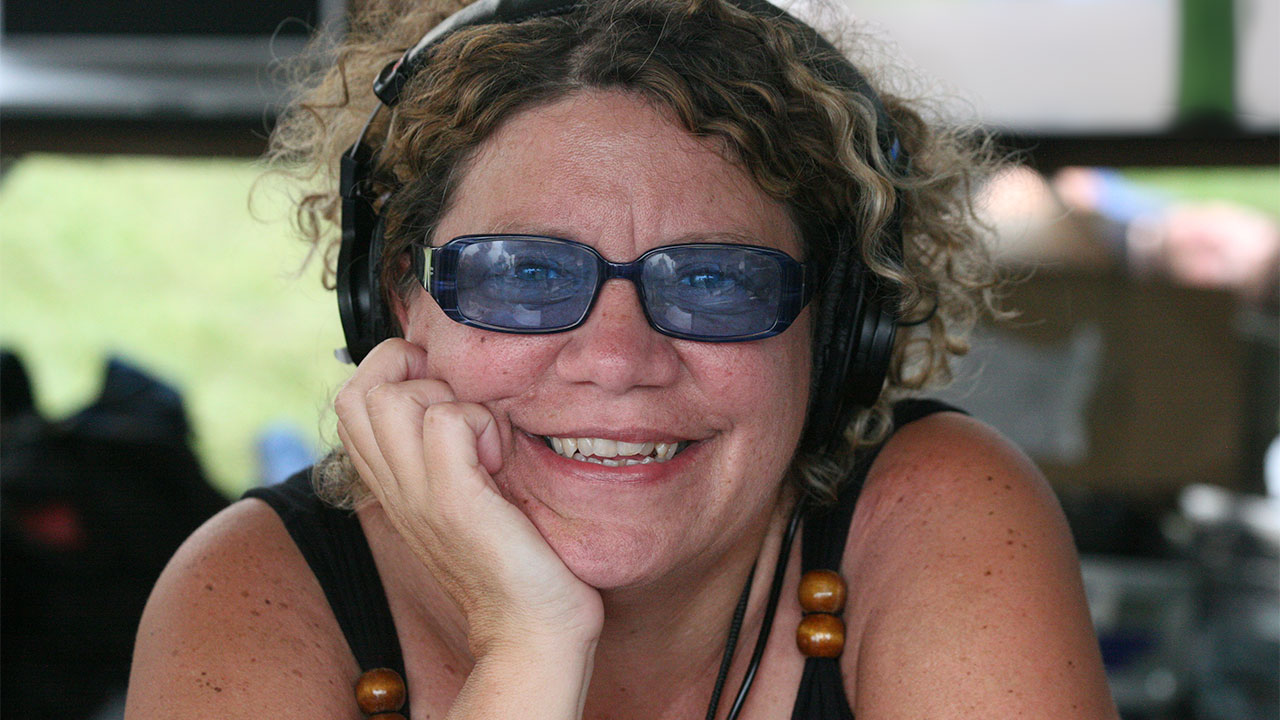 [It is with great sadness that we at WFUV share news that we have lost Rita Houston, our much-loved program director and iconic DJ to generations of listeners — listeners who regarded her as their radio friend. Rita left this world this morning, December 15, 2020, in the loving company of her wife and our colleague, Laura Fedele, and her family. Our hearts are with Laura, with Rita's sister Deb, her brothers Rich and Rob, and their families, and the family of her late brother, Bill.  Read the statement from Chuck Singleton, FUV's general manager, here.]
The Oxford dictionary's definition of music — "the art of combining vocal or instrumental sounds (or both) to produce beauty of form, harmony, and expression of emotion" — describes Rita Houston too. Over the 26 years that she redefined WFUV's programming, she also influenced the national scope of public radio. She wasn't just a tastemaker, but an apostle of artistry: Rita was driven by a singular love of songwriters. She strove to define the ineffable, life-affirming magic of music to everyone, and in that pursuit she became her own stadium-sized anthem — one that soared with triumph, truth, jubilation, and heartbreak.
"Rita was the north star of WFUV's sound and its public service," said Chuck Singleton, WFUV's general manager. "She was also a New York original, a trailblazing woman of exceptional talent who shaped a unique style behind the microphone — informed and informal, intimate, warm, genuine. But also, one of tremendous joy.
"There's a comment by Jerry Wexler of Atlantic Records, remembering Aretha: 'Her taste was impeccable. She never went to the wrong place.' That, too, was Rita the curator and communicator. She liked to say 'Music makes the world a better place.' And she did, too, every single day."
Rita hurtled through life with a never-ending air of adventure, wonder, levity, and passion, punctuated by her hearty laugh and always hopeful outlook. Her exuberance was embodied in the way she bounded across a room, a whirlwind of unruly curls, warm embraces, and encouraging words for every musician who walked into FUV's studio or ran into Rita at a gig. Her only desire since her 2014 ovarian cancer diagnosis, as she told the songwriter Joseph Arthur, her good friend, in a candid March 2020 interview, was the opportunity to do all that she'd planned and dreamed.
"I just ask for time," she told Arthur, when queried about her spiritual wayfinding throughout her illness. "Don't rob me of time. So if somebody is in charge of a clock, that's who I'm trying to talk to. The clock keeper."
We wish she could have had decades more with us.
Rita was captain of FUV's programming department and she steered WFUV's musical direction every single day. A self-described "worker bee," she was never more content than when buzzing around WFUV's studios in the basement of Fordham University's Keating Hall. Rita loved her job. You could hear that enthusiasm daily, whether on the air, in a staff meeting, or via an FUV Live session, swapping stories with Citizen Cope or Indigo Girls.
In 2001, Rita introduced her Friday evening show, "The Whole Wide World," mixing the artists closest to her heart, such as Mavis Staples, Frank Sinatra, David Bowie, and Nicole Atkins. The show's very intro signalled Rita's eclectic tastes: a mashup of British electronica artist Luke Vibert and American country great Ray Price, who welcomed listeners with a folksy "Hi, Neighbors!" It was a three-hour voyage of discovery and a concise distillation of Rita's vast collection of music. She captivated her dedicated listeners with a kaleidoscope of underground disco (on vinyl), soul gems from the Seventies, Americana roses like Rosanne Cash and Emmylou Harris, and brand new earworms from emerging artists such as Benjamin Clementine and Christine and the Queens.
"Music fills my soul," she often said, and there are thousands of songs that remind us of Rita every day — she drew the blueprint of WFUV's music identity, first as the station's music director in 1996 and since 2012, as its program director. The consummate DJ in life, she deftly segued us from track to track, and year to year — lifting us in celebration, comforting us in sorrow. As one of Rita's favorite songwriters, Rickie Lee Jones, once observed:
Love is a healing thing
When you give everything
You're loving the world
The world gives you love to hold onto
Remembering, we seldom remember love.
An iconic figure in New York broadcasting, Rita possessed a truly unforgettable voice — an intoxicating, sultry cocktail of hickory smoke and honey that resonated on the radio. Her warm, effusive and knowledgeable delivery was conversational, never formal, and she had impeccable taste. Like the lyricists she loved, Rita filtered her own poetry into smooth, perceptive observations. Rita was always quick to flag an artist who connected with her emotionally and that list was long: Mumford & Sons, Brandi Carlile, Gomez, Yola, Seratones, Sam Smith, Lake Street Dive and so many others. Her early, loyal support was often a harbinger of that musician or band's subsequent mega-success — and it was never forgotten by the musicians she championed. When Mumford & Sons won the Steinbeck Award in 2019, the first collective to ever do so, the band asked Rita deliver their induction speech at Stanford University that September. When Brandi Carlile cast her very personal video for "The Joke," a single that went on to win two Grammys in 2019, she asked Rita to be in it. 
"Rita was the very first person to play my music on the radio," Brandi wrote to FUV on the day Rita passed away. "The only reason that matters is that it's so important for a young person to know that someone they look up to believes in them. For me, she was that person. You can see Rita's beautiful face in my music video for 'The Joke.' And now you will understand why. She kicked cancer's ass for over five years. She left the world better than she found it. She left me better than she found me."
Rita also remained faithful to artists who experienced a lull in their careers or early challenges, as David Gray observed on the occasion of Rita's 20th anniversary at WFUV.
"I will never forget the support you gave me when I needed it most, when nothing was really working out," Gray said. "It was very much me and my acoustic guitar. It's easy to be someone's friend when everything's rosy, but that's when it mattered and that's why we're pals."
That loyalty carried through other facets of her job. A savvy curator, she booked WFUV's many major fundraising and music events, including The WFUV High Line Bash, Marquee member concerts, the FUV Live from Zankel Hall concert series at Carnegie Hall, and the annual Holiday Cheer for FUV, lining up unforgettable Cheer performances from Carlile, John Prine, Iron & Wine, Aimee Mann, Lucinda Williams, and many others. Most recently in 2020, Rita guided the FUV team in launching the EQFM gender parity platform in programming and airplay, an initiative that was important to her as a program director — and a woman.
"Good songs come from everywhere, across race, age and gender," Rita told AllAccess.com in the summer of 2020. "Good radio should celebrate that, without bias."
That embrace of all genres was Rita's credo. As one faithful listener of "The Whole Wide World" noted on FUV's Facebook page in December: "Rita, you made music once thought uncool, cool. No longer am I self-conscious enjoying disco, Nancy Sinatra, or ABBA."
Rita was a walking library of classic '70s disco expertise and she relished any chance to grab her headsets and get people on a dance floor, spinning at Lincoln Center's silent disco nights or on board the FUV Boat as it sailed down the Hudson at twilight. While her days were spent at WFUV, Rita's nights were usually spent at a show; it was common for her, even in the tough throes of chemotherapy, to see multiple gigs a week at favorite venues like Rockwood Music Hall and City Winery. Bonnaroo, SXSW and Newport Folk Festival were highlights of her year — and for years, she co-hosted Newport coverage for NPR Music. Her annual pilgrimage to Austin's SXSW was a chance to see and promote then-emerging artists for FUV, such as Alabama Shakes and Foxygen.
Travel always loomed large in Rita's life and she was drawn to sunny spots — summertime was her season. Hideaways on Turks and Caicos and Miami Beach, and strolling the South Jersey shoreline this past summer, were her idea of bliss. In November 2019, Rita fulfilled a lifelong dream and swam with dolphins in Isla Mujeres, Mexico. She went on a music trek through Cuba, floated in the Blue Lagoon in Iceland, and explored England and Ireland with her extended family.
A dedicated foodie, Rita considered chefs to be gastronomic rock stars; she loved sharing elaborate Italian meals and music industry lore with family and friends. But no matter how busy Rita's life might have been, her happiest place was always at home in Nyack, New York, hanging out with her cherished wife Laura Fedele and their two rambunctious Boston terriers, Banjo and Emmylou. A fan of mid-century modern design, Rita acquired an impressive collection of vintage radios from that era (some of which made their way to her office) and framed posters, like a large Philips radio advertisement from the Sixties.
Born and raised in Mount Vernon, New York – or in droll Rita-slang, "money earnin' Mount Vernon," — she attended Hobart and William Smith Colleges in Geneva, New York on a scholarship, but university life wasn't the undergraduate utopia she'd hoped. Instead, her educational epiphany came courtesy of Westchester Community College when a friend and faculty advisor entrusted the burgeoning DJ to take over broadcasting at night. A subsequent well-paying gig as an engineer for ABC Radio Networks for a handful of years eventually gave her the financial freedom to focus on her on-air aspirations.
Around 1990, Rita was hired by Paul Cavalconte, who was then the program director of Westchester's 107.1 WZFM, soon to become WXPS, "The FM Express." (The station is known today as WXPK or "The Peak.") A weekday late-night shift opened, and Paul gave Rita her first full-time DJ gig. (FUV's Janet Bardini was the midday host and music director and George Evans, FUV's director of technical operations and host, was a DJ and engineer there too). Rita created her own show, "The Starlight Express," where she focused on emerging singer-songwriters, like Dar Williams and Ani Di Franco, anchored with classic and alternative mainstreamers like Talking Heads, R.E.M., and Joni Mitchell, and library deep dives. That nascent adult album alternative — the forebear of today's Triple A — was, as Paul recalls, a very early version of a now nationally-recognized radio format.
"From the first moment, I knew that Rita's energy and capital-P personality would stand out on our little station," says Paul. "As we became friends and embraced the common cause of crafting great music radio on a commercial platform, we knew that no matter how the wind blew us, we'd always connect on that shared goal. Rita's larger-than-life presence, and sheer love of the music, made her a true spiritual leader of WFUV, as the station had become her life's work."
When WXPS was bought in 1993, the station's format was changed to modern rock, rebranded as X-107, and there was a staff overhaul. Rita survived the shakeup, but was told she had to adopt an on-air moniker with an "X" in it — and for about a year, she became "Harley Foxx," a fabrication she disliked. She was limited to an alt-rock cycle of Nirvana, Soundgarden, Pearl Jam, and Bush, which was far afield from the diverse music that inspired her. Her holy grail became the radio station she listened to when driving to Westchester from where she lived in the East Village — WFUV.
"I just called the station and was like, 'Hey, can I work here please?'" she told Joseph Arthur in that late winter podcast of this year. "That was 25 years ago. I've never really been the kind of person who thought they'd do anything for 25 years, but I love it as much as ever." Chuck Singleton, then the program director of WFUV, remembers that call, and scheduling a meeting with Rita in 1994 to interview her for the midday show.
"Three things stood out," he recalled. "First, because you couldn't miss it, those pipes. To borrow from her dear Leonard Cohen, she was born with the gift of a golden voice. Then, her expansive music knowledge came into focus. It was clear from her interests that she contained multitudes. And finally, she was grounded by a beautiful pair of wingtips. Rita was always one for great footwear."
Rita swiftly became intrinsic to WFUV, kicking off her very first shift in the midday "City Folk" slot on April 5, 1994. It wasn't an easy day: her maiden show coincided with the death of Nirvana's Kurt Cobain, a surreal refrain of her X-107 tenure. She scrambled to deal with the tragic news — especially when she realized that there wasn't much Nirvana to be found in FUV's then folk-centered library. But Rita handled it gracefully, a bellwether of how she always shepherded FUV listeners over a quarter of a century. While she far preferred happy events — Pride Week or her annual "The Whole Wide World" Christmas show — she was also a comforter-in-chief, guiding listeners through dark times: the deaths of her beloved trinity of Prine, Bowie, and Prince or, in the most extreme case, 9/11 and the pandemic. It's disorienting to not have her steady voice offering us direction now.
Rita adored radio — not simply being on it, but listening to it and refining her own craft. She was an insatiable student of the art of the DJ (and in 2012 devoted a series to conversations with fellow hosts from FUV and other public radio stations). The New York personalities she'd revered early in her career, archivists and storytellers like her friends and colleagues Cavalconte, Dennis Elsas, Vin Scelsa, and Meg Griffin, would consider her their radio sister, as did peers across the country like NPR's Bob Boilen or Anne Litt, Rita's fellow program director at KCRW in Los Angeles.
"It's hard to imagine WFUV without Rita both on and off the air," said Dennis. "Listeners, artists, and her colleagues could feel and hear the enthusiasm and sincerity she brought to her shows and interviews. Her determination to keep FUV as a defining place of music discovery for the audience and the industry was constant and unrelenting. Rita's skill at booking and creating assorted shows and events for the station was the 'secret sauce' that made FUV sparkle. She really was one of a kind and the airwaves, and our lives, just won't feel the same without her."
The music industry and her colleagues concurred. Rita was named NonComm Program Director of the Year in 2019 and 2020; she was already a three-time recipient of Gavin's Music Director of the Year and was named Radio & Records (R&R) Music Director of the Year twice. One of her proudest achievements is her ASCAP Deems Taylor Award for Broadcast Excellence and she's part of the DJ exhibit at the Rock and Roll Hall of Fame. In 2009, she was honored at the Emelin Theatre's Benefit Gala in Mamaroneck, New York. In April 2019, Rita was delighted to be officially acknowledged by the City of New York and Mayor Bill de Blasio, on the occasion of her 25th anniversary at WFUV, as "bringing joy to listeners throughout the five boroughs, providing a platform for new talent that deserves to be heard, and enriching the cultural vitality of our city."
Had it not been postponed by the pandemic, Rita was to have been celebrated on March 24, 2020 at New York's City Winery, via an in-person "Thank You, Rita Houston" benefit for the T.J. Martell Foundation (the music industry foundation for cancer research), organized by Emily Lichter.
"The community of musicians that Rita has helped over the years, that she has respected and mentored into better artists, is vast and diverse," noted Indigo Girls' Amy Ray, at the time of the benefit's announcement. "Her support of women in all facets of the industry has been a driving force in creating more visibility for us. She is one of the most important gatekeepers in radio for so many reasons, but the most compelling one is that she loves music and listens with an unbiased ear."
As Ray has experienced too, Rita had a rare gift for interviews, finding an illuminating revelation in every conversation, both on the radio and via forums like The Bottom Line's "Required Listening" and "In Their Own Words" songwriters series, which she hosted for many years. Many of the musicians Rita interviewed became friends for life, rallied by Rita's pure appreciation of their diverse perspectives and a strong sense of feeling safe and truly seen (and heard) by her.
At WFUV's Bronx studios, Rita's office, cozy and warmly lit, captured her wit and ardent love of music: an Elvis Presley table lamp that benignly watched over her as she sat at her desk (Elvis's painted plaster cheeks were scattered with real lipstick kisses, provided by Rita and friends, using a "Love, Shelby" promo lipstick); a treasured framed photo of a beaming Rita sitting at a table with Joni Mitchell, one of her musical heroes; a skeletal donkey jaw, a gift from David Wax Museum (who played FUV's Bash in 2016). Every knick-knack and album on her shelves possessed a vivid back story, and Rita would always have a funny or intriguing tale to dish, from meeting a bemused Bill Murray to gently sparring with Chrissie Hynde. Most poignantly, back in July 2016, Rita and Sharon Jones, who passed away later that year, sat in that office and discussed the cancer fights they were both waging.
As impressive as all of Rita's awards, accolades and accomplishments might have been, it was her luminous, lionhearted spirit that touched us most profoundly. For over six years, Rita navigated the challenges of ovarian cancer with indefatigable tenacity and courage, weathering the tides of treatment with optimism and fortitude. Her strength during the most trying of times motivated everyone at WFUV. We marvelled at her focus, drive, and zeal. She launched into each day with alacrity, never losing her love and devotion to this radio station: her life's masterpiece.
In the weeks and months to come, we'll be doing more in Rita's memory, but for now, we are grieving with her family and friends. And we know you, our listeners, share our pain and tears.
We miss you, Rita. And we love you.
All these lines across my face
Tell you the story of who I am
So many stories of where I've been
And how I got to where I am
But these stories don't mean anything
When you've got no one to tell them to
It's true I was made for you.
I climbed across the mountaintops
Swam all across the ocean blue
I crossed all the lines and I broke all the rules
But baby I broke them all for you
- Brandi Carlile, "The Story"