Rita Houston's "Whole Wide World" Finale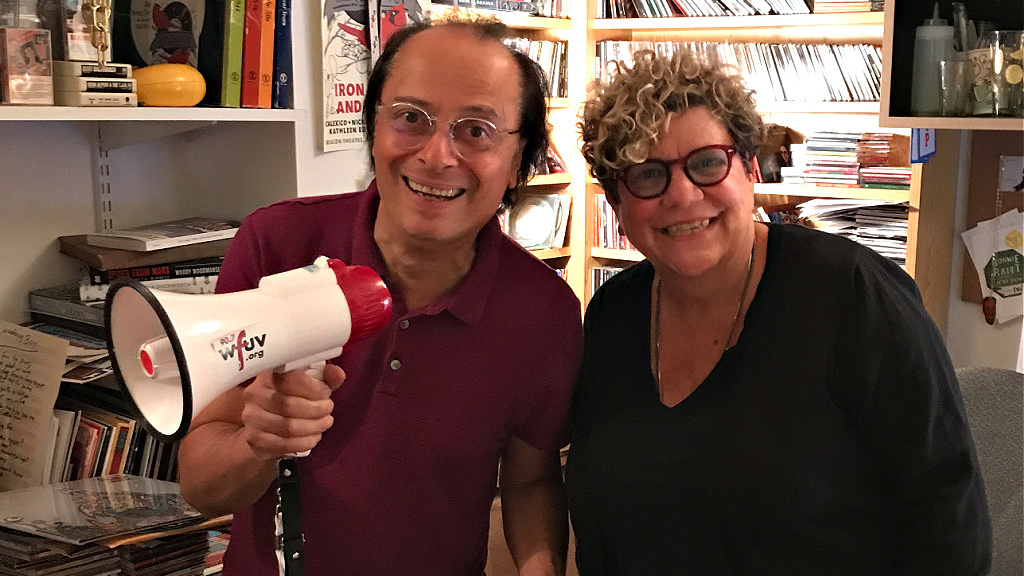 FUV's Program Director Rita Houston, who passed away on December 15, 2020, recorded her final edition of "The Whole Wide World" with longtime friend and co-host Paul Cavalconte in early December. That show aired on Friday, December 18. Here, you can listen to the show stream on demand. Paul writes:
For over 25 years, Rita Houston has brought countless hours of unforgettable radio to WFUV listeners. Many New Yorkers, and now worldwide web listeners, can mark their life changes by songs and words that Rita shared through this magical, eternal medium of broadcasting.
They say the waves keep going on forever through space, as long as we keep sending them. But everything ends eventually and radio waves carrying Rita's music choices and unmistakable voice aired one last time for "The Whole Wide World" on December 18, 2020. We had hoped that she could enjoy the pre-recorded show listening at home, in the good company of Laura, Deb, Banjo and Emmylou.
When she passed on Tuesday, December 15, we knew that the ultimate honor would be to give her the last word. It's fitting that Rita's mighty radio legacy concludes in what I believe to be her finest hour: a frank, unvarnished, brave expression of who she is and how deeply this connection to music, and her audience, matters to her. That I could participate as co-host for Rita's farewell "The Whole Wide World" is beyond an honor; it's a deep expression of trust and friendship that I will cherish forever, culminating the many on-air years that we've shared.
Like everything in our Covid world, we connected electronically, not in person, a couple of weeks before she passed away. Our first take, intended to be a mic test and run-through, became the show as she warmed up and felt that we should "just go with it." Although not in her home studio, but recording bedside with a portable mic, she was still in command, a true captain, despite her discomforts. Rita chose songs that she feels represent the show she created, at its best — a "greatest hits" journey through the styles, eras, and artists that tell her own story, and ours.
"The Whole Wide World" was born as a freestyle fourth-wall breaker, to push beyond the boundaries of WFUV's normal musical mix. Through the years, it developed into more of an FUV microcosm, a subtle "workshopping" of musical possibilities that would become the station's new normal.
Playlist:
1. James Brown, "Night Train"
2. Beck, "Qué Onda Guero"
3. Aretha Franklin, "Rock Steady"
4. Deee-Lite, "Groove is in the Heart"
5. Illya Kuryaki & The Valderramas, "Ula Ula"
6. John Prine, "Summer's End"
7. Brandi Carlile, "The Eye"
8. Emmylou Harris, "Red Dirt Girl"
9. Lucinda Williams, "Side of the Road"
10. Shawn Colvin, "Polaroids"
11. Gomez, "Make No Sound"
12. A Tribe Called Quest, "Kick It"
13. Los Amigos Invisibles, "Cuchi Cuchi"
14. LCD Soundsystem, "New York I Love You"
15. Sylvan Esso, "Radio"
16. Cardigans, "Lovefool"
17. Chemical Brothers, "Go"
18. Flo Morrissey and Matthew E. White, "Everybody Loves the Sunshine"
19. Al Green, "You Oughta Be With Me"
20. Steely Dan, "The Fez"
21. Nat King Cole, "Sweet Lorraine"
22. Ray Charles, "Hallelujah I Love Her So"
23. David Bowie, "Station to Station"
24. The xx, "Say Something Loving"
25. Rickie Lee Jones, "Sunshine Superman"
26. Frank Sinatra, "That's Life"
27. Manu Chao, "Me Gustas Tu"
28. Rhiannon Giddens, "Tomorrow is My Turn"
29. Hall & Oates, "Las Vegas Turnaround"
30. Bob Dylan, "Mozambique"
31. The Staple Singers, "I'll Take You There"
32. The Band, "The Weight"
33. Van Morrison, "The Philosopher's Stone"
34. Nathaniel Rateliff, "Time Stands" (from FUV Live Studio A session)
35. The Waterboys, "In My Time on Earth" (FUV Live from Rockwood)