Richard Thompson: Beeswing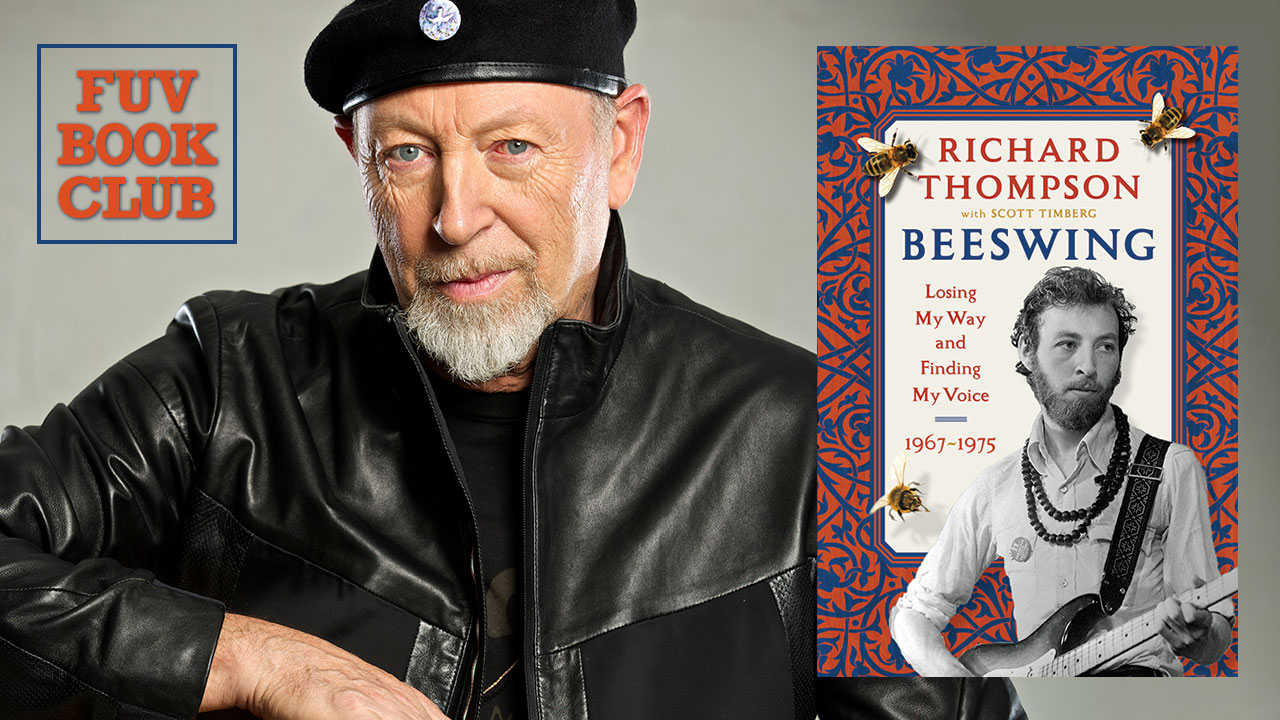 The "FUV Book Club" continues this month — and we're encouraging you to read along with us! Musicians turned literary authors have been releasing exceptional memoirs this year. This past spring, Richard Thompson published his detailed recollections of the early years of his career, focused on his tenure with Fairport Convention and six-album partnership and marriage to fellow folk musician Linda Peters.  In the player above, listen to Thompson read an excerpt from Beeswing: Losing My Way and Finding My Voice 1967-1975, and below, Kara Manning's review:
Richard Thompson
Beeswing: Losing My Way and Finding My Voice 1967-1975
Algonquin/Workman
Elevator Pitch
Richard Thompson's Beeswing dwells on youth, but is colored by decades of hindsight. A breezy, detailed road map of Thompson's teens and twenties during the halcyon days of Britain's folk scene, he recalls his tenure with Fairport Convention, survival as a session guitarist, and his artistic partnership with Linda Peters, the musician with whom he released six albums, married, and divorced over the course of decade. Thompson's young man's journey is a rocky one, punctuated with a tragic accident, a devastating fire, deaths of friends, financial hardship, borderline alcoholism, and a life-changing spiritual journey to Sufism.
Meet The Author
One of Britain's most lyrically incisive songwriters, technically impressive guitarists, and beloved musicians (he received an OBE in 2011), Thompson gracefully bridges the span between contemporary and traditional British folk music, always aware of the historic impact of his forebears. He's released 18 solo studio albums, but only one, his 1972 debut, Henry the Human Fly, is discussed at length in Beeswing. Instead, Thompson dissects his youth in the book with forensic precision and a diarist's robust memory. Thompson, whose five children include musicians Teddy Thompson and The Rails' Kami Thompson, released his second "Covid-era" EP, Serpent's Tears, in spring 2021. His most recent solo album is 2018's 13 Rivers; he also wrote the soundtrack for the World War II documentary "The Cold Blue" in 2019, the same year he celebrated his 70th birthday with an all-star tribute at the Royal Albert Hall.
The Hook:
Thompson leans more on crisply conveyed journalism than poetic or painful rumination; this isn't a sentimental memoir. The tragic 1969 tour bus accident that killed his girlfriend of two weeks, Jeannie Franklyn, and Fairport Convention's 19-year-old drummer Martin Lamble, and seriously injured Thompson, was a profound trauma that he is reluctant to dwell upon for too long. But Thompson's sharp memory pays off with moving insights on fragile colleagues like his former Fairport Convention cohort Sandy Denny and Hampstead neighbor Nick Drake, as well as the tougher interpersonal politics of Fairport's ever-shifting lineup. There's also a flood of brief, fascinating, and sometimes scathing anecdotes circling well-known contemporaries such as Led Zeppelin, Phil Ochs, Linda Ronstadt, Geoff and Maria Muldaur, Glenn Frey, banjo player Bill Keith, Bob Dylan, John Lennon, Gerry Rafferty, and a trash-talking Buck Owens and the Buckaroos (Thompson got his sly revenge). Linda Peters doesn't appear until late in the memoir and the couple's career as a duo, including albums I Want To See the Bright Lights and Shoot Out the Lights, is briskly covered in a mere 60 pages, which partly focuses on Thompson's religious awakening.
Soundtrack:
"Beeswing" didn't land on a Thompson album until 1994's Mirror Blue, and as he describes the song, which carries the book's title, as the confluence of his life in the late '60s, the allure of storytelling, and those who dropped away from the fray. "I had no idea where the tale was going," writes Thompson. "It was like being seven years old again, placing one foot in front of the other, step by step, with my head in thick fog, unable to see my hand in front of me, not too concerned if I found my way to school or not."
Thompson doesn't remember much about writing one of Fairport Convention's classics, 1968's "Meet on the Ledge," which appeared on their second album, What We Did on Our Holidays, and was sung by Sandy Denny and Iain Matthews. Thompson isn't even sure of what he was channelling when writing it. He writes: "It's a spiritual song; it's a song about wasted ambition; a song about the full cicle of life; a song about old friend being the best friends; a song about the contemplation of ending it all — all very ambitious given my narrow worldview at the age of nineteen."
He describes "The Great Valerio," the final track from Richard and Linda Thompson's second album, 1974's I Want to See the Bright Lights Tonight, as "leaving the listener dangling" – which he likes. "I see lack of resolution as almost poetic," he writes, "as keeping the questions coming." Which seems an ideal way of describing Beeswing's tight focus on this particular period in Thompson's life.
Sidebar:
- Thompson, one of FUV's "Essentials," has been a frequent FUV Live and FUV High Line Bash guest. Catch up to his 2018 concert at City Winery here, hosted by Darren DeVivo.
- Music journalist Scott Timberg, who died by suicide in December 2019, pushed Thompson to write the memoir and helped him shape its structure. Beeswing is dedicated to him.
- In the mid-to-late Seventies, on his pilgrimmage of self-realization, Thompson abandoned music for several years, becoming an antiques dealer.
- In the afterword, Thompson's rare drift to sentimentality is balanced by his blunt honesty: "There are some songs — probably more than half of everything I have written — that have fallen by the wayside, and I'm happy about that. You can't get it right all the time and sometimes, in the name of innovation, you take a risk and fall short. But the songs I sang with Fairport, the songs I wrote for Linda, are precious to me."