FUV High Line Bash 2019 Recap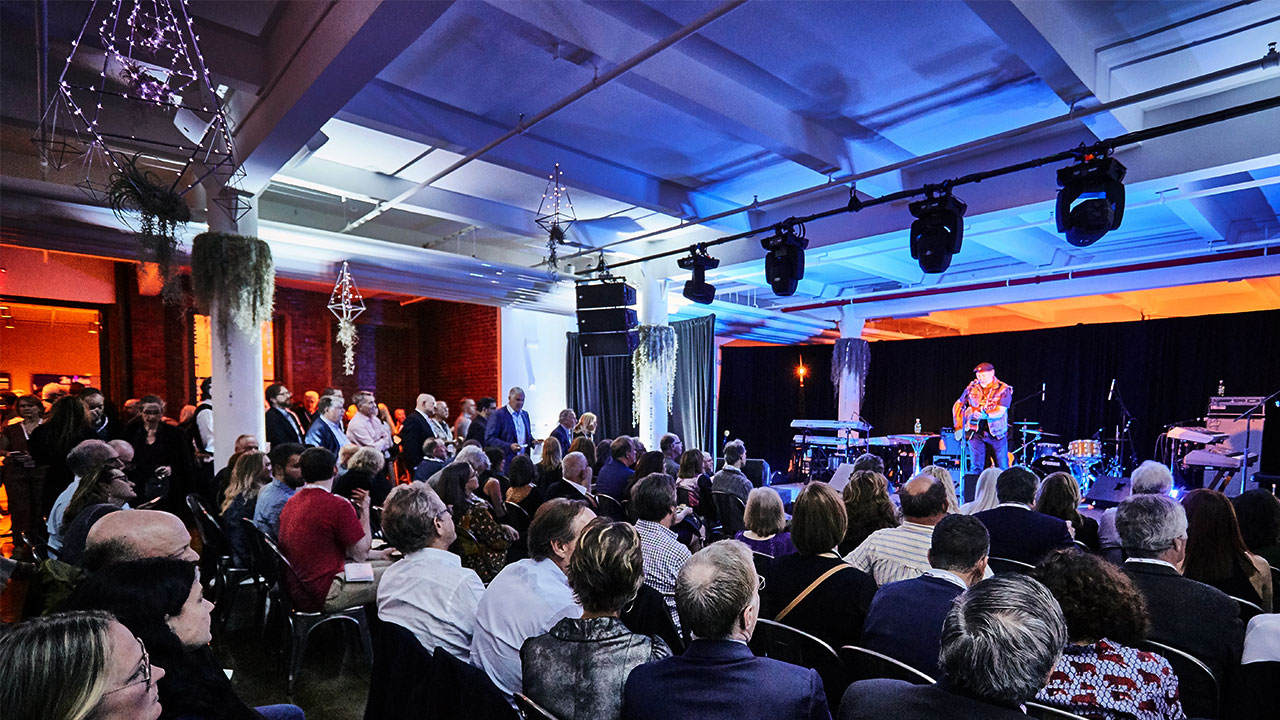 The fourth annual WFUV's High Line Bash on May 3, our annual fundraising gala, again transformed Chelsea's Milk Studios into an adventurous indoor music and gourmet food 'n' drink festival. Not only was the evening a lot of fun for the dedicated FUV lovers who attended, but it also was the perfect kind of relaxed benefit: a jubilant celebration, brimming with songs and supporting New York's most inventive radio station.
It was an overcast night, but there was nothing but unfiltered sunshine inside as FUV members, listeners, donors, dedicated supporters, DJs, and staffers (and an army of helpers) transformed Milk Studios into a sprawling, multi-stage festival that matched intimate sets by beloved artists with a delectable feast. The knockout lineup of musicians — Citizen Cope, Richard Thompson, Jill Sobule, Caroline Rose, the Binky Griptite Orchestra, and Joe McGinty's Superstar Piano Bar — inspired standing ovations, happy sing-alongs, dancing, toasts of "Bash Bubbly," and the chance to see some legends and legends-to-be up close. (Watching Thompson's fingers fly up the fretboard of his guitar in an impromptu master class via "1952 Vincent Black Lightning" was a special thrill.)
Opening remarks by FUV general manager Chuck Singleton included a lovely surprise for program director Rita Houston, who recently marked her 25th anniversary at the station — a framed letter from Mayor Bill de Blasio, congratulating Houston for her service to the people of New York City. "I am proud to join in commending you for bringing joy to listeners throughout the five boroughs," wrote de Blasio, "providing a platform for new talent that deserves to be heard and enriching the cultural vitality of our city." In turn, Houston affectionately introduced the entire FUV air staff — leading to morning host Corny O'Connell's introduction of the first Bash performer of the night: FUV's own "The Boogie Down" host Binky Griptite and his orchestra.
Guitarist Griptite and his bandmates — which included an upright bass and a three-man brass line of sax and trumpet — got Studio D moving with a mashup of Freddie King's "Side Tracked" and Louis Jordan's "Let the Good Times Roll," plus other blues classics like Preston Foster's "Got My Mojo Workin'," made famous by Muddy Waters. Griptite, formerly of the Dap-Kings, also slipped in one of his own originals, "What is My Number," from a forthcoming album.
Caroline Rose, one of FUV's much-loved emerging artists, released an spirited album last year, called LONER, an ingenious mix of punk swagger, rockabilly, and effusive pop, with a wink to New Wave. A terrific performer with boundless energy— her rosy-red Adidas kicks came in handy as she leaped on and off the Studio C stage  — she revisited tracks from her much-praised 2018 album, like "More of the Same," "Cry!" and "Jeannie Becomes a Mom." Evening host Eric Holland, who introduced Rose to the stage, cites "Soul No. 5" as his favorite of this set, and loved how much fun Rose and her bandmates — guitarist and keyboardist Abbie Morin, bassist Joshua Speers and drummer Willoughby Morse — had as they gleefully ripped through the song.
"Mixed Bag" host Don McGee had the honors of bringing Richard Thompson to the Studio D stage and grand master Thompson, in his signature black beret, played a career-spanning set just solo with his acoustic guitar. While he dipped into some of the contemplative, powerful songs from his most recent album, 13 Rivers, like the stunning "The Rattle Within," he conquered the noisy room with crowd pleasers too, like the "Persuasion," "Valerie," and the virtuosic "1952 Vincent Black Lightning" — which rightfully got people to their feet, applauding his extraordinary playing.
Leave it to the inventive Jill Sobule to come up with a terrific, hard-rocking set that was packed with meaningful observations. Introduced by nighttime DJ Darren DeVivo, who reminisced about the early days of spinning her 1990 debut album, Things Here Are Different, Sobule kicked off her set with the canny "Our America Back" (and yes, everyone sang along with the song's cussy chorus). Accompanied by her touring band, the cheekily named Dinah Shore Jr. (lead guitarist Alex Nolan, bassist Amanda Ruzza and drummer Christian Cassan), Sobule shifted between tracks from her 2018 release Nostalgia Kills (her first album in nine years), like "I Don't Want to Wake Up" and "Where Do I Begin," and older material too, like the rousing "Jetpack" from 2004's Underdog Victorious.
Just as cinnamon sugar churros were being passed around the venue, came a very sweet set from headliner Citizen Cope, introduced by midday host Alisa Ali. Like Sobule, Thompson, and Rose, Cope's cathartic set poignantly reflected the uncertainty of America in 2019 — and a wish for a better way forward. "Justice," a standout track from his excellent new album, Heroin & Helicopters, was even more riveting in live performance, and "The River," also from the new record (Cope's first in seven years), was devastatingly pretty. Cope was in a sentimental mood too, dedicating the title track of 2012's One Lovely Day to Rita Houston and covering the 1965 Nat King Cole standard "L-O-V-E."  Backed by his funk-fueled five-man band — keyboardists Steve Vidaic and Anthony Brewster, XZ on synths, drummer Jay Nichols, and bassist Preston Crump — Cope also found a breezy reggae groove on "Caribbean Skies," another song from Heroin & Helicopters.
Over in Studio A, Joe McGinty's Superstar Piano Bar was karaoke central — slipping in and out to catch McGinty (of Sid Gold's Request Room and Loser's Lounge fame) guide wannabe pop stars through Katy Perry or Paul McCartney covers was a blast (and yep, it ran the gamut from real you-should-audition-for-"The Voice" talents to cheerfully off-key bravehearts). As is now High Line Bash tradition, one of the Silent Auction premiums was the chance to duet with Jill Sobule, and our successful bidder Kevin sang Elton John's "Levon" with Sobule. As the 2019 edition of Bash drew to a close, Houston, Sobule, and McGinty crooned David Bowie's "All the Young Dudes," with everyone joining in.
Nonstop nibbles came courtesy of Sonnier & Castle catering: delectable hors d'oeuvres (tiny Parmesan nests of Caesar salads and mini shrimp po'boys anyone?); to-die-for taqueria; and backyard BBQ fare (the sauce-slathered, slow-roasted beef brisket came close to having its own Instagram following, it was that popular). There was a heady array of drink from local distillerries, vineyards, craft breweries and fizzy iced tea purveyors. (Props to Tommyrotter Gin and Whiskey and OSO Tequila/Mezcal for expanding the palates of spirits aficionados with generous samples.)
The silent auction, which continued through most of the night, had dozens of tempting items like a "personalized food experience" at Oceana, guided by Executive Chef Bill Telepan; a salon experience with celebrity hair stylist Yves Durif; a stay in a beach house on Turks and Caicos; and a private home concert with Sobule herself.
The High Line Bash always sums up what FUV loves best about its listeners, members, donors, advisory boards, and staffers — and especially the musicians we champion and adore. A spirit of camaraderie runs deep, not just at that event, but year round. We're always grateful to have the love and support of this radio station acknowledged.
If you were at this year's High Line Bash — or hope to make it next year — you can relive the night with scores of photos found on the FUV Flickr Stream. We also used #FUVBash on Twitter and Instagram, and there's Facebook Live video and photos too.
As always, our deepest thanks to everyone who helped this year's High Line Bash take flight, especially:
Photographers Gus Philippas, Neil Swanson and Chris Taggert
WFUV DJs, Staff, Advisory Board, Members
City Winery NYC
Minna sparkling tea