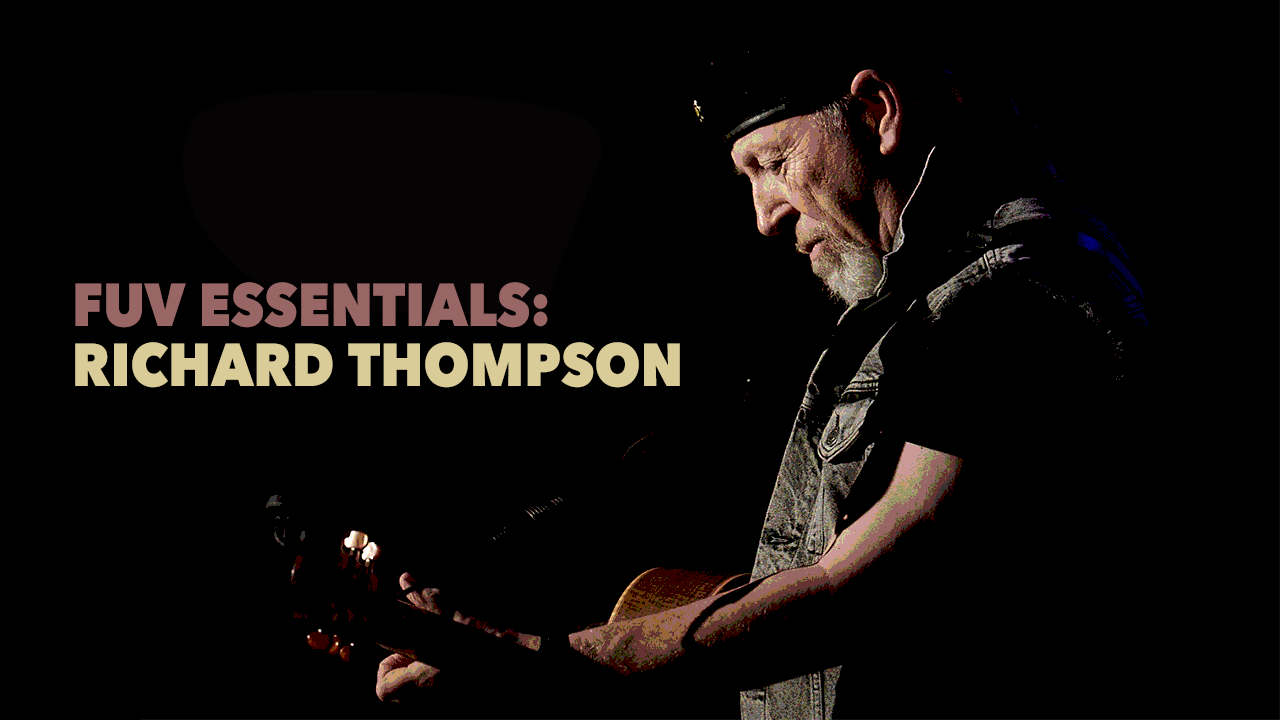 For anyone who has ever handled a guitar, watching Richard Thompson's nimble fingers gallop up and down the neck of that instrument is pretty close to a spiritual experience. Thompson doesn't merely play guitar — he's invented his own language for it, accessing an astounding fluency that shows exactly what a Fender Stratocaster or a Lowden acoustic can do.
His resonant baritone, smart songwriting, cocky beret, and mischievous sense of humor has elevated his music and persona to a sublime stratosphere: the native Londoner, who also calls the States home, is one of the most revered musicians of the past six decades. The late John Peel, the legendary BBC Radio 1 presenter, once dubbed him as one of the "best-kept secrets in British music."
Thompson has described himself as a very shy child with a stutter. But thanks to his father, a Scotland Yard detective who played guitar, and Richard's older sister's extensive record collection, which veered towards Buddy Holly and the Everly Brothers, Thompson found his alternate universe in the "rebellious music" of his post-World War II generation.
He was only a teenager when he cofounded one of Britain's most lauded bands, Fairport Convention, solidifying his impact on British music of the late Sixties. Unlike many of his contemporaries who chased the blues, Thompson found his early inspiration in traditional Celtic, Scottish, Irish, and English folk music. His six post-Fairport Convention recordings with his ex-wife Linda Thompson, notably 1982's Shoot Out the Lights, the couple's extraordinary swan song, exquisitely (and painfully) detailed the arc of a marriage. (Could there be a more candid, gut-wrenching husband-and-wife exchange in song than the segue of "Walking on a Wire" to "Man in Need?")
Although Thompson's first solo album was 1972's Henry the Human Fly, he didn't release another solo album for over a decade until after his breakup with Linda. That second solo album, 1983's Hand of Kindness was very much a rock & roll album — almost jubilant in its vigor — and the opening track, "Tear-Stained Letter," would become a country hit for Jo-El Sonnier five years later.  Set in his solo groove, Thompson steadily rose in the UK charts with every album he released; it was satisfying to see his sixth solo release, 1991's Rumor and Sigh, emerge not only as a British chart success, but an American one too, via Thompson's single "I Feel So Good."
Over the years, the Ivor Novello Award-winning, Grammy-nominated Thompson has become a polymath of all music genres; his 18 solo albums, including 2018's eloquent 13 Rivers, travel all provinces, from the pastoral versus urban stories of 1999's Mock Tudor to the grim murder ballads of 2010's Dream Attic. Whether paying homage to a motorcycle ("1952 Vincent Black Lightning"), or writing an entire oratorio set in the underworld (Cabaret of Souls), there's nothing that Thompson won't explore. For his 1,000 Years of Popular Music —both a tour and a 2003 live album —Thompson gleefully tackled a millennium's worth of songs, from medieval ballads to Prince ("Kiss").
He's also worked extensively as a session guitarist over the past six decades with a formidable list of fellow icons, like Nick Drake (Five Leaves Left, Bryter Later), John Martyn (Bless the Weather, Solid Air) and Bonnie Raitt (Luck of the Draw). In recent years, Thompson has frequently played with his and Linda's son Teddy Thompson and, long removed from the acrimony of their divorce, his ex-wife Linda too, on her solo albums like 2002's Fashionably Late. (Richard and Linda's daughter Kami is a solo artist and is also in the Rails with her husband, James Walbourne).
It's a relief that in a time of political dissonance and disarray, Thompson has released the electrifying 13 Rivers, with powerful songs like "Bones of Gilead" and the "The Rattle Within." Track by track, each tributary on this record galvanizes, rouses, and consoles. And every river here eventually flows to one fact: Richard Thompson is an absolute treasure, and we celebrate him as one of our FUV Essentials.
Discover more from Richard Thompson in FUV's archives.
Listen
#FUVEssentials: Richard Thompson (Spotify playlist compiled by FUV's Darren DeVivo)