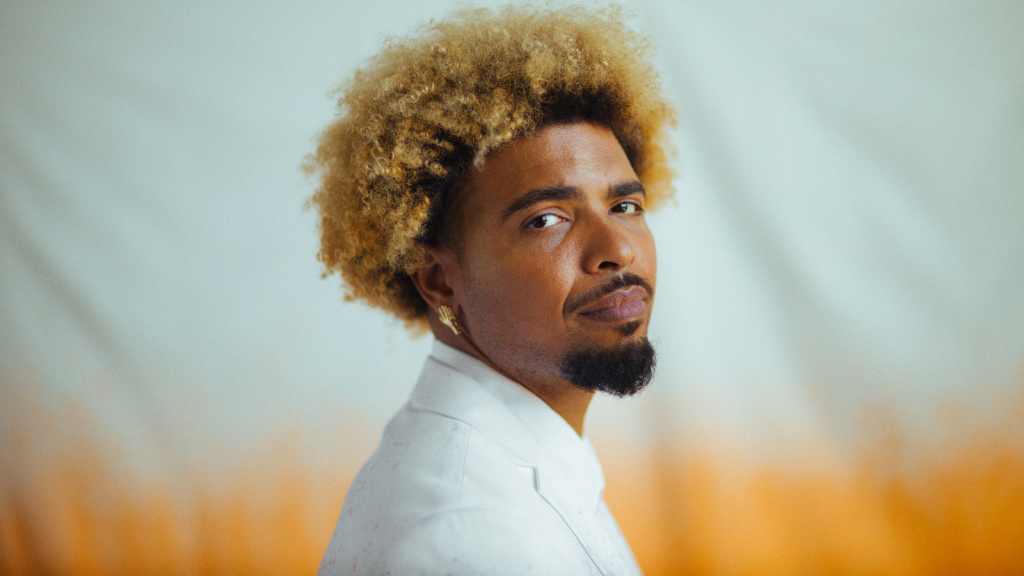 A quick glance at some of some of the new music you'll hear this week on WFUV:
Beck, "Thinking About You"
Beck is back with "Thinking About You" an acoustic, lovelorn single released without much notice on February 9 and just days after he covered "Good Vibrations" (with My Morning Jacket's Jim James), "Sloop John B" and and other songs as part of The Recording Academy's Beach Boys tribute show that will air later this year on CBS. Beck's own spare and lovely "Thinking About You" features Blake Mills (guitar, mandolin), Justin Meldal Johnsen (bass) and Roger Manning (keyboards).
Last year, Beck released his interpretation of Neil Young's "Old Man," but hasn't released a full album since 2019's Hyperspace. Beck and Phoenix will launch their co-headlining "Summer Odyssey" tour on August 1 in Seattle, wending their way to Madison Square Garden on September 9 with opener Weyes Blood. Beck will also play "Willie Nelson 90" at Los Angeles's Hollywood Bowl on April 29 and 30 along with Allison Russell, Leon Bridges, Kasey Musgraves, Chris Stapleton, and many others.
Caroline Rose, "MIAMI"
Long Island's Caroline Rose, who broke through with 2018's Loner, has released this lead single off of their/her upcoming third album, The Art of Forgetting, released March 24.
They are a frequent guest of FUV — and played our 2019 High Line Bash, performed a 2018 Marquee Member show and did a session that same year with host Russ Borris, AND penned the theme song to FUV's podcast "8Track." We think Caroline has earned an FUV sweatshirt! They play Webster Hall on April 12.
Depeche Mode, "Ghosts Again"
Depeche Mode have returned with their first new music since the death of keyboardist Andrew "Fletch" Fletcher. "Ghosts Again" is the earliest taste of the forty-plus year British mainstays' 15th album, Memento Mori, released March 24 and their first release in six years.
Says Dave Gahan of the new song in a statement: "To me, 'Ghosts Again' just captures this perfect balance of melancholy and joy."
Depeche Mode is now the core founding duo of Gahan and Martin Gore since Fletch's passing (the band's fourth original co-founder, Vince Clarke, left in 1981 and formed Erasure); they will be at Madison Square Garden for a sold out gig on April 14 with opener Stella Rose — who is Gahan's daughter — and The Dead Language. But there's two more chances to see them in New York: they'll play Barclays Center on October 21 and MSG again on October 28. 
Devon Gilfillian, "All I Really Wanna Do"
Gilfillian's second album of originals, Love You Anyway, is due out — at last — on April 7 and on it you'll find this sweet morsel of psychedelic soul.
When FUV corresponded with Devon for a Q&A in 2021, about his live, all-star rerecording of Marvin Gaye's classic album, What's Going On, and the expanded edition of his own debut album, 2019's Black Hole Rainbow, the Nashville-based musician spoke extensively about his own political awakening following the 2020 murder of George Floyd (he was writing songs for this second album at the time).
Gilfillian touched upon some personal goals when it came to activism too: "I want to keep that train rolling here in Tennessee. We need to keep fighting in [Tennessee] to get communities of color and low income communities involved in every election, not just the Presidential election."
Gilfillian, who also landed in Studio A for a 2019 FUV Live session, plays Mercury Lounge on April 17.
Gabriels, "Angels & Queens"
Jacob Lusk, Ryan Hope, and Ari Balouzian released the first part of their debut album, Angels & Queens, where you'll find this single, last September; the second half of the album is due out on April 28. 
The album was produced by Compton-born producer Sounwave (Kendrick Lamar, Beyoncé).
Gabriels play both weekends of Coachella this April and given the British-American trio's popularity abroad, they've got a big handful of UK and European festivals ahead, including Primavera Sound in Barcelona in early June. Curious about their influences? Read Jacob Lusk's "Five Essential Albums" for FUV.
Indigo De Souza, "Younger and Dumber"
North Carolina-based Indigo De Souza's third album, All of This Will End, drops on April 28, a swift followup to 2021's Any Shape You Take. (Her debut was 2018's I Love My Mom, which was re-released in 2021.)
"Younger and Dumber" is a spare, emotionally raw song that Indigo discusses at length in a press release: "Flood beam of my emotional and spiritual human experience. My growing up defeated by a world brutally littered with trash, violence and grief, and somehow finding beauty, purpose, and boundless love existing in the same place. This song felt really emotionally intense for me when I wrote it. I was sitting in my house and it kind of flowed right to me as if it had already been written by some other force. A lot of the lyrics are a nod to the idea that your experiences make you who you are. I endured some heavy darkness and dysfunction when I was a teenager. But if I hadn't been through those things, I wouldn't be who I am now."
Indigo, who also directed the video for "Younger and Dumber," plays Manhattan's Webster Hall on May 24.
Also in the mix:
Joseph, "Nervous System"
The Oregon trio of sisters Natalie Schepman, and twins Allison and Meegan Closner release a fourth studio album, The Sun, on April 28. They play Irving Plaza on June 22.
Steve Lacy, "Helmet"
Digging deeper in Gemini Rights, which was released last year.  Lacy headlines Forest Hills Stadium on June 18, joined by James Blake, Toro Y Moi, and Fousheé .