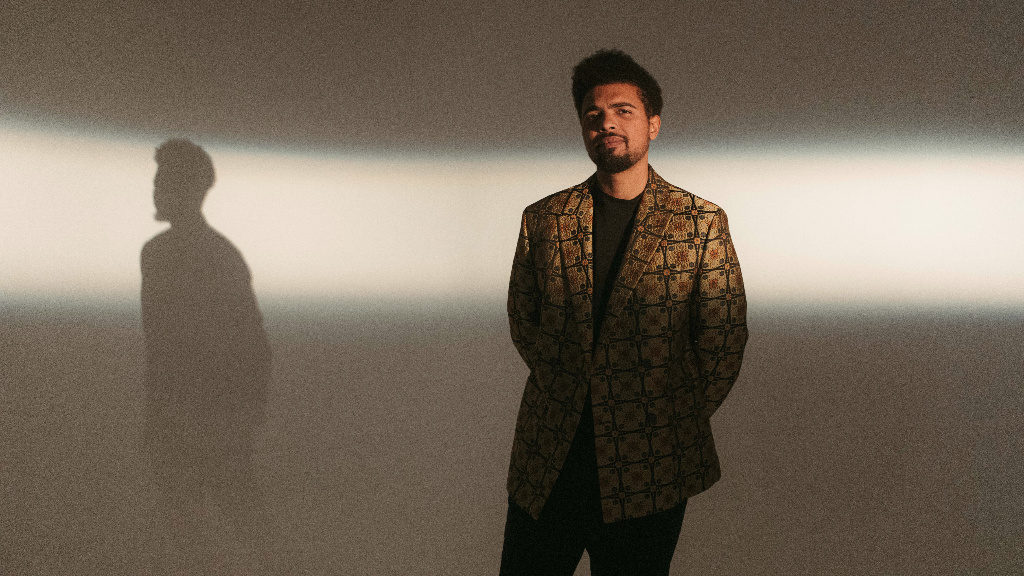 Devon Gilfillian is a brave man. Not many musicians would, in the midst of a pandemic, cover not only one of the greatest albums of 1971 (and the decade), but the album that topped Rolling Stone's 2020 list of the "500 Greatest Albums of All Time." Gilfillian released his rerecording of Marvin Gaye's landmark What's Going On last October, and streamed a performance of it as a benefit concert too, with live guests such as Jason Isbell, Joy Oladokun, The War and Treaty, and The Lone Bellow.
The decision to record the album was a deeply personal one for Gilfillian, who saw its message as relevant today as it was when it was released on May 21, 1971.
Fifty years on, as WFUV focuses on '71 releases, I wanted to ask the Nashville-based musician about his labor of love — and wondered what he'd ask Marvin if he'd ever had the chance.
In this FUV Q&A, Devon discusses this remarkable past year, his admiration for Gaye's masterpiece, and his own activism, both future and past.

You were inspired to revisit Marvin Gaye's 1971 album, What's Going On, in the aftermath of the Black Lives Matter protests for racial justice last summer, following the murder of George Floyd. What led you to that leap from just covering one of Gaye's songs to taking on the entire album in such an ambitious way?
Well after I decided to learn the song "What's Going On," I thought to myself, "How can I put this music into action?" and immediately I thought about putting a benefit concert together with artists of color here in Nashville. I figured we'd have to cover the entire album, and also, I was eager to learn the album anyway.
How quickly did you get friends like Jamila Woods, Jasmine Cephas Jones, Jason Eskridge, A.J. Haynes and your band on board?
The game plan grew from doing a benefit concert to recording and releasing the album, so that opened up many possibilities for artists all over to hop on board, like Jasmine, Jamila, and A.J. As soon as I mentioned to all of the people on the album that I was planning on doing this, they were on board right away. It was really inspiring to see artists come together for such a cause.
What did What's Going On say about systemic racism and politics in 1971 that might be even more potent 50 years later? Is there anything that you discovered in one of Gaye's songs, as you re-recorded it, that surprised you — either emotionally or logistically?
"Crime is increasing, trigger happy policing." Just right there, in "Inner City Blues," Marvin talks about the relationship with the Black community and policing. "Mercy, Mercy Me" is about climate issues and the environment. The entire album is a plea for the United States to come together, despite the color of your skin, despite what party you're a part of. To me, it's exactly what the world needs to hear right now. It's so crazy how an album made 50 years ago can have such potency today.
If you could slip back in time and talk to Marvin, is there anything that you'd like to ask him?
Aw, man, that's a good one. I would ask him how he got away with singing a three-minute rendition of the National Anthem at the NBA all-star game in 1983.
Proceeds of a livestream performance of the album went to a Nashville non-profit organization, Equity Alliance. Why is that such a key organization for you? You also took the initiative to start your own The Good Life Fund, inspired by your song "The Good Life," which will support organizations like the Equity Alliance.
Equity Alliance fights voter suppression and educates communities of color on the democratic process here in Tennessee, and I think that's the biggest problem in this state when it comes to getting our voices heard. Tennessee is 45th in voter turnout and 49th in voter registrations in the U.S., which is just sad. I want to do what Stacey Abrams did in Georgia, but in Tennessee.
What goals do you have in 2021 for furthering the conversations begun during the Black Lives Matter protests of 2020?
Obviously, I'm just a musician, but this [past] year was definitely the most inspiring when it came to activism, and I want to keep that train rolling here in Tennessee. We need to keep fighting in TN to get communities of color and low income communities involved in every election, not just the Presidential election.
Nashville's country music scene has also been in the throes of a serious reckoning with racism and lack of diversity. Do you feel a sea change in the music industry, especially in Nashville?
I think I do feel a sea change. I think Nashville's country music scene is waking up a bit. On one hand you have T.J. Osborne coming out as a first openly gay male country artist signed to a major label, which is amaaaaazing, and on the other hand you have Morgan Wallen saying the N-word and getting praise via sales. I feel like I'm lucky I got a squeeze into the Americana scene here, but I still feel like there's a lot of work to do.
As an artist, the last year has been an awakening for you — performing the national anthem at a NASCAR race the very day that the organization decided to ban Confederate flags must have been a very charged, emotional moment for you.
Absolutely it was. I was ecstatic to see NASCAR taking the steps to combat systemic racism and was so honored to be a part of that moment. Like I said before, we got a lot of work to do, but we're moving in the right direction.
You recently released an expanded, deluxe edition of your debut, Black Hole Rainbow. In revisiting that album, especially adding a coda to "Thank Me Later" with the new "Thank Me Later (Again)," what resonates most about where you were when you recorded that album — and where you are now?
It's so crazy to think about writing, "The Good Life" back in 2018 and how much more it means now in 2020. [Last year] itself felt like a black hole, so that definitely feels appropriate. I got to make Black Hole Rainbow out in L.A. with Shawn Everett at ElectroVox studios and his studio. ElectroVox was playground full of vintage gear and tape machines, and everything that makes a record sound classic. I'm so grateful I got to track that album the way I did.
Given the past year, and all that you — and the world — has experienced, how has that affected your songwriting? In lieu of touring, how much are you planning your second album?
Now, I'm working on album two. I'm writing my butt off in Nashville, and I'll be taking a trip out to L.A. in May to do some writing as well.
What brings you joy, contentment, distraction or a sense of hope right now? 
I'm a fat boy at heart, so cooking is my passion other than making music. Riding my bike brings me all the joy, it's such an escape for me. Getting outside, getting some exercise, going for a hike, listening to a new album I've never heard before from one of my favorite artists.
- Devon Gilfillian
March 2021