Meshell Ndegeocello: Juneteenth Q&A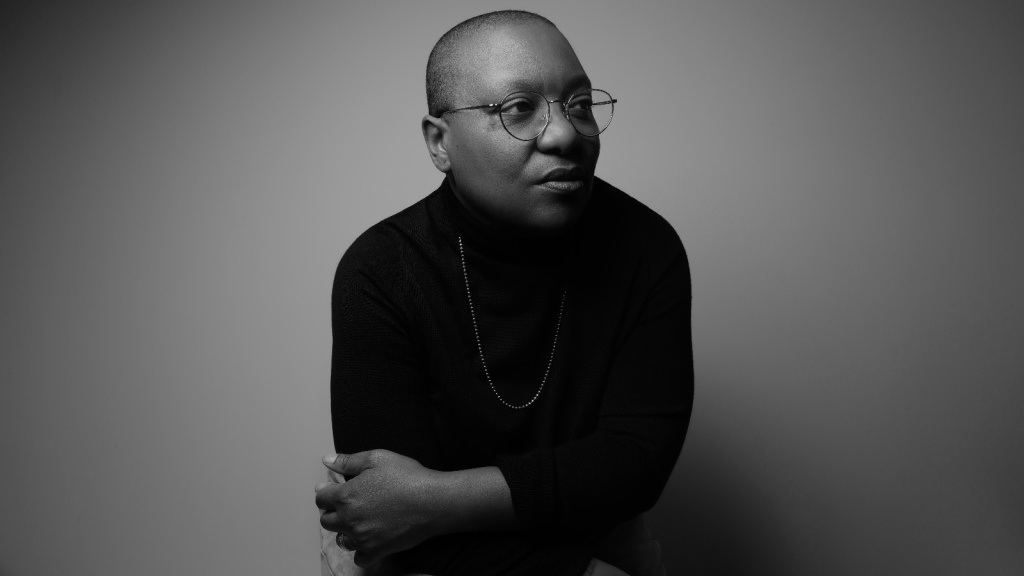 As we approach Juneteenth National Independence Day on June 19, which marks the end of slavery in the United States, WFUV will amplify the words and voices of Black artists, with special programming on Monday, the third anniversary of the federal holiday. WFUV has reached out to Madison McFerrin, Meshell Ndegeocello, Abraham Alexander, Joy Oladokun, and Hannah Jadagu regarding the import of the holiday, as well as their music.
On Friday, June 16, Meshell Ndegeocello releases her first album for Blue Note, The Omnichord Real Book,  a poetic, powerful and expansive exploration of music that partly links her to memories of her late parents — while laying the groundwork for her own renewed horizons. The Grammy-winning singer, songwriter and multi-instrumentalist is thoughtful and erudite when considering the multifaceted ways that grief can be processed and perceived.
A thrilling mix of jazz, funk, soul, rock, and gospel, The Omnichord Real Book, her 13th album, opens a striking new chapter of Ndegeocello's long career, an experience that she describes as a "lightbulb moment."
Coincidentally, 2023 also marks the 30th anniversary of her watershed debut album, Plantation Lullabies. In this FUV Q&A, Ndegeocello touches on both albums and their bookended impact on her life:
The Omnichord Real Book is your first album for Blue Note. Given the rich history of the label, and your own equally storied journey, what new freedom did you find here, for yourself, and working with an array collaborators like the Hawtplates, Joan as Policewoman, Ambrose Akinmusire, guitarist Jeff Parker, pianist Jason Moran and many others?
I have to say, it's a childhood dream. Blue Note was a fixture in my house and so many of my heroes have made music on the label, and I was giddy when it came together. I have been making music with labels for a long time, I feel like it's difficult to be surprised anymore, but the creative freedom at Blue Note took me by surprise. I got to make the album I wanted the way I want to with the people I wanted on it, that's really all I ever want to do.
You've spoken about the loss of your parents, and how you found solace in rediscovering the music they'd loved, which was an intrinsic part of the 18 songs on this record. Is there a particular song on this album that is vividly, for you, the legacy of your mother? A memory of your father?
I think this album is more about the freedom I have in their absence rather than memorializing them. I don't mean that disrespectfully, my parent did the best they knew how, but it was not easy to be their child. This album is about the weight of my own history and the lightness of being I have now.
In an "Invisible Blackness" podcast a couple of years ago, you said, with great empathy, that your parents had a limited understanding of their place in history. Looking back now, what do you wish they had understood?
I wish they understood the burden they bore, that as people who knew and lived in the segregated South, they needed a lot of healing.
Every song on The Omnichord Real Book — "Good Good," "Clear Water," "Gatsby," "Virgo" — feels specific to a time, a place, an influence, a fragment of a feeling, a point of pain. What was your specific vision of how you wanted this album to flow?
I don't know if I knew til I heard it all together. I don't always have a vision. Sometimes I do, but this was more a vision for each tune and then, together, the story was revealed to me.
You chose to work with a producer — jazz saxophonist and multi-instrumentalist Josh Johnson, who released his debut album, Freedom Exercise, a few years ago. How did you connect and why was he the right person for you to trust with this very personal project?
I think Josh is a brave and beautiful player and listener. He's confident and not personally connected to any of the personal parts of the project. I felt the music would benefit from more objectivity and from someone who did not have a fixed idea of what kind of music I make.
This year marks the 30th anniversary of the release of Plantation Lullabies. Looking back at that revered album, and how it changed your life, what is your perspective of it three decades down the line? Anything you wish you could have told yourself back then, during the recording of it?
Wow, what a question. I'm so grateful that people listen. It's humbling to hear it spoken of that way, it really was just the music in my mind and an incredible group of collaborators. I was lucky and it did change my life. In that way I would not change a thing. I would have told myself a lot of things about money and lawyers though!
You are a major influence on a vast swath of musicians who grew up on your albums. Who — or what — fills you with joy or inspiration these days?
I got to work with many of the people who are currently so inspiring to me. Jeff Parker, Hanna Benn, Josh Johnson, and Brandee Younger. Zoh Amba also makes incredible music.
- Meshell Ndegeocello
June 2023
See Meshell Ndegeocello play New York's Sony Hall on June 21, part of the Blue Note Jazz Festival.