Abraham Alexander: Juneteenth Q&A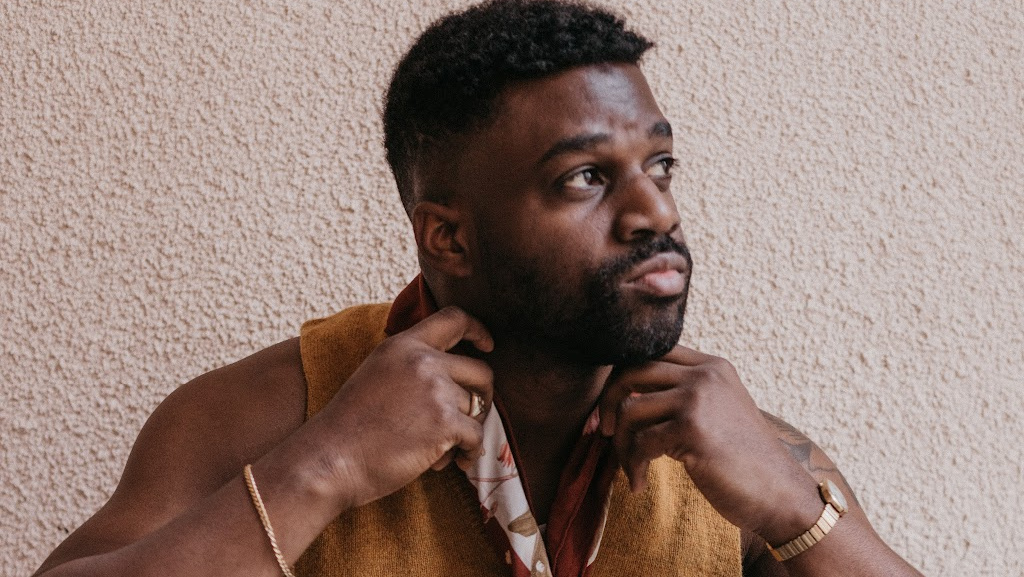 As we approach Juneteenth National Independence Day on June 19, which marks the end of slavery in the United States, WFUV will amplify the words and voices of Black artists, with special programming on Monday, the third anniversary of the federal holiday. WFUV has reached out to Madison McFerrin, Meshell Ndegeocello, Abraham Alexander, Joy Oladokun, and Hannah Jadagu regarding the import of the holiday, as well as their music.
Abraham Alexander has faced heavy loss, distress, and upheaval in his young life, experiences which he recounts with wisdom and wistful grace on his debut album, SEA/SONS.
Born in Greece to Nigerian parents, when he was a child, Alexander and his family again migrated to Texas to escape the racism they encountered in Europe. One of the great traumas of his life—his mother was killed by drunk driver—spiraled into a series of more painful chapters, and Alexander was eventually adopted by another family. In another life-altering turn of events, after a promising soccer career was derailed by an injury, Alexander learned to play guitar and found his calling in songwriting.
His story is impossible to pare down to a mere paragraph, but what's so resonant about SEA/SONS is the way Alexander courageously dissects his grief and his inner strength, as well as those demons of self-doubt and depression. Fortunately, Alexander has a network of loving friends who've become guiding angels in his life, and on this album — including Mavis Staples and Gary Clark Jr.
For our Juneteenth series of Q&As, we asked Abraham about the impact of the holiday on his life and how his powerful debut album came to be:
What does Juneteenth mean to you, whether personally, artistically, or as a longtime resident of Texas, where the holiday has its historic roots?
Juneteenth is a celebration that is complex for me, something I see from different perspectives. We celebrate the independence of the United States since the inception of its liberation, but the liberation and emancipation of Black people from slavery just became a national holiday to be celebrated on June 17, 2021, even though the proclamation was declared in 1863. As a Texan, it is a sign of resilience, fortitude and faith. As an artist it is a personification that love, joy and Gospel can still be present in the midst of oppression.
Your debut album, SEA/SONS, is a brave immersion into your own trauma and grief. You don't balk at exposing that intense personal pain and abuse. Writing these songs and recording this album meant walking into darkness — how did you care for yourself in the process?
I cared for myself by writing the album. Vulnerability is a power that can only be cultivated by being courageous, and courage can only be present in the midst of fear, not by its absence.
Your memories of your mother also drove this album, especially in "Heart of Gold" and "Today." Do you have a particular memory of her that you treasure? And what do you think she'd make of SEA/SONS and the man you've become?
She took me out of school early, the day before she passed, and took me on an adventure — we went window shopping. She tried on all the dresses in the store and asked how they looked on her. A memory I will never forget. I hope she's proud of the man I have become and the legacy I am living with SEA/SONS.
Your song with Mavis Staples, "Déjà Vu," is powerful, with multifaceted layers. What was the catalyst for the track? And how did you connect with Mavis? What does she — and her civil rights legacy — mean to you?
Learning the tragic story of Kalief Browder was the catalyst to "Deja Vu." I was compelled to share his story. I was the opening act for Mavis back in 2021, and that's how we connected. Mavis lending me her voice is something I will never be able to comprehend or grasp — just in awe. I wouldn't have the freedoms I know if it wasn't for her fight for civil rights — her legacy can not be measured or quantified. It is eternal and one that will lead to compounded interest.
Gary Clark Jr. has served as a mentor for you — and he appears on "Stay." How has his friendship, guidance, and guitar playing uplifted you? 
Gary Clark Jr.'s friendship, guidance, and guitar playing have uplifted me by exemplifying the importance of living a purposeful life through music and art, serving as invaluable lessons. Collaborating with him on "Stay" has not only been an honor, but a transformative experience that has fueled my artistic growth and inspired me to reach new heights.
And another mentor and friend, Leon Bridges, has changed your life in so many ways.
Having Leon as my best friend and witnessing a behind-the-scenes view of his career has shown me that character is what sustains you. As a mentor, he has guided me with his wisdom and experience, encouraging me to stay true to myself and my artistry. As a friend, his presence has brought immense joy, support and a shared love for music. His journey as a musician has inspired me to pursue my own musical path with authenticity and passion, forever changing my life for the better.
Is there any charitable organization that means a great deal to you, one that might have helped you or your adoptive family during a challenging time?
B Loved Ethiopia is an organization that means a lot to me. B Loved is a non-profit organization dedicated to providing group homes for orphans in Ethiopia.
- Abraham Alexander
June 2023
Abraham Alexander is on tour and plays an FUV Marquee Member show on July 31. He also supports Shakey Graves at Lincoln Hill Farms in Canandaigua, New York on August 9.