Joy Oladokun: Juneteenth Q&A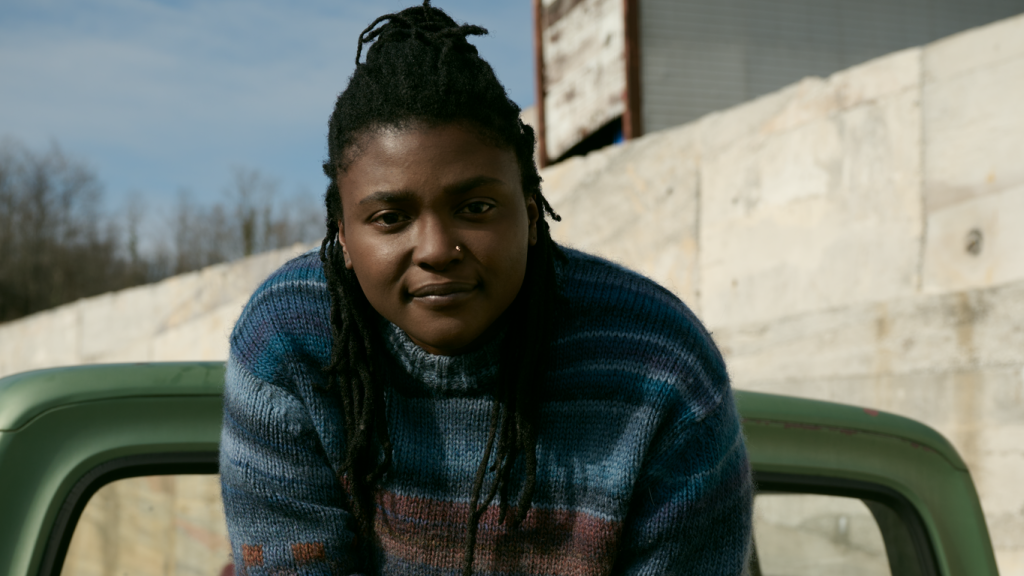 As we approach Juneteenth National Independence Day on June 19, which marks the end of slavery in the United States, WFUV will amplify the words and voices of Black artists, with special programming on Monday, the third anniversary of the federal holiday. WFUV has reached out to Madison McFerrin, Meshell Ndegeocello, Abraham Alexander, Joy Oladokun, and Hannah Jadagu regarding the import of the holiday, as well as their music.
The songs of Joy Oladokun might have a tender undertow, but there's a life force that propels her message forward with robust, electrifying directness. Even in her quietest moments, this Nashville-based singer and songwriter is a tireless messenger of equity and empathy, core to the enlightened heart of her latest album, Proof of Life.
Over the last few years, since the darker days of the pandemic, Oladokun's star has risen—an ascendance certainly aided by her memorable duets with country and Americana superstars such as Chris Stapleton ("Sweet Symphony"), Maren Morris ("Bigger Man"), and Noah Kahan ("Someone Like You" and "We're All Gonna Die.")
But it is Joy's own voice—sage, sonorous, and spiritually resonant—that is her superpower. FUV connected with Oladokun this month for a Q&A to discuss Juneteenth, Pride, and her magnificent fourth album:
What does Juneteenth mean to you, whether personally, artistically, or where we are as a country?
Juneteenth to me is a celebration and reminder that no matter what systemic failures still ail the black community, this country we built made a promise of liberating and protecting us. Juneteenth allows us to celebrate progress and also call America to accountability for the ways the poison of racism still affects our culture.
Proof of Life is an album of this era, as we grapple with some dark issues in this country, from ongoing systemic racism to the continued persecution of the LGBTQ+ community. You take a holistic approach, one laced with hope, as on "Changes" and "Pride." How do you keep galvanized and positive when things feel bleak?
I try to stay as grounded as I can when things seem bleak. I take walks and go outside. Spend time with family and friends. These things remind me that I am worthy of a good simple life and that I am fighting for the right to enjoy that life as long as I can.
You've worked with an impressive array of fellow musicians on this album, including Manchester Orchestra, Noah Kahan, and Chris Stapleton. What did you enjoy most about these collaborations — and how did they expand your vision of Proof of Life?
For me, writing a record about my life meant honoring my influences. All of the collaborators on the album are a dream come true. From the legendary McCrary sisters to Mike Elizondo to Maxo Kream. Everyone on this record has influenced my life and my art in a major way.
"Somebody Like Me" is an extraordinary song, one that's uplifted by a gospel arrangement (and the McCrary Sisters) and directness of your lyrics: "Some days it feels so hard to get better/And I've never been as honest as I want to be." What does that song symbolize for you?
I wanted to write a song that anybody could sing but that also took on different meaning depending on who is singing it. I'm a queer, Black person asking if anyone can say a prayer or light a candle for me in my hour of need. That's a challenge to some religious people to lay down their prejudices and put their money where their mouth is. It's also an olive branch because if I hear someone I don't agree with sing those words, it presents a challenge to me too.
We're also in the midst of Pride month — can you speak to your own pride as being part of the LGBTQ+ community?
Being proudly LGBTQIA, to me, is about the potential lives it will save. I was so depressed as a closeted kid and adult. The hope is that me being my best brightest self will allow people to feel like they can be themselves.
"Revolution" with Maxo Kream is a quiet storm of an anthem — are you indeed a revolution? And do you feel braver today?
I am a revolution. I think most people breathing are a revolution in their own way. It takes so much to survive and function in this world. I think that song speaks to the delicate nature of bravery and how it can feel both hopeless and empowering to be so purpose driven.
Is there an organization for social change that you feel strongly about—in Nashville or elsewhere—and why?
Launch Pad in Nashville does amazing work for homeless youth (LGBTQIA and otherwise). When I was a kid my biggest fear was getting kicked out of the house for being gay. I like to support Launch Pad whenever I can because housing security for LGBTQIA youth in the South is a real issue that deserves attention and care. Kids should get to thrive and be kids no matter who they are.
- Joy Oladokun
June 2023
Joy Oladokun is on tour this year and plays New York's Irving Plaza on October 2.