Hannah Jadagu: Juneteenth Q&A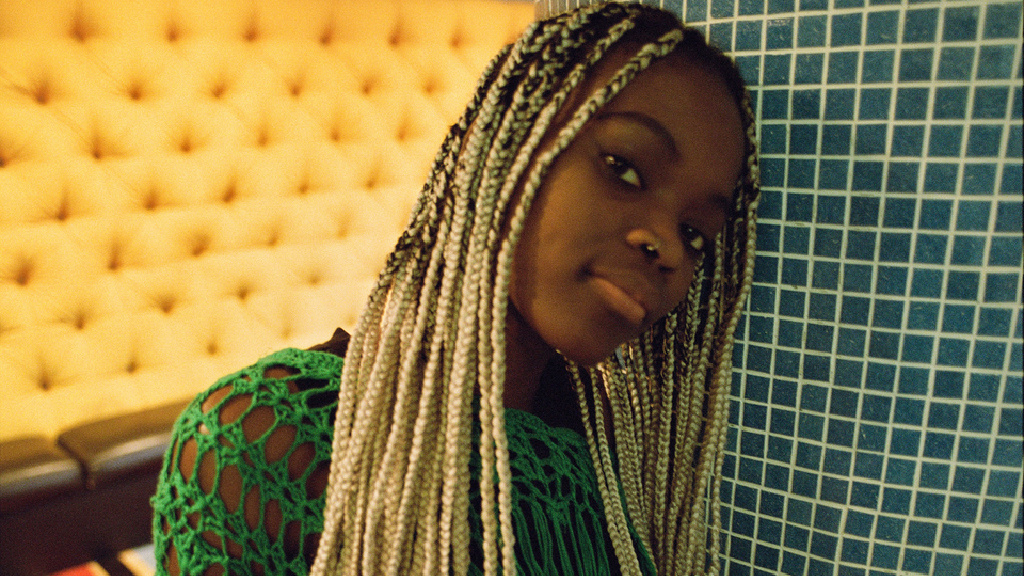 As we approach Juneteenth National Independence Day on June 19, which marks the end of slavery in the United States, WFUV will amplify the words and voices of Black artists, with special programming on Monday, the third anniversary of the federal holiday. WFUV has reached out to Madison McFerrin, Meshell Ndegeocello, Abraham Alexander, Joy Oladokun, and Hannah Jadagu regarding the import of the holiday, as well as their music.
Still a student at New York University, Texas-raised Hannah Jadagu has already turned in a pretty admirable thesis—her impressive and buoyant debut album, Aperture, released in May on the Sub Pop label. Steeped in the warmth, reverb, and resonance of classic '90s indie rock and pop, Aperture is also a resolute coming-of-age album for all generations: Gen Xers and Millennials will relate to the Madder Rose, Belly, and HAIM vibes of Hannah's songs, while Gen Z peers will connect to her insightful lyrics that loop from crippling anxiety to empowered enlightenment.
Jadagu, who recorded her 2021 EP What Is Going On? entirely on her iPhone, collaborated with French producer Max Robert Baby on Aperture — a fortuitous partnering that honored Jadagu's knack for muscular, dreamy choruses, nimble guitar riffs, and punchy hooks.
We've been playing Hannah's new single "Lose" on FUV, and admire all that she's achieved with Aperture. So for our Juneteenth series of Q&As, we asked her about the album, and her thoughts on the holiday and its history.
What does Juneteenth mean to you, whether personally, artistically, or as a Texan, where the day has its historic roots?
To me, Juneteenth is a reminder of freedom, but also a reminder of how little non-Black people acknowledge the suffering we have gone through. It also happens to be my birthday, however, so I try to focus on more positive liberating thoughts when it comes to the holiday.
Your debut album, Aperture, is finally out in the world! And you're still in college. You put your studies at New York University on hold to make the recording happen. What made you take a leap of faith to take that hiatus?
I actually specifically chose to record over the summer, from June to August, so that I could go back to school and finish my second year! I took the hiatus to tour, though, and it was really just the fact that touring is such a unique experience, and something I had always wanted to do as an artist.
To achieve all that you have, so early in life, you really had to immerse yourself entirely in that craft. What was the hardest part of that constant dedication? What has been the most rewarding?
The hardest part for me personally tends to be being away from family and friends. When you're touring, promoting an album, or even recording, that's just more time being away from people you love. But I love to make music and perform it, so it's a double-edged sword.
"Feeling all alone in such a scary moment" is a resonant line in "Your Thoughts Are Ur Biggest Obstacle" and fear also ripples through "Letter to Myself," "Lose," and other tracks. Can you speak to that unease? It seems pervasive these days.
I think speaking about fear is something I do a lot in my music because it's not something I've always been comfortable voicing. I try to tell little stories about myself through my songs and my anxiety is a part of that.
Your parents immigrated from Zimbabwe to Texas. How much of their journey, and that road traveled, has impacted you as an artist?
If my parents never immigrated here, my life could have looked very different or I might not have been born at all, ha ha! More specifically, I do believe that the music they listened to did shape a lot of my influences.
- Hannah Jadagu
June 2023
Hannah is on her Aperture tour and returns home to New York to play Bowery Ballroom on October 11.