Madison McFerrin: Juneteenth Q&A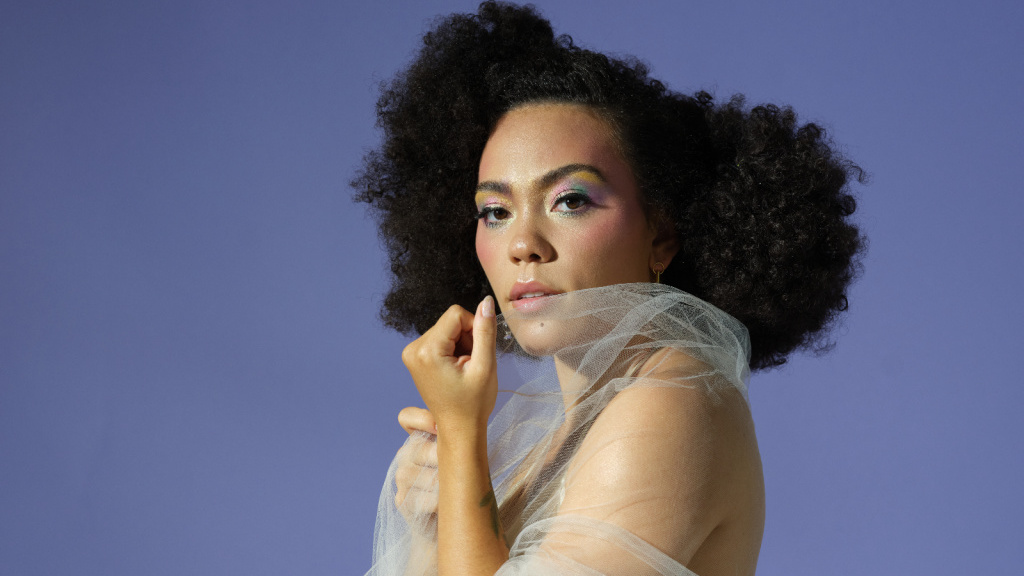 As we approach Juneteenth National Independence Day on June 19, which marks the end of slavery in the United States, WFUV will amplify the words and voices of Black artists, with special programming on Monday, the third anniversary of the federal holiday. WFUV has reached out to Madison McFerrin, Meshell Ndegeocello, Abraham Alexander, Joy Oladokun, and Hannah Jadagu regarding the import of the holiday, as well as their music.
With her innate gift for a cappella, a style of singing without accompanying instrumentation, singer and songwriter Madison McFerrin first turned heads with her 2016 EP, Finding Foundations Vol. I. The Berklee College of Music grad has a long lineage of musical excellence and vocal power in her family — her father is Bobby McFerrin, her brother is musician and producer Taylor McFerrin, and her grandfather is Robert McFerrin, Sr., who was the first Black man to sing at the Metropolitan Opera.
Over the years, Madison has folded instrumentation into her songs and her debut album, 2023's I Hope You Can Forgive Me, is her most ambitious recording to date. She boldly lays out emotional turmoil and vulnerability in her lyrics, and does so with an eclectic scope of styles, seamlessly weaving from jazz to hip hop to spiritual reveries.
FUV reached out to Madison, who is on tour this summer, about her adventurous new album — and the enduring impact of Juneteenth in her life:
What does Juneteenth mean to you, whether personally, artistically, or given where we are as a country these days?
Juneteenth means freedom. It's liberation. I've been trying to find those things in everything I do these days, especially my art.
On your debut album, I Hope You Can Forgive Me, the river that courses through the album is one of internal struggle. Doubt looms large. In "OMW" you sing "Every f**king day feels like I've lost my mind" and there's contradictions everywhere in "Stay Away (From Me)." What were you figuring out for yourself?
I'm trying to figure out how to be both kinder to and more patient with myself. The pandemic forced a lot of us to look inward, and I tried to reflect how I was experiencing that introspection through my music.
"Stay Away (From Me)" was a breakthrough song for you — what was its particular genesis and why do you think it connected so powerfully, not only for fans but for yourself?
"Stay Away (From Me)" was the first song I completed on the album and became the catalyst to me believing I could produce my debut album. Being able to express myself in that new way changed so much of my perspective of who I am and could be, which I think is a sentiment a lot of us are experiencing in this particular moment. People connect with music that makes them feel seen and heard, and this track definitely provides the space for that.
As a vocalist adept in a cappella, what does singing and arranging without instrumentation teach you about the limits, strengths, and power of your voice? Not simply technically, but lyrically?
I learn so much about what is possible musically through a cappella. You can do so much with just the human voice and it's really awesome! I love creating melodies and finding the notes you didn't think you needed. There's something about layering the human voice that I find really special. My lyrics are directly informed by the melody—if a word doesn't work, I'll change the word before I change the melody.
Is there a particular song that feels most joyful to sing in front of an audience and why?
"God Herself" is definitely my favorite! The fact that it's also an a cappella song makes it even more impactful. I just really love singing that particular melody—it's challenging in a very fun way.
- Madison McFerrin
June 2023
See Madison McFerrin play Brooklyn's Elsewhere Zone 1 on June 29.