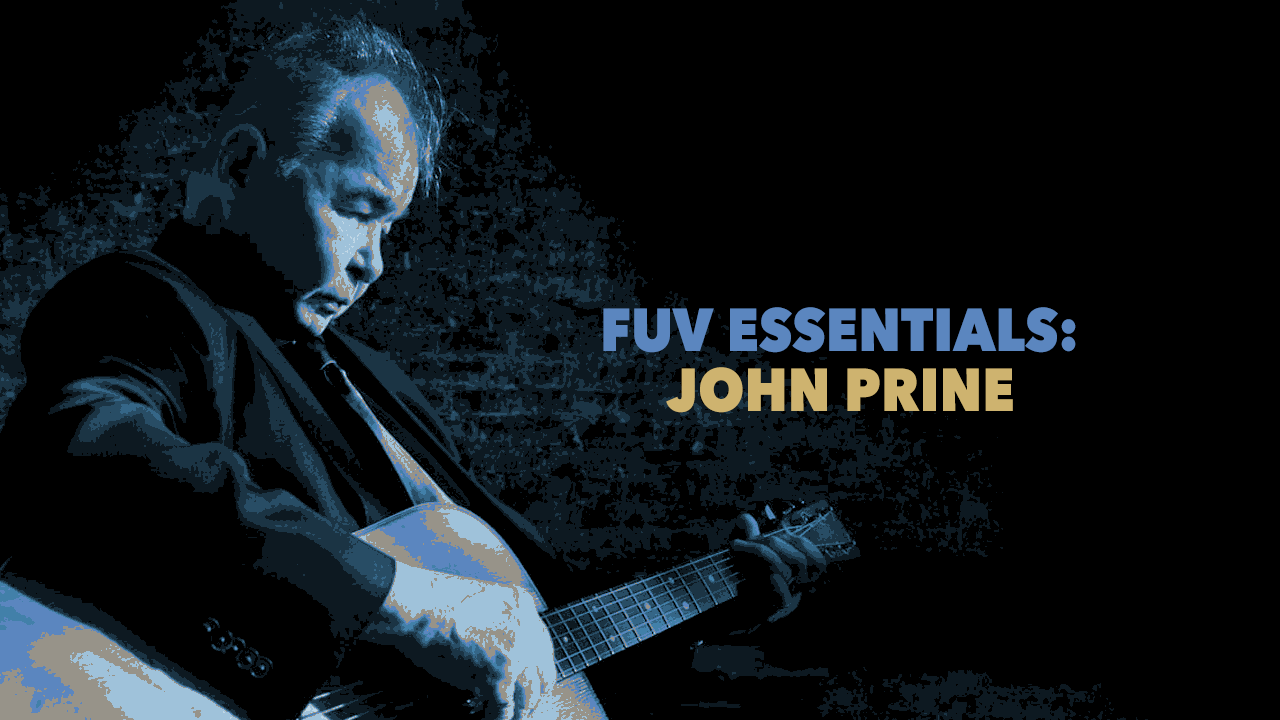 [Ed. Note:  We lost our beloved friend on April 7, 2020; he passed away in a Nashville hospital following complications from Covid-19. He told wondrous stories, lifted our spirits, understood our grief, and gave us hope. He was a sage, a healer, a jester, and a mensch. We danced with him at Holiday Cheer for FUV in 2018 when he headlined our show. We loved John; he was part of the FUV family. He was one of our greatest songwriters and kindest souls. There's another tribute album for John, Broken Hearts & Dirty Windows Vol. 2, released in 2021, which features more friends like Brandi Carlile, Margo Price, Jason Isbell and Emmylou Harris.]
Certain songs are as much American landmarks as any historic structure assembled from stone, brick, or wood. While most folk, bluegrass and country recordings usually sit upon a foundation of verse-chorus-verse, good songwriters are wily architects and carpenters too. In the annals of this country's great builders of songs, John Prine was an indisputable master.
The tattered, tender and tough characters who amble through his richly-hued albums and songs are crafted with empathy and nuance, like a lost and befuddled Jesus (1991's "Jesus the Missing Years" from The Missing Years), a homesick inmate (1973's "Christmas in Prison" from Sweet Revenge), or a lonely, elderly couple (1971's "Hello in There" off of his debut album, John Prine). There are murders ("Six O'Clock News," "Lake Marie") and fractured love affairs ("Love Love Love," "Only Love"), but most of all, there's a droll, gruff, and always honest point of view.
Just reeling off the titles of Prine's output is a dazzling reminder of his understated genius: "Angel From Montgomery," "Lake Marie," "That's The Way That the World Goes Round," "Souvenirs," "Sam Stone," and scores more. While trotting out the term "a musician's musician" is often a hackneyed term, it's dead true where Prine is concerned. He was a divine inspiration across generations, treasured by collaborators, friends, and admirers, like Bonnie Raitt, Steve Goodman (his  early champion and frequent producer), Sturgill Simpson, Iris Dement, Lucinda Williams, Johnny Cash, Susan Tedeschi, Kris Kristofferson (who gave Prine his first big break), Emmylou Harris,  Margo Price, Bob Dylan and Joe Henry. 
He was an exquisite writer, but balked when his lyrics were compared to poetry. "If I wanted to be a poet, I'd write poetry. I know what poetry is. I'm not writing poetry, I'm writing song lyrics," he told the Guardian in 2016. "Whatever the subject is, I'm trying to write as well about that subject as I possibly can but still within the confines of a song. I'm not trying to put my words down as a poem set to music. To me, that's a different thing. But I like the idea of it being accepted." But despite his humble protestations, that same year Prine received PEN/New England's Song Lyrics of Literary Excellence Award; a perfect accolade for a man who Raitt has called "the closest thing for those of us that didn't get the blessing of seeing Mark Twain in person."
Oh, grandpa wore his suit to dinner
Nearly every day
No particular reason
He just dressed that way
Brown necktie and a matching vest
Both his wingtip shoes
He built a closet on our back porch
And put a penny in a burned-out fuse
Grandpa was a carpenter
He built houses, stores and banks
Chain-smoked Camel cigarettes
And hammered nails in planks
He was level on the level
And shaved even every door
And voted for Eisenhower 'cause Lincoln won the war
- "Grandpa Was a Carpenter," Sweet Revenge (1973)
Growing up as a working class boy in the suburbs of Chicago, the son of a tool-and-die maker and a homemaker, Prine learned how to play the guitar from his older brother. Although raised on country music, it was the discovery of Dylan and Cash that became his bliss, steering him down the road of songwriting. There were plenty of tangents on that jagged road — from duty as an Army mechanical engineer to years as postman (he'd compose in his head while delivering mail) — until a series of hometown open mic nights and subsequent bookings at Chicago folk clubs launched his career. (Along with the Cubs and deep dish pizza, Prine was always one of Chicago's most treasured underdogs.)
The musician's colorful arc from John Prine to 2016's collection of duets and country covers, For Better, or Worse, saw sobering setbacks too;  Prine faced cancer twice — the first time in 1996 and again in 2013. While each health battle affected his physicality, his energy and his voice, it never tempered or muffled his spirit or drive.
In 2017, Prine toured with an array of friends on selected dates like Dan Auerbach, Kacey Musgraves, and Amanda Shires, promoting 2016's For Better, or Worse (but his entire catalog has always been incentive enough to see the man). Aspiring songwriters should absolutely seek out Prine's first official songbook, John Prine Beyond Words, includes handwritten lyrics and photographs from his archives. He honored his longtime friend and champion, songwriter and producer "Cowboy" Jack Clement at the Memphis Music Hall of Fame on October 27, 2017.
In April of 2018, Prine released his first album of new, original compositions in 13 years, The Tree of Forgiveness. It was an elegant, insightful album that reveled in the bountiful simplicity of daily life, the grandeur of the ordinary, and gratitude for surviving some pretty dark times. Mortality is the motor here, but it's not a sad collection of songs; The Tree of Forgiveness is touched with grace, wonderment, and Prine's sublime sense of humor too. The veteran songwriter was matched perfectly with producer Dave Cobb (Sturgill Simpons, Chris Stapleton) on this album and Prine gathered a very impressive roster of friends eager to lend a hand too, like Brandi Carlile, Jason Isbell, Amanda Shires, Dan Auerbach, and Sturgill Simpson.
Prine, along with The Lone Bellow and Shannon Shaw, headlined Holiday Cheer for FUV on December 3, 2018 at the Beacon Theatre  and he also chatted with FUV's Rita Houston, for a warm, revealing FUV Live interview in April of that year. Relishing a newfound attention for his songwriting genius, he spent much of 2018 touring behind The Tree of Forgiveness. As he disclosed in a Americana songwriters roundtable for Amazon Music at Nashville's AmericanaFest, he's already thinking about a new album. "If I could just write 10 songs," he said. "I don't know when, but there will be another one."
John Prine, an American treasure and not only an FUV Essentials artist, but part of our FUV family, passed away from complications of Covid-19 in a Nashville hospital on April 7, 2020. WFUV grieves with his family, friends and loved ones. We can't believe he is gone and we imagine he arrived at heaven's gates, just as he promised in his song "When I Get To Heaven," from The Tree of Forgiveness:
"When I get to heaven, I'm gonna shake God's hand
Thank him for more blessings than one man can stand
Then I'm gonna get a guitar and start a rock-n-roll band
Check into a swell hotel; ain't the afterlife grand?
And then I'm gonna get a cocktail: vodka and ginger ale
Yeah, I'm gonna smoke a cigarette that's nine miles long
I'm gonna kiss that pretty girl on the tilt-a-whirl
'Cause this old man is goin' to town."
More:
John Prine: Holiday Cheer for FUV: 2018
John Prine: FUV Live 2018 (interview with Rita Houston)
Joe Henry: Five Essential John Prine Songs
Shannon Shaw: Five Essential John Prine Songs
Marlon Williams: Five Essential John Prine Songs
John Prine: Newport Folk Festival 2017
John Prine: Newport Folk Festival 2010
John Prine: Words and Music 2005
Listen
#FUVEssentials: John Prine (Spotify playlist compiled by FUV's Rita Houston)