Holiday Cheer for FUV 2023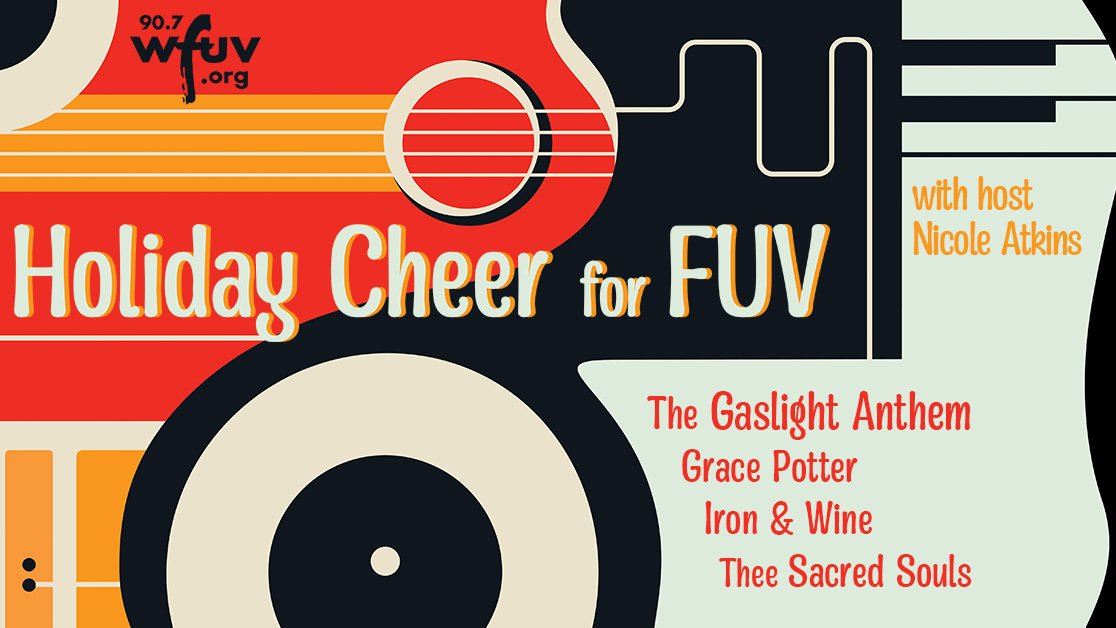 Reunited New Jersey rockers The Gaslight Anthem, dynamic singer and guitarist Grace Potter, songwriting storyteller Iron & Wine, and fast-rising San Diego trio Thee Sacred Souls will join WFUV at New York's Beacon Theatre on Wednesday, December 6, 2023 for the 17th annual Holiday Cheer for FUV concert. New Jersey-born, Nashville-based multi-tasking musician Nicole Atkins, who was FUV's artist-in-residence in 2022, will host the evening.
Tickets for the benefit are on sale now through Ticketmaster.com (also  1-866-858-0008) and via beacontheatre.com (without Ticketmaster fees), and in person at the Beacon Theatre, Radio City Music Hall, and Madison Square Garden. A limited number of VIP tickets are available for $500 each, which include the concert and a VIP party.

The last handful of Holiday Cheer concerts — 2022 with Spoon, Lucius, Christone "Kingfish" Ingram, and Say She She, hosted by CBS News's Anthony Mason; 2019's stellar lineup of Mavis Staples, Mumford & Sons, Nathaniel Rateliff, and Yola; and 2018's all-star Americana lineup of John Prine, The Lone Bellow, Shannon Shaw, and special guest Nathaniel Rateliff — resonated with music fans, selling out the theater.
About the Artists:
The Gaslight Anthem's first album in nearly a decade, History Books, is a robust, hard-rocking return for The Gaslight Anthem, the quartet of singer and rhythm guitarist Brian Fallon, lead guitarist Alex Rosamilia, bassist Alex Levine, and drummer Benny Horowitz. Their sixth album solidifies the popular New Jersey band's return to their brash punk-burnished roots and muscular anthems. The album's title track is a gritty, bittersweet duet between Fallon and Bruce Springsteen — a dream collaboration and Garden State credential of cool.
With her rousing, blues-fueled vocals and savage guitar chops, Grace Potter is a thrilling live performer, both solo and in her former guise leading Grace Potter and the Nocturnals. The spirited, three-time Grammy-nominated musician, who hails from Vermont, released her fifth solo album, Mother Road, in August. We've been longtime fans; she has been a frequent FUV Live session guest since 2007.
Iron & Wine's Sam Beam last played Holiday Cheer for FUV a decade ago, anchoring the night with Calexico in 2013. Over a storied 21-year career and nine albums, Beam's eloquent folk-pop has resonated with poetic meditations on relationships, family, and American life. He just released Who Can See Forever, a 19-track live album that accompanies a new Iron & Wine documentary of the same name.
As their first single and subsequent streaming juggernaut "Can I Call You Rose?" made abundantly clear, San Diego's Thee Sacred Souls are purveyors of the sweetest soul in all hyphenated degrees of that genre, plus a good dose of R&B and funk. Thee Sacred Souls — vocalist Josh Lane, drummer Alex Garcia, and bassist Sal Samano — released their 2022 self-titled debut album via Daptone Records, a label revered for its classic, analog sound. In fact, Daptone co-founder and producer Gabe Roth discovered Thee Sacred Souls at an early gig, guiding these savvy revivalists as they've rapidly ascended over the past couple of years.
Nicole Atkins is a longtime friend of WFUV. Our 2023 Holiday Cheer host and guest performer has the distinct honor of being the radio station's first artist-in-residence as a visual designer. She also played our FUV High Line Bash in 2018 as well as multiple sessions and concerts for FUV, from Studio A to Rockwood Music Hall and The Cutting Room. The Neptune, New Jersey native has released six albums of richly layered pop and rock, the most recent being 2021's Memphis Ice. Although now based in Tennessee, her tether to the Jersey shore remains as strong as ever; Atkins' breezy warmth, songwriting skill, and serious vocal chops have long established her as a local inspiration, deeply respected by her peers. Plus, she's a blast to be around — and FUV can't wait to have Nicole Atkins lead the way as our host of the evening (with some surprises planned).
For updates, stay tuned to 90.7 FM, streaming online, and follow #FUVCheer on Instagram, Facebook, X (fka Twitter), and TikTok.
LISTEN to past Holiday Cheer for FUV concerts:
2022 | 2019 | 2018 | 2017 | 2016 | 2015 | 2014 | 2013 | 2012
Holiday Cheer for FUV is supported by Little Pub: A rustic neighborhood gathering place with a relentless focus on customer service, value, and fun. Connecticut locations in Fairfield, Greenwich, Old Saybrook, Stratford, and Wilton.