Holiday Cheer for FUV 2016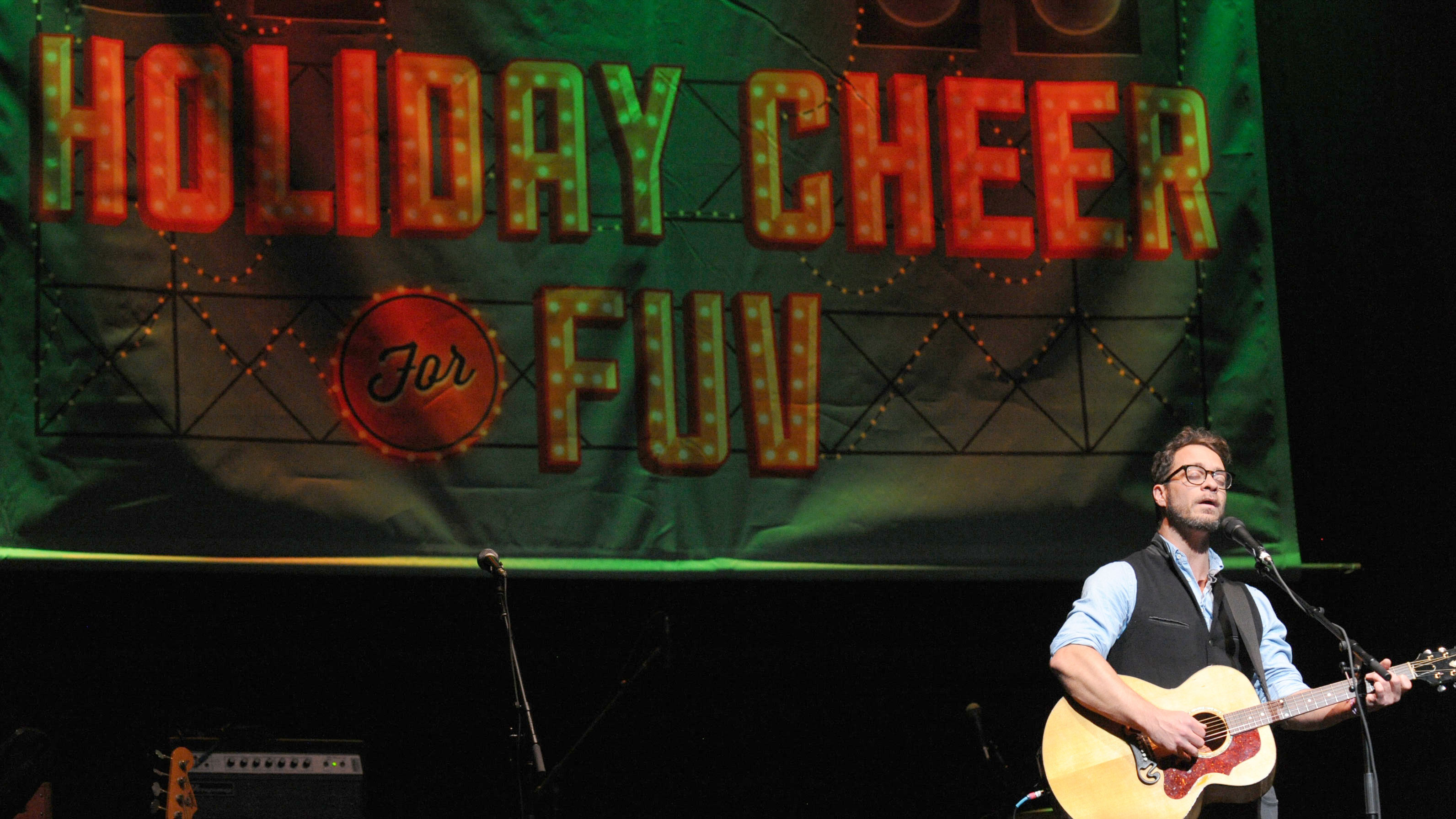 Since its inception in 2005, Holiday Cheer for FUV has been both a celebration of music and an annual fête thanking the station's enthusiastic and generous listeners. On a misty November night at the end of a long year, the sold-out gathering at the Beacon Theatre for Holiday Cheer 2016's "Amos Lee and Friends" felt especially communal for performers and the crowd.
Take a look at photos on the WFUV Flickr Stream and listen to the full show below in the Vault.
The lineup was, as always, a stellar one: Amos Lee, Lucinda Williams, Corinne Bailey Rae, The Record Company and special guests Rachael Price of Lake Street Dive and Philadelphia-based singer Mutlu. The show began with WFUV program director and "The Whole Wide World" host Rita Houston dedicating the night to the memory of the much-missed Sharon Jones. The dynamic singer, who passed away on November 18, had rocked the Beacon stage only a year earlier with The Dap-Kings as part of Holiday Cheer 2015 with Brandi Carlile.
Introduced by Houston, Amos Lee took the stage alone with acoustic guitar, offering up "Holiday Song," a gentle prayer for peace "for all humanity" that he described as "my version of a Christmas song." Lee then brought on The Record Company, the raucous Los Angeles trio of singer Chris Vos, bassist Alex Stiff and drummer Marc Cazorla. The band's bluesy, wickedly rowdy three-song set — "On the Move," "Off the Ground," and "Don't Let Me Get Lonely" — was all drawn from their 2016 album Give It Back to You and it was a seismic, fuzzed-out rock 'n' roll baptism. As avid admirers of blues masters like Buddy Guy and B.B. King, the trio is a technically tight outfit — Stiff and Cazorla setting up a rigorous, propulsive rhythm section against Vos's brawny vocals and his deft juggling of harmonica, pedal steel and guitar. "This is a dream come true," said a happy Vos, gazing out at the packed Beacon Theatre house and later marveling, with discernible surprise and joy, at the standing ovation the trio received by set's end.
FUV's morning host Corny O'Connell introduced Corinne Bailey Rae, the gifted singer, songwriter and guitarist whose decade-long career has included Grammy wins for Album of the Year (as part of Herbie Hancock's River: The Joni Letters in 2008) and Best R&B performance in 2012 (for her cover of Bob Marley's "Is This Love?"). Rae released her luminous third album, The Heart Speaks in Whispers, earlier this year and it again showcases not only Rae's soaring alto-soprano, but her intuitive ability to write about love and its many challenges in a fresh, perceptive way.
An artist who has drawn, often painfully, from her past, Rae's strength and command onstage is electrifying; she's an astute live performer who can shift effortlessly between fragility and ferocity, beat to beat. Joined by her new husband and longtime collaborator Steve Brown and guitarist John McCallum, Rae picked up her own acoustic guitar for a few songs, including the delicately woozy "Like a Star," from her 2006 self-titled debut album, and the very autobiographical "Hey, I Won't Break Your Heart" from The Heart Speaks in Whispers — a song which Rae tenderly described as "about forgiveness and a new beginning." She reached back to Herbie Hancock's River: The Joni Letters for her cover of "River," framing Joni Mitchell's wistful classic as a rebirth too, glissading verse to verse as a woman finding light at the end of a long journey. Rae, Brown and McCallum also selected "Been To The Moon" and "The Skies Will Break," both singles from The Heart Speaks in Whispers, and the breezy 2006 hit "Put Your Records On," which inspired clapping and some tambourine from Rae too. "It's all about transformation and hope," observed Rae — and that was certainly the mantra of her brief-but-beautiful set.
After an interval (including some snappy patter from FUV DJs Alisa Ali and Darren DeVivo), FUV midday host Carmel Host brought on Lucinda Williams, a veteran of FUV Holiday Cheer concerts (she headlined the show in 2012). Williams set up her first song, the title track to 2016's The Ghosts of Highway 20, as a sequel of sorts to "Car Wheels on a Gravel Road." The child of that 1998 song, face pressed against the automobile's window, is now a woman. And, as Williams thoughtfully presented, that woman is still looking out the window, "little bit of dirt mixed with tears." Williams' arresting performance of that track, solo on acoustic guitar, set the tone of her entire set — defiant, gruff, aching and unapologetically angry too. Accompanied by longtime guitarist, the deft Stuart Mathis, Williams' selections were attuned to current events. She brought a keening, blistering anguish to "World Without Tears" and "Lake Charles." ("There are a couple of songs that make their way into the sets night after night — this is one of them," said Williams before launching into "Lake Charles.")
Describing Amos Lee as "one of my favorite songwriters and singers" (the pair worked together on Lee's 2011 album Mission Bell and have co-headlined tour dates), Williams brought Lee out for a souful duet on "Little Angel, Little Brother" from 1992's Sweet Old World and delivered a particularly sassy "Honey Bee" from 2008's Little Honey. But it was in her revamped last song, the caustic "Foolishness" from 2014's Down Where The Spirit Meets The Bone, that Williams hit the stunning apex of her set. She altered the song's already-potent lyrics — decrying "fearmongers" and "liars" — to mirror the current state of American discourse and politics, denouncing racism, sexism, hatred, greed, and more. It was an unforgettable moment in the show and one which earned Williams an ardent standing ovation from the audience.
Introduced by FUV's Dennis Elsas and music director and "The Alternate Side" host Russ Borris, Amos Lee strode on stage with his six bandmates for a career-spanning set that zigzagged between — as Lee later put it — the secular, the non-secular and the "sex-cular." The Philadelphian's sixth studio album is called Spirit and his set featured some of those new tracks, like the slow-grooving "Vaporize" (he thanked FUV for "pumping the tune") and the title track, for which Lee brought on special guest Rachael Price of Lake Street Dive. Lee shapeshifted from earnest folk rocker ("Windows Are Rolled Down") to lusty, Philly-bred soul seducer, channeling Teddy Pendergrass on the let's-go-to-bed lure "Won't Let Me Go," from 2008's Last Days at the Lodge. The combo then turned to Hall & Oates material for a smooth "Sara Smile," joined by his frequent bandmate, Mutlu. Rae returned to join Lee on "Keep It Loose, Keep It Tight," from his 2005 debut.
Lee and Williams are good friends, but she appeared visibly moved when Lee spoke earnestly about how much he admired her, citing Williams as an "inspiration" for being so "real and raw." The pair duetted a second time, on Williams' own song, "I Envy The Wind" from her 2001 album, Essence. Lee was also generous in his admiration for the radio station and FUV's own Rita Houston. "Rita's a mensch," said Lee. "She might have done my first interview too, at The Living Room in 2004."
After wrapping his own set with a buoyant and hopeful "Flower," from 2014's Mission Bell, Lee and his band returned for two encores — a cover of Donny Hathaway's 1971 classic "This Christmas" (joined by Rachael Price and Mutlu) and, with Lee in full falsetto, the traditional "Silent Night," with Price, Mutlu, Corinne Bailey Rae and The Record Company. With the contemplative carol "Silent Night" drifting through the expanse of the Beacon Theatre for a second year in a row (the indomitable spirit of Sharon Jones felt very present as well.)
Every Holiday Cheer for FUV concert has its own distinct personality, and "Amos Lee and Friends" was an evening of inspiration, respect and honesty. It offered both wary and hopeful looks at the past, present and future. Every artist — Amos Lee, Lucinda Williams, Corinne Bailey Rae, and The Record Company — scanned their own personal timeline and revealed, through their song choices, the essence of their humanity: heart, passion and fury. And the evening proved, yet again, music's power to be a healing and unifying force.
Setlist
Amos Lee
Holiday Song
The Record Company
On The Move; Off The Ground; Don't Let Me Get Lonely
Corinne Bailey Rae
Been To The Moon; Hey, I Won't Break Your Heart; River [Facebook Live Video]; Like A Star; Put Your Records On; The Skies Will Break [not in broadcast/archive]
Lucinda Williams
Ghosts of Highway 20; World Without Tears; Lake Charles; Little Angel, Little Brother (with Amos Lee) [Facebook Live Video]; Honey Bee; Foolishness
Amos Lee
Windows Are Rolled Down; Jesus; Vaporize; Keep It Loose, Keep It Tight (with Corinne Bailey Rae); Spirit (with Rachael Price); Won't Let Me Go; Sara Smile (with Mutlu); Cup Of Sorrow; I Envy The Wind (with Lucinda Williams); Flower; This Christmas (with Rachael Price and Mutlu); Silent Night (with anyone who wanted to join!) [Facebook Live Video]
Special thanks to MSG Entertainment and The Beacon Theatre.