Nicole Atkins: FUV Artist-in-Residence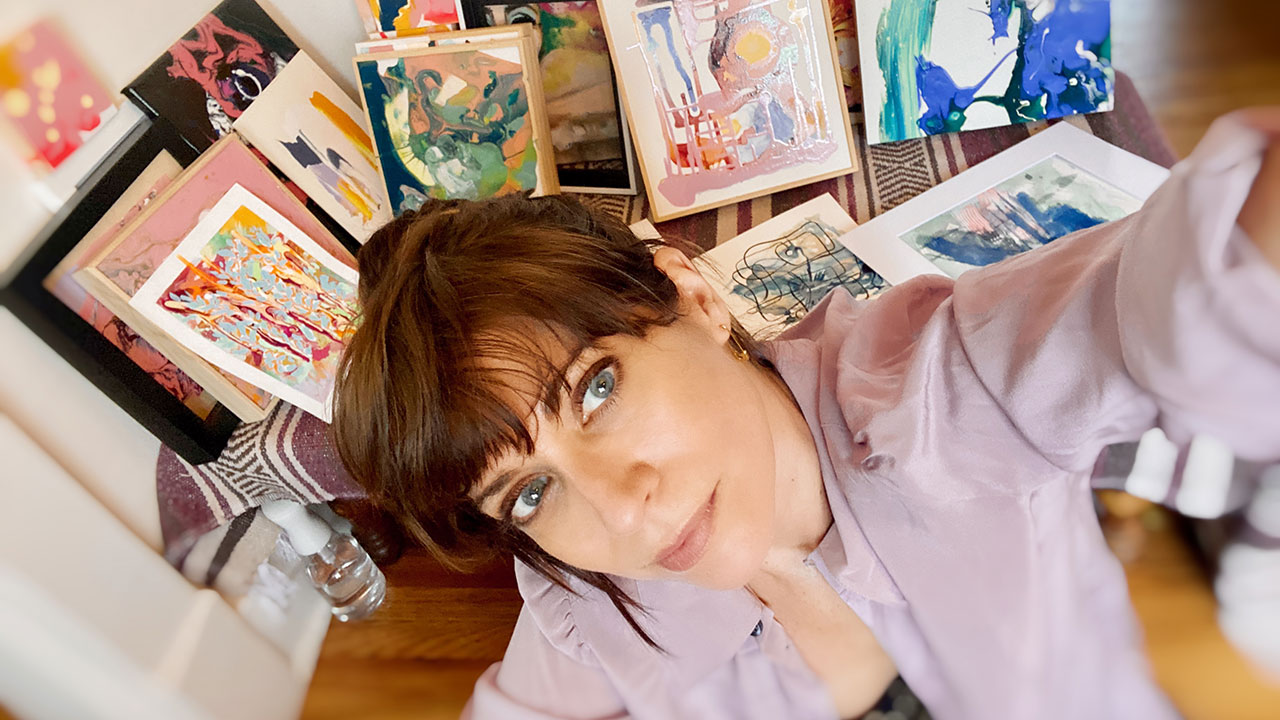 There's an inspired intersection between visual art and music. Innumerable bands were formed by art school students (Talking Heads, Pink Floyd, Blur, Florence Welch, and the list goes on forever), and an equally impressive number of musicians, such as Joni Mitchell, Courtney Barnett, Claud, Joseph Arthur, M.I.A., Ani DiFranco, and David Bowie, found that their art augmented the scope of their songwriting.
WFUV is happy to announce that Nicole Atkins is our 2021 Artist-in-Residence. The pandemic has thrown grave financial obstacles into the path of musicians who've been unable to tour, so we're doing our small part, supporting the multifaceted talents of musicians, when we can.
Nicole released her critically-acclaimed fifth album, Italian Ice, last year and since the start of her career, she's been a local hero for this radio station. She's been a frequent visitor to the Bronx and beyond, playing spirited FUV Live sets for us in Studio A, and at Rockwood Music Hall and Electric Lady Studios. She even Zoomed for us, doing a 2020 "Marquee Live at Home." session. Nicole was also one of the headliners of the 2018 FUV High Line Bash.
Atkins' first task for FUV as artist-in-residence is designing the 2021 WFUV T-Shirt — her colorful take on the joy of music fans. The natural-color shirt features a black, white, and sky blue illustration and is available in unisex sizes small through XXL. The T-shirt will debut during FUV's April 2021 drive, exclusively for a $12 monthly sustainer membership or a $144 one-time gift at support.wfuv.org. 
Below, we asked Nicole more about her path as a visual artist, the synesthesia that helps her see music in color, and how she chose to remember Rita Houston in her new T-shirt design:
How does it feel to be WFUV's first visual Artist-in-Residence?
I'm honored! The projects that WFUV has set up for me to draw this year are so challenging and fun! I've always drawn musicians and illustrated scenes that went with the music I listen to while I draw, so this is an exciting way to get my illustrations out of my sketchbook and out to listeners.
You've designed FUV's brand new t-shirt. Can you tell us how you came up with the idea and how you decided to honor Rita?
Rita's wife Laura [FUV's Digital Director] asked me to do this drawing based off of one of my prints that I have, which is an illustration of myself in my room with my paints, record player, and guitar. My happy place. We agreed that it would be fun to make little animals grooving in their room listening to WFUV.
Rita is such a big part of the station and her spirit is so fun and loving that it made me think of Tigger the tiger, and so I made her into a maraca-shaking tiger dancing on the credenza in glasses and curls. Laura told me about Rita's infamous Elvis lamp so I put that in the room too. Honoring her this way meant a lot to me.
How has your visual art work paralleled or complemented your life as a musician over the years? Has art always served as a catalyst for your music or vice versa?
Visual art has always gone hand in hand with my music. I draw a lot on the road and do little pieces in my downtime before shows. I also love drawing a tour diary of things that happen on the road and drawing other musicians during their sets at festivals. Also when I'm writing songs, sometimes when words fail me, I'll draw what I see or what I'm feeling and then that can sometimes help me figure out what I want to say.
What mediums do you enjoy working in best and why?
I really enjoy working in all mediums. That's my favorite part of making art. Trying out new colors, paints, pens, and mixing different techniques and mediums. A lot of the time I just pick a color palette, grab a bunch of different mediums, and let how those things feel guide me through the making. It's just playing, really.
Did you receive formal training, or was painting, drawing and design something that's been important to you since childhood? Were you primarily self-trained?
I always drew pictures as a kid. Just quiet in my room, drawing my own posters while listening to Led Zeppelin. I'd also go to Senior Living houses and play some Grateful Dead and have the older folks draw and color what they heard in the songs and then I'd turn them into something for them.
I studied illustration at University of North Carolina at Charlotte and wildlife illustration at University of Newcastle in Australia. My work has always had a very comic tone to it. After school, I started my own mural business on the Jersey shore and then I started a band and making records, and stopped doing art until about three years ago. Now the two are something I do together daily.
Your New Jersey upbringing plays a big role in your most recent album, Italian Ice. How has Jersey served you as an artist?
Growing up in Neptune City, near Asbury Park, has always been wondrous to me. It's the type of place you can really dream into. I'd see abandoned buildings from the 1920s, the river at night, boarded-up carnival attractions in the wintertime, and really let my mind go wild all the time. This may sound a little woo, but the Jersey shore is a really spiritual place for the artist in me.
There's a vivid, colorful whimsy to some of your paintings. Do you define your style in any particular way and are you inspired by any artists in particular ... and why?
My main inspiration is color. I see music in colors. Synesthesia, they call it.
I'm also really inspired by street art that I see all over the world while touring. Growing up, I loved all the Grateful Dead artwork by Stanley Mouse and Peter Max. Then the illustrations of Ralph Steadman and how he'd mix mediums, ink splats with color bops and fine lines.
These days with Instagram you can now see so many other illustrators' works, more than ever before, and there's so many people doing wonderful work. Currently I'm in love with the drawings of Shagey, Helen Dardik's watercolors, and Hattie Stewart's colorful pop art.
You do pet portraits ... but you've not been able to have a pet yourself? What's the challenge of capturing people's beloved family members on canvas?
The only struggle I have doing pet portraits is the feeling of deprivation that I have not having a pet of my own. I'm a renter, so I'm not allowed. It kills me. I love dogs and cats so much.
If you could spend a day in any art museum, anywhere in the world, where would you go and why? And is there something specific you'd want to see there?
That's such a hard question to answer because there are so many good ones all over the world. Off the top of my head I'd love to be walking around Berlin looking at street art.
- Nicole Atkins
April 2021