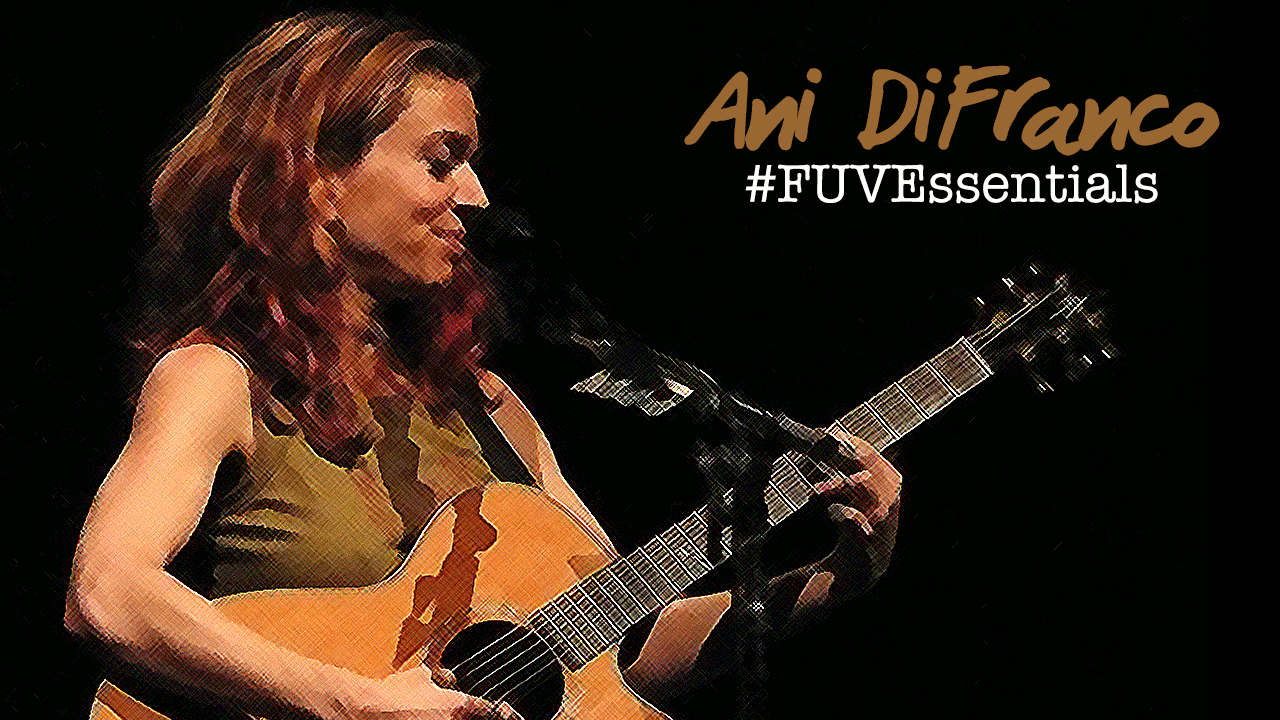 Whoever first declared "The Personal is Political" would be hard-pressed to find a public figure either more political or more personal than Angela Maria DiFranco. That's been the case for her entire career, which has changed in just about every other way.
It started in small clubs and coffeehouses in 1989, when word of mouth began to spread about the little girl, too young to really be in the room, with the big guitar and the bigger voice. As an emancipated teenager with a shaved head and platform boots, Ani DiFranco stomped into the hearts of young people (yes, mostly women) looking to put their angst into words and their lives into focus. They copied cassettes to mail their sisters and friends (although "unauthorized duplication, while sometimes necessary, is never as good as the real thing," which was printed on every cassette).
Playing with press-on nails on her fingers like a blur of five guitar picks, DiFranco sang about heartbreak ("You Had Time," "Dilate") and one night stands with girls ("Light of Some Kind") ; about abortion ("Lost Woman Song") and drugs and the death penalty ("Crime for Crime"); about police harassment ("Every State Line"), immigration, and homophobia.
Through the '90s, a new album came out every year. Postcards went out to her growing mailing list, and folks called 1-800-ON-HER-OWN to get the next one, directly from her home-grown Righteous Babe Records warehouse. By the time you got it in the mail, you'd heard at least half the songs at her last show, up there with drummer Andy Stochansky at her side. And around you were the girls of Ani's Army, with their own big boots and crazy hair, yelling for the old songs and singing every word.
And every show had a poetry break, the screams shut down to pin-drop silence for "Coming Up" or "My I.Q.," the audience unable to contain themselves, shouting along with the final lines.
Buffalo, New York is probably as well known for being DiFranco's hometown as for anything else. This is where she started as a coffeehouse-singing teenager, and after decades of near-constant touring, she settled in there to build, as she sings, "her own empire out of car tires and chicken wire" ("Swan Dive.") Righteous Babe Records, which she began building in 1990 with longtime business partner Scot Fisher, is still there and housed in an old church now dubbed "Babeville." The record company arm releases work by 18 or so artists, and Babeville houses a 1,200-seat venue, launched in 2006.
As she described the project to WFUV's Rita Houston in a 2004 interview: "I think there are so many of us who would do the same, it's just that I have this opportunity. I know so many artists… it's a tough road to go — performance art, music, visual arts — it's hard to pay the bills. Imagine that you were able to start paying the bills. Imagine that there was some money left over. What would you do? So I found other artists who have less than me who maybe need a little distribution, a little help. Toss some money their way just to help with other music that I find inspiring. Investing in old buildings or in political organizations — people doing work in our own community — what else would you do with the money made from my 'friends,' these tunes?"
DiFranco's media image morphed from angry punk to visionary independent businesswoman, not that she'd changed courses. Either way, her songs of social change and progressive politics brought her an audience of fans that saw her as a prophet as much as a musician. They'd looked long and hard before finding someone who not only shared their values but shouted them from the rooftops, in clear and certain terms.
Her travels have brought DiFranco comrades in musical arms over the decades, artists she admires and vice-versa, who've graced her albums and tours. Prince, Maceo Parker, Pete Seeger, Utah Phillips and even Jackie Chan have worked by her side. Erin McKeown, drummer Allison Miller and pianist Julie Wolf have shared her stage, and anyone who's seen her in the past two decades has heard the stellar work of bass player Todd Sickafoose.
While it's gotten calmer over the years, an Ani DiFranco show can still be an intense experience. She still sings about reproductive freedom ("Play God") and abortion ("Amendment"), racism ("Subdivision") and war ("The Pacifist's Lament"). Every election cycle brings another spate of activists to her door, younger and older. You leave her shows wanting to do something, change something, take it apart and rebuild it better. Her power is contagious.
Not that DiFranco is some kind of strident, humorless downer. Her vision is sharp, but her laughter is easy.
DiFranco herself has since resettled in New Orleans and is married with two children. The albums come out a little less frequently, thanks to the happy distractions of home and the tendonitis that comes with thrashing the hell out of a guitar every day for years. And Binary, her most recent as of this writing, is as smart and vibrant as ever.
If that capital F in her name could stand up and shout, it'd riff on Ani DiFranco adjectives: Funny, Feminist, a Fierce Firebrand. For her soul and her voice, her guitarwork and her growl, for her never-dimmed spirit, we declare her an FUV Essentials artist.
More:
Listen
#FUVEssentials: Ani DiFranco (Spotify playlist compiled by FUV's Sarah Wardrop)