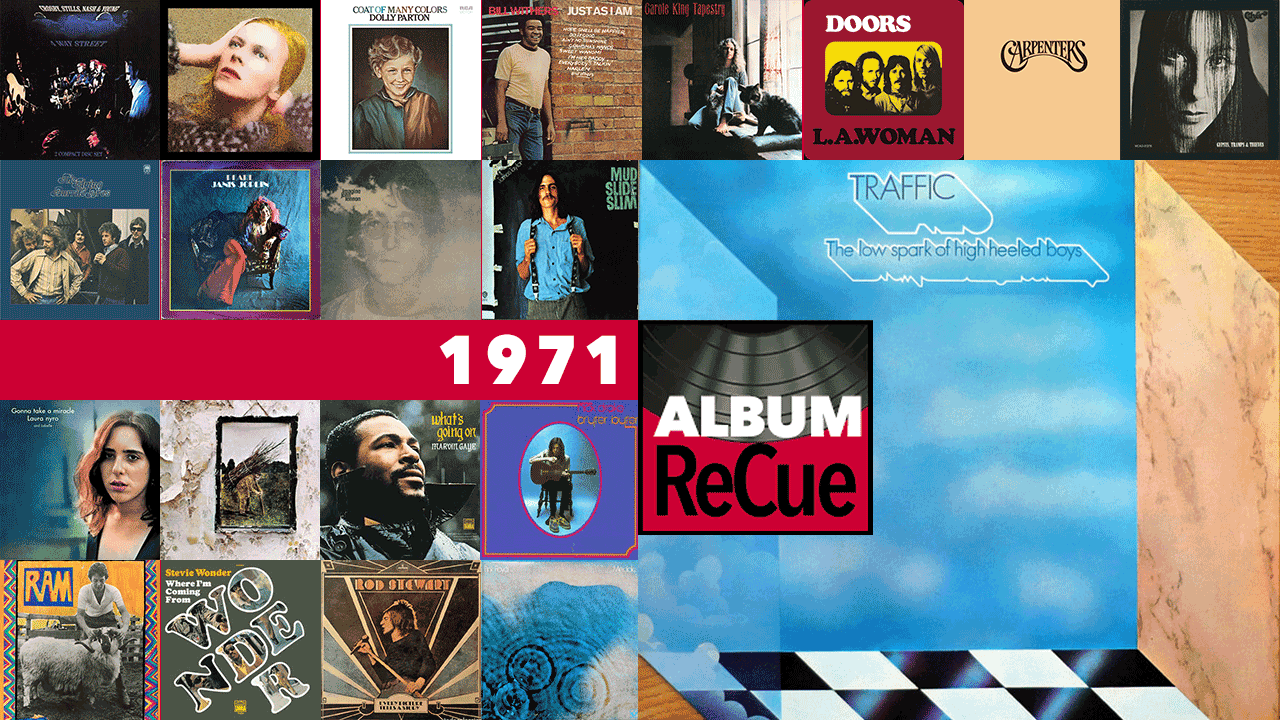 "Album ReCue" celebrates 50th anniversaries: 1971 releases chosen by FUV hosts. Above, an archive of Alisa Ali's conversation with Eric Holland about his selection, Traffic's epic The Low Spark of High Heeled Boys, and below, Laura Fedele's overview of that release. 
Says Eric about why he chose that 1971 classic: "It's an essential rock album largely defined by the elegant delicate interplay between the vocals of one of rock's great voices Stevie Winwood, and the haunting, frequently gorgeous flute playing of Chris Wood. It's anchored by the epic title track that was a fave at freeform FMs of the early 70s and features a couple of tough rockers sung by Jim Capaldi where Stevie shows his guitar playing is almost as formidable as his work on keyboards."
The story of how the British band Traffic came together is more convoluted than a Haight-Ashbury tour poster. Suffice it to say that from the imploded ashes of shorter-lived combos (including the notable Spencer Davis Group and Blind Faith), a small group of players rose up, dusted themselves off and pulled themselves together.
The basic spine of the band was formed in 1967 from the talented yet distractible combination of singer/keyboardist/guitarist Steve Winwood, drummer/vocalist/lyricist Jim Capaldi, guitarist Dave Mason, and woodwinds player Chris Wood. They'd been jamming on the side with each other, and decided to quit everything else for a while and make a go of it.
The quartet blended the soul music they loved with the folk/traditional songs of their upbringing, mixed in some classical influences, wove in some jazz improvisation, then sprinkled a sweet half-ounce of "psychedelic" on top. Winwood's distinctive voice — which Island Records founder Chris Blackwell said was "like Ray Charles on helium" — rose above the fray of everything else on the radio and turned their sprawling, adventurous sound into popular albums.
Strong songwriting from Winwood, Capaldi and Mason bolstered their first four albums, but there was never much stability in the band. Both Mason and Winwood called it quits and came back a few times, and by the time John Barleycorn Must Die and its tour was finished, so was Mason. And so was their UK audience, basically; for years after that point, Traffic found most of their chart and sales success in the US.
With a revamped lineup that included Ric Grech on bass (from Blind Faith) and Jim Gordon (from Derek and the Dominos) on drums — who would both only last that one year — they went back into the studio. The Low Spark of High Heeled Boys album became Traffic's fifth release. 
Due to the groove and flow of the captured performances, which would stand as inspiration for untold jam bands to come, it reached the Top 10 in America and eventually went platinum.
It is a stoner's dream.
The legend of Low Spark principally rests on three epic songs, all of which can still be heard on classic rock radio. The nearly 12-minute title track by Winwood and Capaldi, which was never edited down for radio release, sways back and forth between its clear and tight chorus and its languid and meandering verses.
Fun fact: Capaldi penned the third verse in the hallway outside the studio, placing it in front of Winwood just in time for him to sing it.
Winwood's bassist brother Muff said, "Of everything Steve's done, that title track always seems to me to be the song that's most like him — bizarre, clever, complex, loose, not well formulated, but with a great groove."
The two other standouts on Low Spark, oddly, both feature rare Jim Capaldi vocals, and both are laments about life on the road. His own bluesy plaint to hangers-on, "Light Up or Leave Me Alone," is about as tight a composition as the band ever put out there. 
The other is "Rock & Roll Stew" (Grech, Gordon) — otherwise known as "I'm gone, gone, gone... I don't care, It's where I'm from, I'm on the road again" — turned into a live set staple in a variety of forms. With a bold and melodic bassline and funky, circular layers of percussion (added to by Rebop Kwaku Baah), it is no surprise that it was written by the rhythm section.
Fledgling jam fans who want to see how they used to do it 50 years ago are in luck: The Santa Monica stop on the Low Spark tour was captured on video; now on YouTube, it has well over a million views.
Catch up to all of FUV's 1971"Album ReCue" features, taking a closer look at albums by Bonnie Raitt, Isaac Hayes, and Carly Simon.
Listen
WFUV's Album ReCue: Traffic's Low Spark of High Heeled Boys