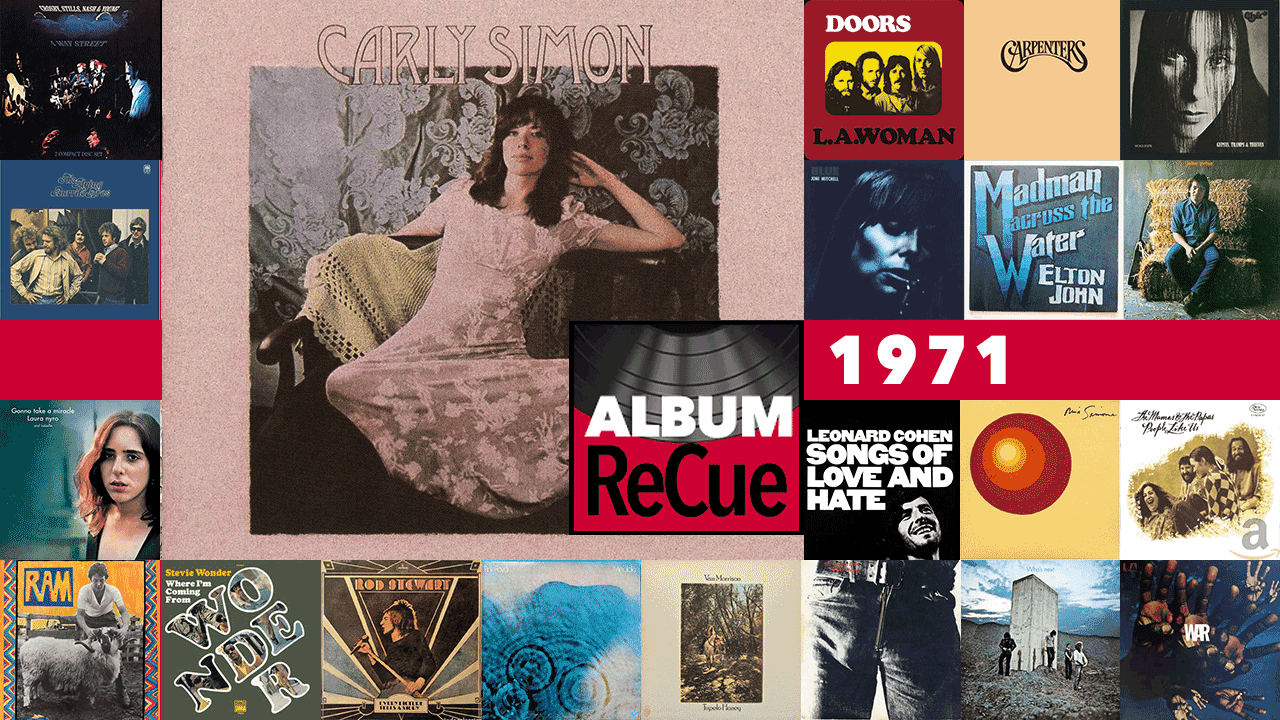 "Album ReCue" celebrates 50th anniversaries: 1971 releases chosen by FUV hosts. Above, an archive of Alisa Ali's conversation with Dennis Elsas about his selection, Carly Simon's auspicious, self-titled debut album, and below, Kara Manning's overview of that release. 
Women's Equality Day, celebrating the ratification of the 19th amendment, came into existence on August 26, 1971. But fifty years ago, women couldn't obtain a credit card in their own names. They could be fired by their employer for a pregnancy and sexually harassed at work without any recourse. Basic reproductive rights were unattainable, as was same-sex marriage.
But 1971 was also a flashpoint in the ongoing struggle for gender equality — and an era which found more women staking their own narratives in music, writing about sexual liberty and rejecting so-called societal norms. Divorce, fractured relationships, and self-empowerment drove Carole King's Tapestry and Joni Mitchell's Blue. Helen Reddy released I Don't Know How To Love Him, with its early version of "I Am Woman," that was to became, in an alternate recording, a worldwide anthem in 1972.  By January 1972, Aretha Franklin's Young, Gifted and Black was out, further cementing the import of the title track, Nina Simone's cri de coeur of Black, and especially female, potency and promise.
Whether singer-songwriters or soul revolutionaries, musicians were altering the zeitgeist, notably the language that women used when they sang about themselves.
By the time '71 rolled around, Carly Simon had already released three albums in the sixties with her sister Lucy as The Simon Sisters. Their children's album, The Simon Sisters Sing the Lobster Quadrille and Other Songs for Children, had come out in 1969 before Lucy stepped back, choosing to focus on her family. Carly had briefly been a vocalist for Elephant's Memory (before those high-profile John Lennon and Yoko Ono gigs), but didn't find an easy niche as a solo artist. It wasn't until Elektra's Jac Holzman, who also signed Judy Collins, got behind Simon and her earthy, unconventional voice that a path forward coalesced.
Simon's self-titled 1971 debut was a revelation — and won her the Best New Artist Grammy in 1972. But what was truly extraordinary is that this young woman with those richly languid and resonant vocals had struggled terribly for years with a stammer; as a child, singing became salvation, a way to free herself of past trauma, crippling shyness, personal pain, and her stutter.
The opening track of Carly Simon, "That's The Way I Always Heard It Should Be," is one of the most haunting — and savage — songs ever written about a child's perspective of her parents' dysfunctional union and her own roiling unease as an adult with the idea of marriage, as it then existed for most women.
My friends from college
They're all married now
They have their houses and their lawns
They have their silent noons
Tearful nights, angry dawns
Their children hate them for the things they're not
They hate themselves for what they are
And yet they drink, they laugh
Close the wound
Hide the scar
Co-written with her friend, the writer Jacob Brackman, who came up with most of the lyrics, the excruciating bluntness of "That's The Way I Always Heard It Should Be," was sometimes misinterpreted (perhaps that's why it became a Billboard Top 10 hit too). Rolling Stone's Timothy Crouse wrote in his very favorable '71 review of Carly Simon that the lead song was a woman's concession to marry after all, said "softly and sweetly." But assessing the track decades later, it's pretty clear that the exact opposite was true: Simon's piercing distress resonates loudly in that last line. "It could have been my life," Simon recounted earlier this year, when asked by Tidal about the song, which has been remixed for 2021. "In fact, it was my life."
The bulk of Carly Simon is an awakening, keyed to what her destiny could be as a musician and a woman forging her own path, especially as a young person who had grown up with both privilege and despair.
"I was torn in my view," Simon said. "On the one hand I was affected by my mother, who was very much a bohemian. I was influenced by her sense of sexual freedom. But I was also influenced by my aunt and uncle, who were in a conventional marriage. I was stuck between prim and wild."
On "Alone," Simon searches for her own "room with a view," while assuring a faraway partner that freedom doesn't mean she's stopped caring; her restless path on "Another Door," might lead to sorrow or something more. "Reunions" and "The Best Thing" teeter between fragility and acerbity, wrestling with the vagaries of regret. There's a Mama Cass-style oomph to the tin pan alley sparkle of "Rolling Down the Hills." Writing or co-writing seven of the ten songs on the album, Simon covered Buzzy Linhart's "The Love's Still Growing," giving it a lushly hymnal grace.
Simon, who played acoustic piano and the guitar on the album, worked with producer and engineer Eddie Kramer (his second production gig after years of engineering hard rock luminaries like Jimi Hendrix), with a stellar backing band that included Tony Levin on bass, Jeff "Skunk" Baxter on pedal steel, keyboard auteur Paul Griffin, and guitarists Dave Bromberg and Muscle Shoals legend Jimmy Johnson.
By the end of 1971, Simon released another mammoth album, Anticipation, and began crossing that bridge from successful songwriter to superstar. But given the memories unearthed in her unflinching 2015 memoir, Boys in the Trees, detailing a lifetime of perplexing relationships, and a doomed marriage to James Taylor, Simon's auspicious debut album is filled with sage advice that you strongly sense she wished she'd heeded herself.
Catch up to all of FUV's 1971"Album ReCue" features, also taking a closer look at albums by Bonnie Raitt, Traffic, and Isaac Hayes.
Listen
WFUV's Album ReCue: Carly Simon's Carly Simon