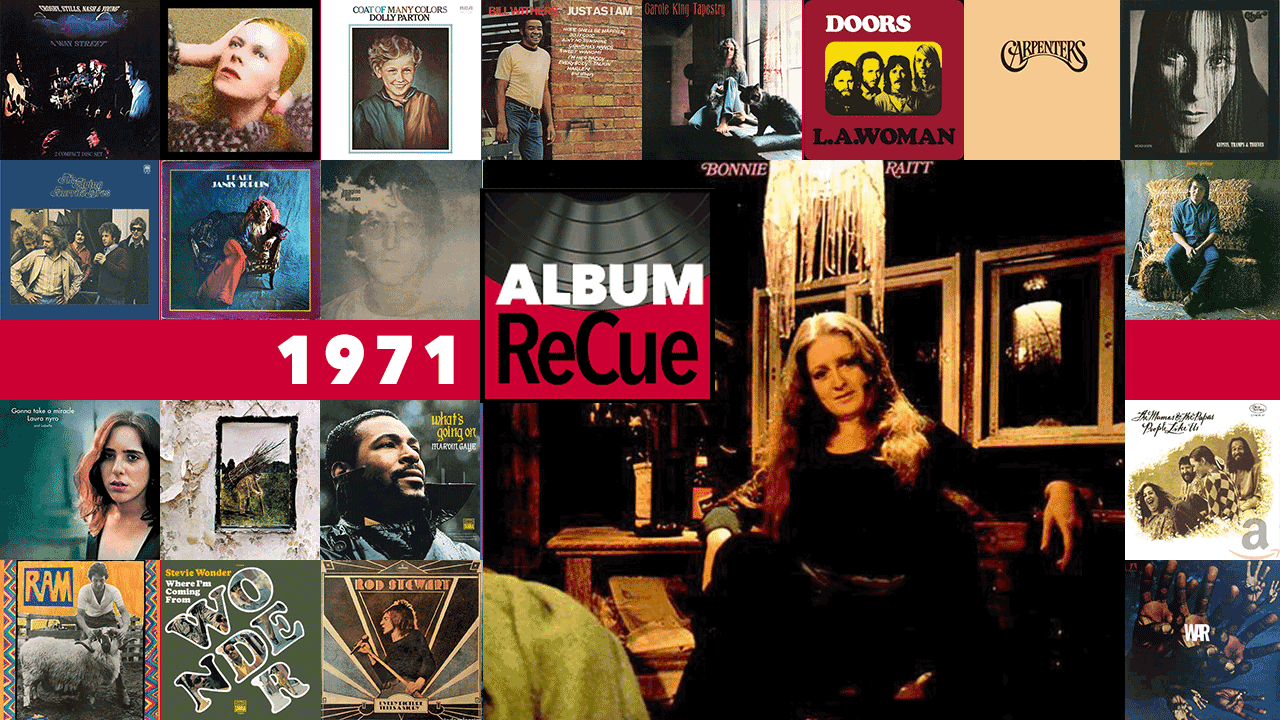 "Album ReCue" celebrates 50th anniversaries: 1971 releases chosen by FUV hosts. Above, an archive of Alisa Ali's conversation with Corny O'Connell about his selection, Bonnie Raitt's self-titled 1971 debut album, and below, Laura Fedele's overview of that release. 
Back before the 10 Grammy awards and the guitar-god accolades, Bonnie Raitt was a California kid from a musical family who couldn't wait to grow up and join the activist Greenwich Village folk scene. Once she got there, after her college years in Cambridge, her natural singing style and skill with the slide guitar quickly separated her from the pack, and she scored a major label deal before she was 21.
She chose her signature instrument over the folky acoustic because of the sustain, Raitt says: "the electric guitar, for me, has the raunch and the beauty that more openly reflects the range of emotions I want to get when I'm singing and playing." Plus, it made it easy to sit in with a wide variety of players and styles: "It doesn't matter whether you know all the chords if you know your way around with a slide."
That easy way with a jam is already in full form on her debut album, Bonnie Raitt, recorded in live sessions at an empty Minnesota summer camp. A collection of eclectic old favorites and a couple of her own tunes, each song starts out in a new direction — a rolling blues, a lilting ballad — then each one builds in its own way to a rollicking peak. You can feel the camaraderie of the band members as they move in and out of the music, like party guests gliding through the kitchen, with Raitt at the center, driving it all forward.
Stephen Stills's "Bluebird" kicks it off, in country-blues style, Raitt's voice gently soaring over a harmonic vocal chorus. Her own "Thank You" is the first we hear of a future career of sweet and sultry ballads, and her "Finest Lovin' Man" gets a honky-tonk vibe from blues legend Junior Wells on the harp, pushing the rhythm forward with every breath.
Raitt's career has embraced the sounds of rock, Americana and R&B over the years, but her love for the classics never wavers. WFUV morning host Corny O'Connell says, "Bonnie Raitt really got to me on an emotional level on her debut album through her truly authentic interpretation of the blues. She's renowned for her slide guitar, but it was her laid-back, unaffected singing on standards like 'Since I Fell for You' that sealed the deal."
Her compadres at the camp included a few who'd become longtime collaborators (like Freebo on bass and A.C. Reed on sax), plus Raitt chose two classic Sippie Wallace songs for the album ("Women Be Wise" and "Mighty Tight Woman," both driven here by John Beach's New Orleans-style piano), creating a bond that led to them recording and touring together through the '70s and '80s.
But the longest relationship in Raitt's career started even further back than her debut: The first woman with a signature Fender guitar line, her customized Stratocaster ("Brownie") has been with her for every gig since 1969.
This "Album ReCue" series is part of our 50-year look back at the albums of 1971, including Traffic, Isaac Hayes, and Carly Simon. We've also taken a look at Bonnie Raitt's 1989 Nick of Time album, and at her career as an FUV Essential artist.
Listen
WFUV's Album ReCue: Bonnie Raitt's Bonnie Raitt