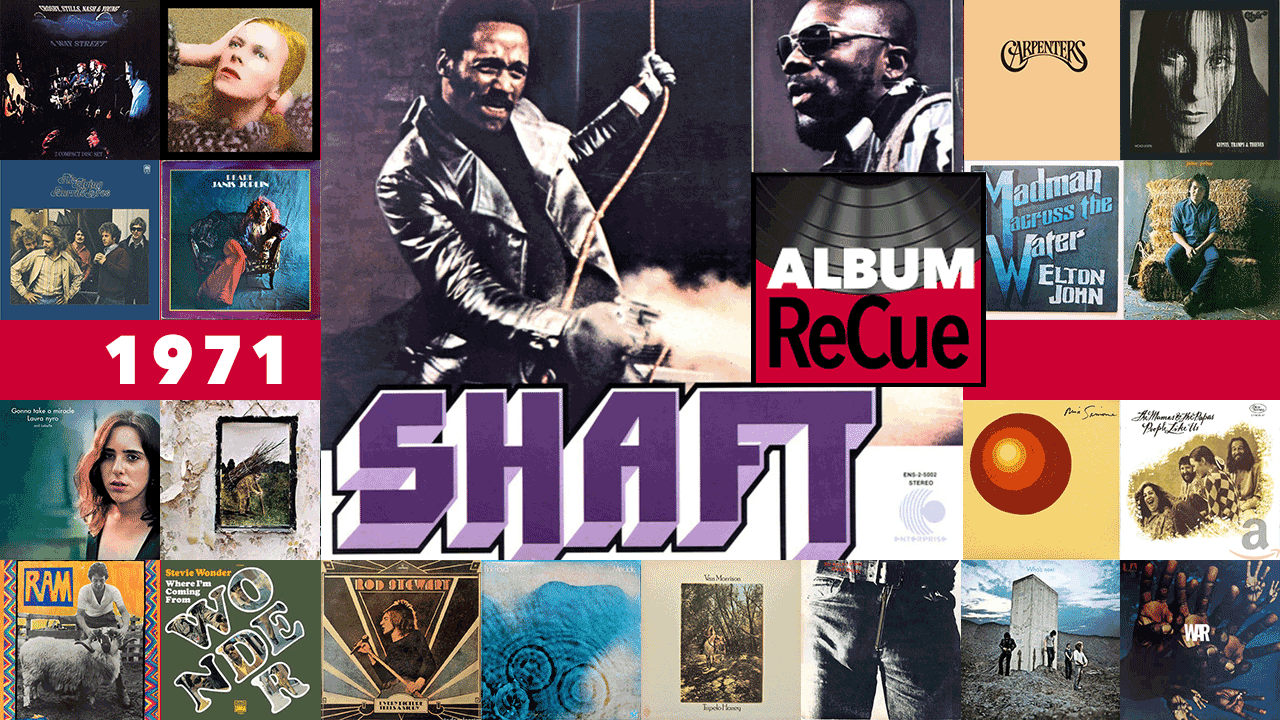 "Album ReCue" celebrates 50th anniversaries: 1971 releases chosen by FUV hosts. Above, an archive of Alisa Ali's conversation with Darren DeVivo about his selection, Isaac Hayes's watershed Shaft (Music from the Soundtrack), and below, Kara Manning's overview of that release. 
Says Darren: "I was six years old when Isaac Hayes's newly-released soundtrack to the film 'Shaft' became a popular album in the DeVivo home. My father's radically eclectic record collection was a big part of my personal soundtrack and 'Shaft' was right at the top of Darren's hit parade, with a bullet. Can you dig it? Right on!"
Few songs defined 1971 as boldly as Isaac Hayes's "Theme from Shaft," a revolutionary behemoth of a track that introduced Richard Roundtree's moody New York gumshoe in director Gordon Parks' Blaxploitation classic.
Hayes originally auditioned for that lead role — Parks didn't hire him for it, but asked him to write the music instead. The song became a multicultural phenomenon, albeit serving as just a fraction of Hayes's sultry, visionary score, released on Stax as a double album: Shaft (Music from the Soundtrack). But the tidal funk and soul wave that followed in Shaft's wake swept contemporaries like Curtis Mayfield, Manu Dibango, War, Marvin Gaye, James Brown and Roy Ayers into the sightlines of filmmakers and producers, giving Black musicians the freedom (and budget) to compose for cinema in a way that altered American filmmaking in the Seventies.
"Shaft did many things," writes The Roots' Ahmir "Questlove" Thompson in his liner notes for the 2019 box set of Hayes's soundtrack (and the accompanying movie cues). "What it did, most of all, was cement the relationship between African American movies and African American music. Every Blaxploitation film that followed, whether it was a straight crime story, a feminist rewrite, a comedy, or even a horror movie, had an accompanying soundtrack by an artist trying to put the black experience on wax."
Hayes's supernova single won him an Academy Award in 1972 for Best Original Song for the "Theme from Shaft" (he dedicated it to Stax Records and to his grandmother who raised him). He was the first Black composer and only the third Black artist since Hattie McDaniel (Best Supporting Actress, 1940) and Sidney Poitier (Best Actor, 1964) to win an Oscar in a major category. Both single and score soared to the pinnacle of Billboard's pop single and album charts, and earned Hayes three Grammys and a Golden Globe award too.
Everything about "Theme from Shaft" was different — and downright daring — on the radio. The single itself is perfect in all ways: Willie Hall's skittering hi-hat, guitarist Charles "Skip" James's wah pedal wizardry, and Hayes's nonchalant purr, blithely doling out all we needed to know about private detective John Shaft. The lyrics, a flowing mix of attitude, humor, and quotable asides — "a bad mother (Shut your mouth)," "Damn right," "Can ya dig it?" — vaulted into the pop culture lexicon. (For her FUV "8Track" guest DJ session recorded in early March, Gail Ann Dorsey picked the song as part of the sentimental soundtrack of her Philadelphia childhood.)
But the bulk of the Shaft soundtrack runs far deeper, as evocative layers of Hayes's score — short instrumentals and lengthier, silky layers of soul, funk, and jazz — melt into after-midnight reveries that stand on their own, removed from what's happening on screen. In fact, Hayes re-recorded his entire score for Stax in Memphis — the movie cues that were actually used in the film, recorded earlier at MGM Studios in Culver City, weren't available until nearly 50 years later on the 2019 box set.
Hayes, who had reconstructed Burt Bacharach compositions into staggering funk odysseys on two of his Stax releases that preceded Shaft, 1969's Hot Buttered Soul and 1970's The Isaac Hayes Movement, brought that sleek Bachrachian vibe to the Sixties amble of "Early Sunday Morning," "Shaft Strikes Again," and "Ellie's Love Theme." There's a bristling menace to "Walk from Regio's," while the pillowy grooves of "Bumpy's Blues" erupt into a series of solo turns by Hayes's exemplary band of session musicians.
Some of the players were from Memphis, like bassist James Alexander and guitarist Michael Toles, plucked from the Stax repertoire of session musicians, the Bar-Kays, The Movement, and the Memphis Strings & Horns, while others, such as pianist Lincoln Mayorga and Bud Shank on woodwinds, were based in Los Angeles. Arrangements were by Johnny Allen, who had collaborated with Hayes on Hot Buttered Soul.
Aside from the ubiquitous hit single, there are two more tracks with vocals on Shaft — the social commentary gospel blues of "Soulsville" and the nearly 20-minute "Do Your Thing," a slow-burning funk fantasia with Hayes's throaty incantation setting up a serpentine groove that builds into an urgent climax: a love-making citadel of cinematic scoring. (The original version of "Do Your Thing," which clocks in at an astonishing 33 minutes, was first released on the 2017 box set Isaac Hayes: The Spirit of Memphis 1962-1976.)
Born in Covington, Tennessee, Hayes had landed in Memphis by the late fifties, honing his craft on the nightclub circuit. He became a cornerstone of Stax Records, which he joined in 1964 after a stint with the Mar-Keys. Hayes's songwriting and producing juggernaut frequently partnered him with Dave Porter; the pair co-wrote songs performed by Sam and Dave, Carla Thomas, Mable John, and many others. The death of Otis Redding and Atlantic's takeover of Stax's catalog gutted the label — until Hayes kept it afloat with a canny reinvention of the Stax sound and gave the label the most successful release of its history.
The legacy of Shaft has lived far beyond the '70s. As Questlove writes, Hayes's music "had a second life as a hip-hop fountainhead." 
"The guitar from 'Walk from Regio's' was sampled numerous times, maybe most notably in the Beastie Boys' 'Sounds of Science,'" notes Thompson. "'Do Your Thing' did its thing in Big Daddy Kane's 'Smooth Operator.' 'Bumpy's Lament' found its way into Mobb Deep's 'Back at You' (and a cover of it, by Soul Mann and the Brothers, was the basis for Erykah Badu's 'Bag Lady')."
As for Hayes, who died in 2008, his career took many twists and turns, including a sideline into acting, but nothing ever quite reached the professional pinnacle of 1971 and Shaft again — although his inclusion in the 2002 Rock and Roll Hall of Fame (inducted by Alicia Keyes) was definitely a highlight for the musician respectfully called "Black Moses," after the title of his other 1971 hit album that followed Shaft. 
"The music, the creative art flow, that's what it's all about,' said Hayes that night in his Hall of Fame acceptance speech, addressing the young up-and-coming artists in rap and hip hop. "Know the business, learn the business, own something, and don't slip into the traps. And don't forget about your 'hood."
Catch up to all of FUV's 1971"Album ReCue" features, also taking a closer look at albums by Bonnie Raitt, Traffic, and Carly Simon.
Listen
WFUV's Album ReCue: Isaac Hayes's Shaft (Music from the Soundtrack)