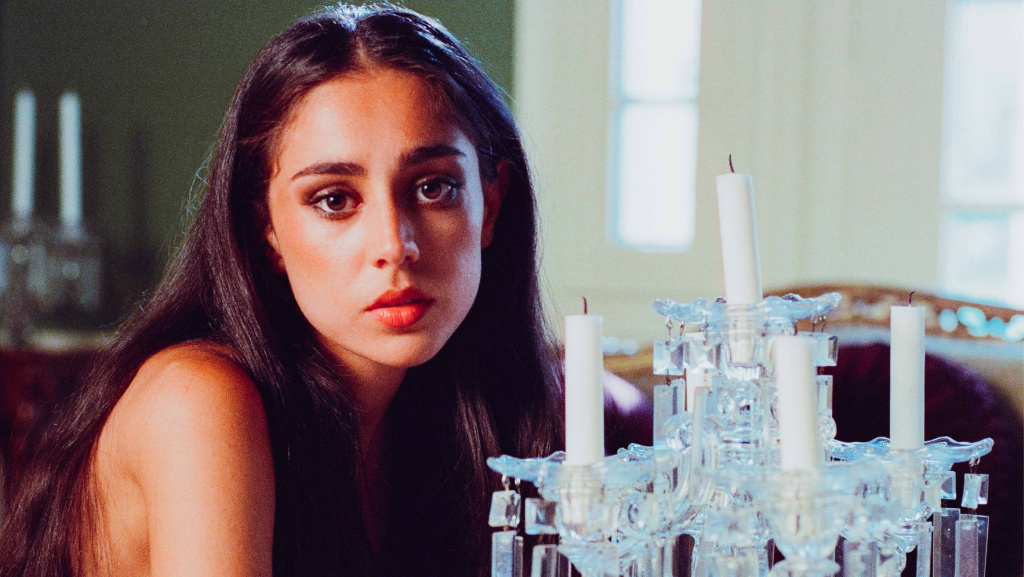 Some of the new songs you'll hear on FUV this week.
Bomba Estéreo & Manu Chao, "Me Duele"
Colombian duo Bomba Estéreo and iconic Barcelona-based musician Manu Chao released "Me Duele" ("it hurts") back in September, just as Bomba Estéreo began their U.S. tour supporting their 2021 Grammy-nominated album, Deja.
"It's a song about how pain can always find its relief during difficult times and life can come back to its essential beauty," explains Bomba's founder Simon Mejia.
Chao visited visited the home studio of Bomba's lead singer Liliana Saumet on Colombia's Caribbean coast — and the musicians conjured this cantering duet.
A portion of the song's royalties will be donated to Costeño Social, a school near Saumet's home. Bomba Estéreo also collaborated with Bad Bunny on "Ojitos Lindos." Earlier this year, Chao also worked with fast-rising Peruvian producer Sofia Kourtesis on the single "Estación Esperanza."
Gorillaz, "Baby Queen"
The latest track from Gorillaz' eighth album, Cracker Island, released February 24, finds Damon Albarn singing about a real-life incident. In November 1997, the then 14-year-old crown princess of Thailand attended a Blur gig. Her throne was set by the mixing board, and suddenly, at the start of "Song 2," the teenager stage-dived into the crowd.
"The reason I've written a song about it is because I had a dream about this princess very recently," Albarn told the Los Angeles Times earlier this year. "She'd grown up and we spent time in my dream together, her as a woman. So there you go: 1997 was a long time ago, but at the moment it's not."
Other songs released so far from Cracker Island included the title track, featuring Thundercat, "New Gold" with Tame Impala and Bootie Brown, and "Possession Island" with Beck. Other album guests include Stevie Nicks, Bad Bunny, and Adeleye Omotayond. Gorillaz were at Barclays Center in October.
King Gizzard & the Lizard Wizard, "Hate Dancin"
The prolific Australian sextet — they've released 23 albums over the past 11 years — released three albums in October: Ice, Death, Planets, Lungs, Mushrooms and Lava, Laminated Denim, and Changes. "Hate Dancin," a smooth groove of retro-Seventies soft rock and sweet falsetto, comes from Changes. And yeah, there's a little Steely Dan lurking in its DNA.
Changes was originally written for a 2017 release — but as the band's Stu MacKenzie explained in a statement, something about the album wasn't quite ready. 
"I think of Changes as a song-cycle," says Mackenzie. "Every song is built around this one chord progression – every track is like a variation on a theme. But I don't know if we had the musical vocabulary yet to complete the idea at that time. We recorded some of it then, including the version of 'Exploding Suns' that's on the finished album. But when the sessions were over, it just never felt done. It was like this idea that was in our heads, but we just couldn't reach. We just didn't know yet how to do what we wanted to do."
King Gizzard & the Lizard Wizard headlined Forest Hills Stadium in October. Changes is one of five albums the band has released in 2022 alone — in addition to their troika of October albums, a double album, Omnium Gatherum, came out in April and in January, they began the year with the Butterfly 3001 remix record.
Marcus King, "It's Too Late"
Greenville, North Carolina blues guitarist Marcus King delivered an impassioned FUV Live concert at Rockwood Music Hall back in September and the searing, hard-driving "It's Too Late" led off his set. (Despite sharing surnames, Marcus's song bears no relation to Carole King's classic Tapestry track.) The son and grandson of blues guitarists, King describes his most recent album, the Dan Auerbach-produced Young Blood, as coming from a dark place.
"I really didn't think I'd be around long enough to make another record," King told Billboard in a candid interview. "I was pretty convinced I was going to drink and drug myself to death, or another means of not being around any longer. So I wanted there to be a sense of hope and give people a feeling that they can get through it, even though I felt it was too late for me."
A guitar prodigy who has been playing with his dad since he was just eight years old, King released his first album, Soul Insight, as the Marcus King Band when he was 19. With his 2020 album El Dorado, also produced by Auerbach, King began recording under his own name. Last month, King joined Phil Lesh & Friends at the Capitol Theatre in Port Chester, New York.
Men I Trust, "Billie Toppy"
Founded in 2013 by two high school students, Jessy Caron and Dragos Chiriac, Men I Trust became a trio when singer and guitarist Emmanuelle Proulx joined in 2016.
The bilingual Montréal group, which expands to a septet on tour, has released five albums since 2014, most recently 2021's Untourable Album (a pandemic-era title), but "Billie Toppy" is a 2022 one-off single with a kinetic vibe and addictive bassline.
Men I Trust headline Terminal 5 on December 10 with openers Homeshake.
Samia, "Mad at Me"
New York-raised Samia will release Honey, her second album, early next year. The plaintive "Mad at Me," a radio-ready electropop single from that forthcoming album, features Minneapolis singer and rapper Papa MBye. It was written with Rostam Batmanglij, ex of Vampire Weekend and recorded at Sylvan Esso's studio in North Carolina.
"The lyrics for 'Mad At Me' came from a poem I'd written about imagining what it'd be like to stop caring about what anyone was thinking," says Samia in a press release.  "I was cosplaying a position that I haven't experienced – which is of literally any confidence in my point of view. In the video we tried to embody that character – a bunch of girls having a good time in spite of it all. It is a big lie."
Samia kicks off her "Honey" tour with the duo Tommy Lefroy this winter, playing Brooklyn Steel on February 11.
Sunny War, "No Reason"
Nashville-born, Los Angeles-based Sunny War has been on the cusp of better things for a while; her backstory is one of resilience and rebirth. The singer, songwriter and very accomplished guitarist, real name Sydney Lyndella Ward, has been compared to Robert Johnson for her fingerpicking acumen. She began busking as a teenager on Venice Beach but struggled with alcoholism and addiction, as she told NPR Music after the release of her first album, 2021's Seems You Haven't Learned. Now an activist as well as a musician, Ward looks to her own recovery to help veterans with PTSD and she kickstarted a Los Angeles chapter of Food Not Bombs.
Recently signing to New West Records, Ward will release her next album, Anarchist Gospel, on February 3 and she has an impressive guest list on board: Jim James of My Morning Jacket, Allison Russell, David Rawlings, Jack Lawrence of the Raconteurs, Micah Nelson, John James Tourville of The Deslondes, Kyshona Armstrong, Dennis Crouch, The School Zone Children's Choir, and others.
As for "No Reason," Sunny War says the song is about "the internal struggle that all people face just trying to be the best version of themselves. And the guilt that you feel when you're not being the best version of yourself." 
She plays Joe's Pub on February 22.
White Reaper, "Pages"
Louisville-based quintet White Reaper is back with "Pages," a raucous new single teasing their fourth album, Asking for a Ride, released January 27. Asking for a Ride was recorded in Nashville.
"It seems like 'Pages' could've easily existed on one of our earlier records, it's just a few chords and a simple melody; but because of that, I'd say that it's pretty unique to the rest of our new album," says singer and guitarist Tony Esposito.
White Reaper's last album, 2019's You Deserve Love, featured the Billboard Top 10-charting Hot Rock and Alternative hit "Might Be Right." The band has toured with Pearl Jam, The Killers, and Weezer. They also paid WFUV a visit most recently in 2019 for an FUV Live session with host Eric Holland.
White Reaper headline New York's Irving Plaza on March 17, with support from Mamalarky.
Yo La Tengo, "Fallout"
Hanukkah doesn't begin until the evening of December 18, but we're gonna count this just-released gritty and gorgeous single from Yo La Tengo — and news of their forthcoming 16th album, This Stupid World — as an early gift. The Jersey icons drop the album, which they produced themselves, just prior to Valentine's Day, on February 10 via Matador Records. It's their first since 2020's We Have Amnesia Sometimes.
And to properly celebrate the holiday season try to catch one of Ira Kaplan, Georgia Hubley and James McNew's annual Hanukkah shows at Bowery Ballroom from December 18-25 (all are sold out except for Christmas Eve and Christmas Day) with a comedian and an opening band to be announced. Yo La Tengo also have a gig at Brooklyn Steel on March 18 as part of their tour supporting This Stupid World.
Also in the mix:
Harry Styles, "Music for a Sushi Restaurant"
The body horror video might have divided fans, but we love the groove.
Lizzo, "2 Be Loved (Am I Ready)
About to have a panic attack? This upbeat gem from Lizzo's latest album, Special, is the self-help elixir you need.
The 1975 "All I Need to Hear"
Fresh off of their Madison Square Garden show, The 1975's Matty Healy recently chatted with FUV's Alisa Ali. Listen here.
Lucius, "Muse"
A new one-off single, the mellow "Muse" is co-written with Nashville compadre Jillian Jacqueline. Don't miss Lucius at "Holiday Cheer for FUV" on December 6 at the Beacon Theatre.