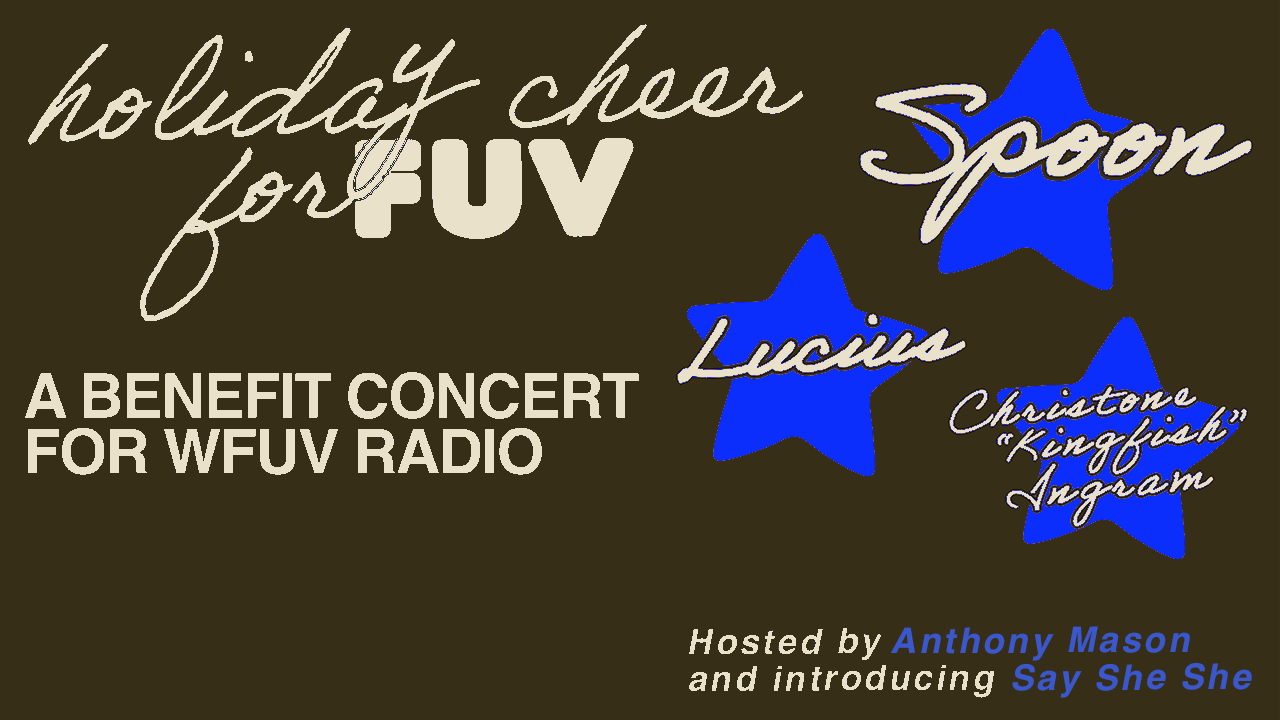 Benefit concert December 6 at the Beacon Theatre
Austin-bred rockers Spoon, adventurous pop provocateurs Lucius, and blues prodigy Christone "Kingfish" Ingram join WFUV at New York's Beacon Theatre on Tuesday, December 6, 2022 for the 16th annual Holiday Cheer for FUV benefit concert. The self-described "discodelic" Say She She will be the openers, and emcee for the night will be CBS's Anthony Mason. The show marks WFUV's return to Holiday Cheer after a two-year hiatus.
Take a minute to learn about our charity partner for 2022: Sound Mind Live, a Brooklyn-based nonprofit working to combat the stigma of mental illness.
About the Artists:
Releasing their tenth album, Lucifer on the Sofa, earlier this year, Spoon's brawny, minimalist, and canny rock has made this band a magical and much-loved force for over a quarter of a century. Lucifer on the Sofa, Spoon's first album recorded in Austin in over a decade, was a two-year journey for the quintet, as they segued in and out of lockdown. The result is some of singer and guitarist Britt Daniel's most piercing, poignant songs, from the brute muscle of "The Hardest Cut" to the romantic reverie "My Babe." Spoon has always been a staple of WFUV's sound; the band's fearless, fun tunes resonate with irresistible hooks and honest insight. We're grateful to have this legendary band join the 2022 edition of Holiday Cheer for FUV.
Anyone who has seen Lucius live has experienced that goosebumps moment when lead singers Holly Laessig and Jess Wolfe unite their soaring sopranos in harmony. Aside from the uncanny beauty of their vocal brilliance, Lucius's versatility as shapeshifters, slipping between synth-pop, country, alt-folk and disco, has never been more evident than on their fourth album, 2022's Second Nature, produced by pals Brandi Carlile and Dave Cobb. This is an album made for joyful dancing through life's unpredictable tangents — which has always been Lucius's sunny mission since FUV first met Jess and Holly back in 2013. This is their first return to Cheer since 2015, and we couldn't be more pleased.
At just 23, Christone "Kingfish" Ingram has set the blues world on fire, winning a 2022 Grammy for his searing second album, 662. (He was nominated for his debut, Kingfish, too.) Earlier this spring, Ingram won Contemporary Blues Artist of the Year for the third consecutive time at the 43rd Annual Blues Music Awards, and also took home Contemporary Blues Album honors for 662, his second such triumph since a 2020 win for Kingfish. With his trusty companion, a 2018 Fender Player Stratocaster, Ingram's mastery of the instrument is not only a reminder of kingly forebears like B.B. King and Albert King, but a testament to his unique Gen Z genius, reinterpreting American blues for a younger audience. Via fiery songs such as "She Calls Me Kingfish" and "Long Distance Woman," he artfully explores the personal and universal language of the blues with unbridled passion. We were knocked out by the Clarksdale, Mississippi musician at an "FUV Live" concert back in March, and we're privileged to welcome Christone "Kingfish" Ingram to 2022's Holiday Cheer for FUV.
Based in Brooklyn, Say She She is a British-American septet led by a trio of close friends: Nya Gazelle Brown, Piya Malik, and Sabrina Mileo Cunningham. Their debut album, Prism, was released in early October and evokes the sleek spirit of the threesome's many influences and forebears, from Nile Rodgers and Bernard Edwards' exhilarating Chic and Sister Sledge juggernaut to classic Nineties-era SWV or Gabrielle. Nya (formerly of 79.5, an FUV artist to watch), Piya (featured in El Michels Affair and backup vocalist for Chicano Batman), and Sabrina began working together around 2018. Piya and Sabrina were neighbors in a Lower East Side tenement and their "meet cute" tale was serendipitous. All three musicians are frank about the feminism and friendship that fuels their music — their debut single, "Forget Me Not," is an homage to the Guerilla Girls.
The host for Holiday Cheer for FUV this year is a longtime friend of the radio station — Anthony Mason, senior culture and national correspondent for CBS News, a frequent contributor to "CBS Sunday Morning," and former anchor of "CBS Mornings" and "CBS Saturday Morning."  One of the savviest and most influential music journalists in the country, Mason has profiled musicians of all genres, including past Holiday Cheer performers Brandi Carlile, Nathaniel Rateliff, Mavis Staples and our guests this year, Lucius. His many memorable interviews also include conversations with former President Barack Obama and Bruce Springsteen and the late, great Aretha Franklin. Anthony has attended Holiday Cheer for FUV in the past as a music fan and we're delighted to welcome him as our emcee this year.
WFUV is supported by the Surfside Beach Hotel and Surf Club in Point No Point, CT. What will be your Surf Side Story?
Holiday Cheer for FUV is supported by Little Pub: A rustic neighborhood gathering place with a relentless focus on customer service, value, and fun. Connecticut locations in Fairfield, Greenwich, Old Saybrook, Stratford, and Wilton.