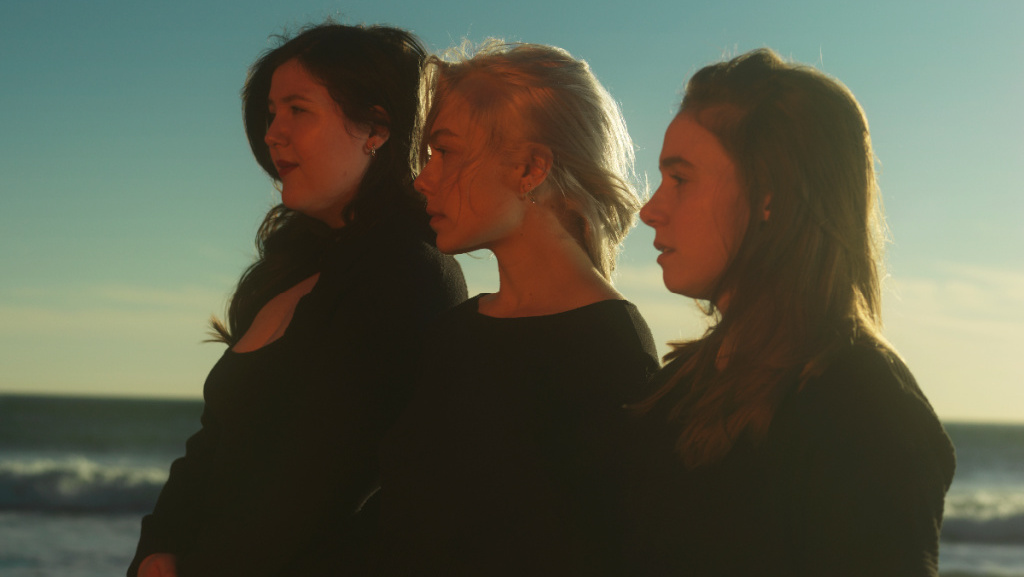 A quick snapshot of some of the new songs you'll hear on WFUV this week:
Allison Ponthier, "Character Development"
Not only did we recently do an FUV Live session with Allison, hosted by Alisa Ali, but the Texas-born, Brooklyn-based musician is also performing at FUV's High Line Bash on May 12, along with The Hold Steady, Allison Russell, Brandi and the Alexanders, and Joe McGinty's Superstar Piano Bar.
This latest release from Allison is her first new song of 2023 — with teeth. "'Character Development' is about the people I've encountered who have treated me poorly, to then turn around and say that learning from that experience has made them a better person," says Ponthier in a statement. "No one should be made to feel like they have to be a casualty or compromise themselves for someone else's growth.
boygenius, "Not Strong Enough" 
The trio of Phoebe Bridgers, Lucy Dacus, and Julien Baker have released a fourth single from their forthcoming debut album, the record, released on March 31. The album, which follows their 2018 self-titled first EP, was actually kicked off back in June 2020, when Bridgers sent a demo of "Emily I'm Sorry" to Dacus and Baker and asked her friends if they wanted to be a band again.
"Not Strong Enough" is an example of the conversational tone of the bulk of the songs on the record, with shared lead vocals. The playful video was self-shot by the band and edited by Phoebe's brother, Jackson Bridgers.
Boygenius plays Coachella on two consecutive Saturdays, April 15 and April 22, and begin their North American "Re:Set Concert Series" this spring, with a stop at Forest Hills Stadium on June 17.
CHVRCHES, "Over"
The latest single from the Scottish band is their first new release in over a year, and what they're calling a passage from Screen Violence, meaning the band's 2021 album.
Says the band: "'Over' is a song that we wrote with Oscar Holter, a producer we really respect and admire. Normally we collect songs over the course of months (or years!) until we have an album's worth of material, but this time we just wanted to release something we were excited about and give the fans something new to mark the end of the Screen Violence era, and the start of whatever the next CHVRCHES chapter might be."
Chvrches are opening for Coldplay in Brazil this month.
Fontaines D.C., "Cello Song"
The Dublin-bred band's fantastic, clamorous take on Nick Drake's classic is the first release from the forthcoming tribute album The Endless Coloured Ways: The Songs of Nick Drake, released July 7 and produced by Elbow's Guy Garvey with Barney Lister.  Other artists on board the project include Bombay Bicycle Club, David Gray, John Parish and Aldous Harding, Let's Eat Grandma, Liz Phair, Joe Henry, and many others.
Says Conor Deegan of Fontaines D.C.: "We recorded this version of ''Cello Song' with Guy and Barney in the winter of 2021. It was a quiet moment just after the pandemic had ended, but before we'd release our third album, Skinty Fia, and head off into the world touring for over a year. I remember Guy's passion filling the room, coming up with lots of ideas and singing them to us. Barney was a great collaborator for Guy and a diligent engineer, who made all of these ideas possible. When the day was over we went to a bar and I never saw someone sink Guinness as quick or as casual as Guy."
Gorillaz with Bad Bunny, "Tormenta"
Yes, Gorillaz' Cracker Island is finally out in the world – this breezy, summer-ready single matches Damon Albarn with Puerto Rican superstar Bad Bunny (who sings entirely in Spanish). It is unquestionably one of the highlights of the album and maybe your earworm of the month.
In addition to Gorillaz business, Damon Albarn will rejoin his Blur bandmates for tour dates this summer, including two shows London's Wembley Stadium on July 8 and 9.
Janelle Monáe with Sean Kuti and Egypt 80, "Float"
This torchy power ballad from Janelle features Sean Kuti, the youngest song of Fela Kuti, and his band, Egypt 80. It's Janelle's first release since 2021 and produced by Nana Kwabena, Nate "Rocket" Wonder, and Sensei Bueno. It's an official NBA anthem too, which Monáe discussed with ESPN's Malika Andrews. Explains Janelle, she dreamed of athletes listening to "Float" in the locker room before they play a game.
Jason Isbell and the 400 Unit, "Death Wish" 
This new single, "Death Wish," is Jason's perspective on a woman's mental health crisis. Is it about his wife, Amanda Shires? We'll let them discuss. It will be found on the forthcoming Jason Isbell and the 400 Unit album, Weathervanes, released on June 9. There's a tour too that includes three local stops: the Capitol Theatre in Port Chester, NY on July 28, the Paramount in Huntington, NY on July 31;  and the State Theatre of New Jersey in New Brunswick, NJ on August 1, all with opener S.G. Goodman.
Momma, "Bang Bang"
Fast on the heels of their third album,  2022's Household Name, Momma is back with an alternately dreamy and crunchy new single — with plenty of "oh-wah-ohs" — called "Bang Bang."
The Brooklyn-based trio of Aron Kobayashi Ritch (bass/guitar), Etta Friedman (guitar/co-vocalist), and Allegra Weingarten (guitar/co-vocalist) are supporting Alex G. on tour through Europe and the UK beginning later this month.
Revisit their FUV Live concert from Rockwood Music Hall with host Russ Borris.
Bully feat. Soccer Mommy, "Lose You"
Alicia Bognanno, who records as Bully, returns with a new song, "Lose You," which features Sophia Allison, best known as Soccer Mommy. Recorded last year at Alicia's Nashville studio, it comes out ahead of a new album from Bully, details to come. Her last album is 2020's Sugaregg.
Says Bully of her collaboration with Sophia: "When 'Lose You' came about it was the first time I've considered having someone else sing on a Bully song. I love Sophia's voice and have always admired everything she does so to me it was a no brainer. Watching her soar out of the Nashville scene and dominate indie music world wide has been a joy. Writing 'Lose You' was a way for me to work through the pain and reality of impermanence. It doesn't make it any easier but reflection is often followed by growth and to me that's what life is all about."
Bully has dates ahead supporting The Breeders, Pixies and Franz Ferdinand.