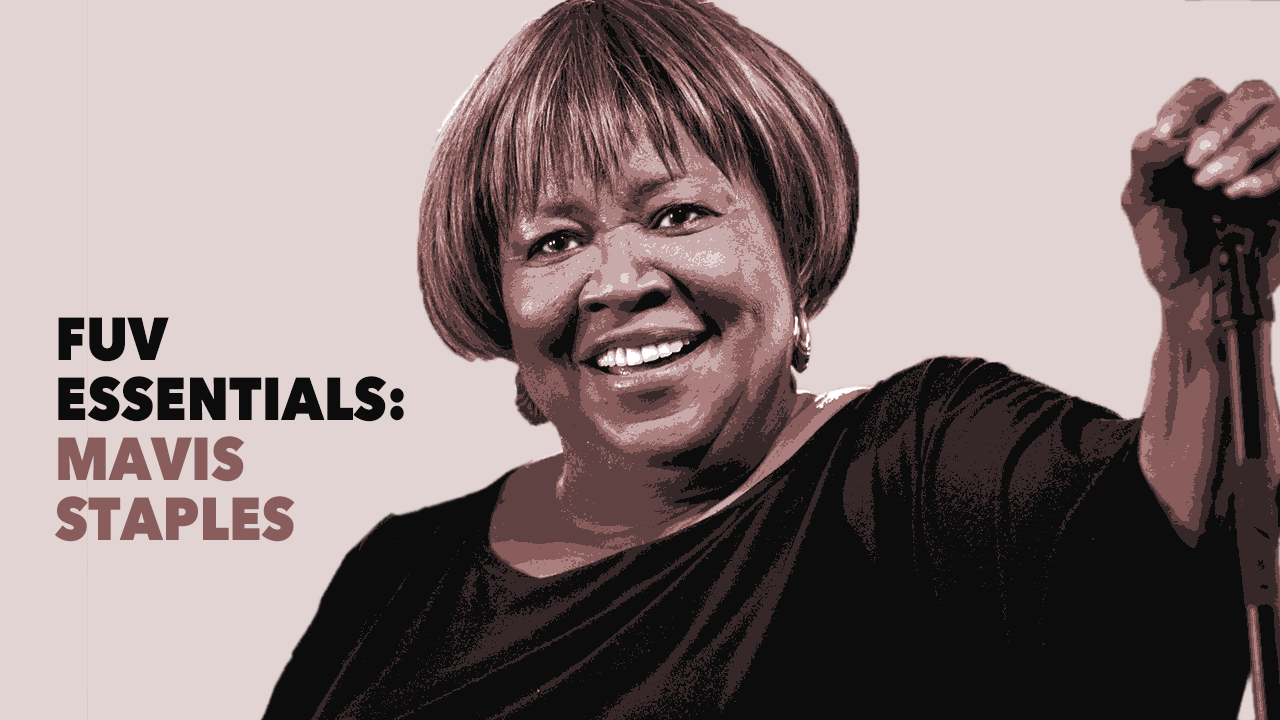 [May 2019 update: Her twelfth solo album, We Get By, is a collection of new songs written and produced by Ben Harper, which deftly spans gospel, blues, soul, and funk. Most importantly, it's the message that matters. Staples, a revered civil rights activist, isn't shy about voicing her opinions (nor is Harper) and gritty tracks like "Change," which directly addresses the ravages of gun violence on American culture, are achingly resonant.
The same month that Staples released We Get By, she was feted via three all-star concerts, produced by Newport Folk, under the umbrella title of "Mavis & Friends: Celebrating 80 Years of Mavis Staples. "I just wanted the world to know that I made it to 80!" says Mavis. "I am letting my fans know that I'm over the hill, but now I'm going over the mountain."]
How did Mavis Staples become a rock star?
There are quite a few examples of women who first found their voice in the church. Gospel roots were behind the rightfully celebrated pipes of Aretha Franklin, Whitney Houston, Mary J. Blige, Katy Perry, Faith Hill. These women made their mark at the top of the charts for pop, R&B, soul and country.
But a list of Mavis Staples' fans and peers falls solidly in the rock world. Just over the past few years, her collaborators have included Arcade Fire, Gorillaz, M. Ward, Son Little, and her producer and friend Jeff Tweedy of Wilco. These are rock stars who challenge assumptions, make some cacophonous noise, and generally shake things up. They're not in the studio making things pretty, auto-tuning vocals, and reaching hard for mainstream airplay.
Staples likes to shake things up. She got it from her Dad, Roebuck "Pops" Staples, who raised his talented children to stand up for what is right. They started in the gospel tradition, but by the mid-'60s were civil rights activists in their own right, marching with Dr. Martin Luther King, Jr. and performing contemporary music to inspire the movement ("For What It's Worth").
As the Staple Singers — Pops, Mavis, and her siblings Cleotha, Yvonne, and Pervis — the family had hits through the mid-'70s on Stax Records, with Booker T. and the MGs as the studio band. They played with progressive artists like Bob Dylan (who famously asked Pops for Mavis' hand in marriage), which then led them to appear in the Band's epic 1976-78 concert film, "The Last Waltz." Their performance of "The Weight" is ingrained in the minds of millions.
As a solo artist, Mavis Staples' career has included working with producers Prince and Ry Cooder ("Down in Mississippi") as well as Tweedy, winning the ears and hearts of a few generations along the way. Never one to sit still, her presence has lit up benefit concerts and collaborative albums on a regular basis, her growly alto unmistakeable in the mix, even amid the guitars and percussion of her rock star friends.
So why do these artists want to work with Staples? She was there at the start of popular music carrying a progressive message, her voice has carried significance. Of course the respect is unbounded. But it's her big heart and her sharp mind that begs for a personal, creative connection. She has a lot to say, and with these compatriots, her message reaches far and wide.
A perfect example is her 2016 album, Livin' on a High Note. Produced by M. Ward, the album features songs written specifically for Staples by Nick Cave, Valerie June, Justin Vernon, Tune-Yards, Neko Case, Ben Harper and other fans. It is full of joy, hope and a collective spirit. (Full album stream video below.)
It took until age 72 for Staples to nab her first Grammy award: Best Americana Album for You Are Not Alone. ("This has been a long time coming," she said at the time. No kidding.) And if you're looking for some extra inspiration to wake up your own activist spirit, find the 2015 documentary "Mavis!" and see how that moves you.
The love at FUV for Staples is strong, and she kindly reciprocates. She joined us — along with the Head and the Heart, Josh Ritter and Dawes — for 2011's Holiday Cheer benefit concert. In 2014 she was WFUV's "Artist of the Year," receiving our Sound & Vision award and performing at our annual gala.
Always a welcome guest in our Studio A, we are ever looking forward to hearing about her next journey. In the meantime, celebrate with us the voice, the love, and the spirit of FUV Essentials artist Mavis Staples.
More:
Listen