Recap: Holiday Cheer for FUV 2011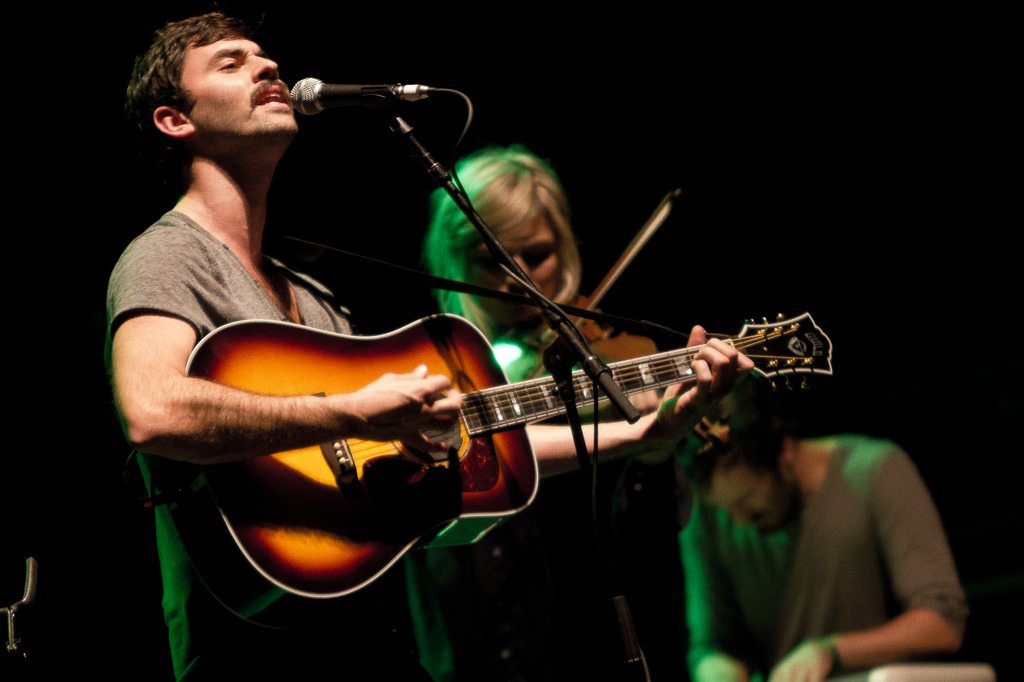 By the time Mavis Staples had transformed New York's Beacon Theatre into a sultry New Orleans gospel tent, carrying the show home with a spirited — and often spiritual — hour-long set, WFUV's 7th annual Holiday Cheer concert had already proved the invaluable bond between artist, radio station and audience. Dawes, The Head and the Heart and special guest Josh Ritter played powerful sets, both ruminative and rowdy, and declared their affection for WFUV, during our benefit event on Monday night, December 5.
Dawes brought their loping, California cool to the night with songs like "Time Spent in Los Angeles" and "That Western Skyline," flush with sweet, languid harmonies and frontman Taylor Goldsmith's crafty shifts between swagger and sincerity. Goldsmith admitted he was "freaked out" by the chance to play with Staples, Ritter and their folk-rocking peers, The Head and the Heart, who watched Dawes' set from the side of the stage.
As handsome and lush as Seattle's The Head and the Heart's self-titled debut album might be, their live show is kinetic, crackling with feverish, explosive vigor that stretches them beyond the boundaries of their recordings. Singers Josiah Johnson and Jonathan Russell swapped vocals on tender and temperamental songs like "Cats and Dogs" and "Down in the Valley," with singer/violinist Charity Rose Thielen's keening turn on "Rivers and Roads" bringing a raucous end to their tight, assured set. Russell stepped to the mic and thanked WFUV and music director Rita Houston for being "big supporters" of the band since their earliest days; WFUV had also tapped the band for the station's first SXSW showcase this year.
Special guest Josh Ritter played a stripped-down, acoustic three-song set that managed to be both moving and quite funny; he reminisced about a Bonnaroo experience in Manchester, Tennessee in which, limiting himself to a "loopy detox diet," he was coaxed into the WFUV trailer by Houston. She fed him dinner of steak and whiskey, and he promptly fell off his health-conscious wagon. "WFUV has always been a tremendous force for me," Ritter said. "I wouldn't have had the life I have with without it."
Finally, Grammy winner Mavis Staples, charismatic and resplendent in a sequined blouse and black pantsuit and backed by a taut, three-piece band and three back-up singers, blessed the night as a legend should, with a fierce and heartfelt mix of Southern gospel ("Creep Along Moses"), iconic classics  ("The Weight") and civil rights anthems ("Freedom Highway"). She spoke warmly of WFUV, another source of the "positive vibrations" that Staples thrives on, and thanked Houston and the WFUV staff. As she launched headlong into another Staple Singers standard, "I'll Take You There,"  there was really no better party in New York that night.
Dawes Setlist:
Fire Away
That Western Skyline
Time Spent in Los Angeles
A Little Bit of Everything
When My Time Comes
The Head and the Heart Setlist:
Cats and Dogs
Coeur D'Alene
Ghosts
Sounds Like Hallelujah
Lost In My Mind
Down In The Valley
Rivers and Roads
Josh Ritter Setlist:
Change of Time
Galahad
Snow Is Gone
Mavis Staples setlist:
Wonderful Savior
Creep Along Moses
The Weight
You Are Not Alone
Freedom Highway
Losing You
For What It's Worth
I Belong To The Band
I'll Take You There