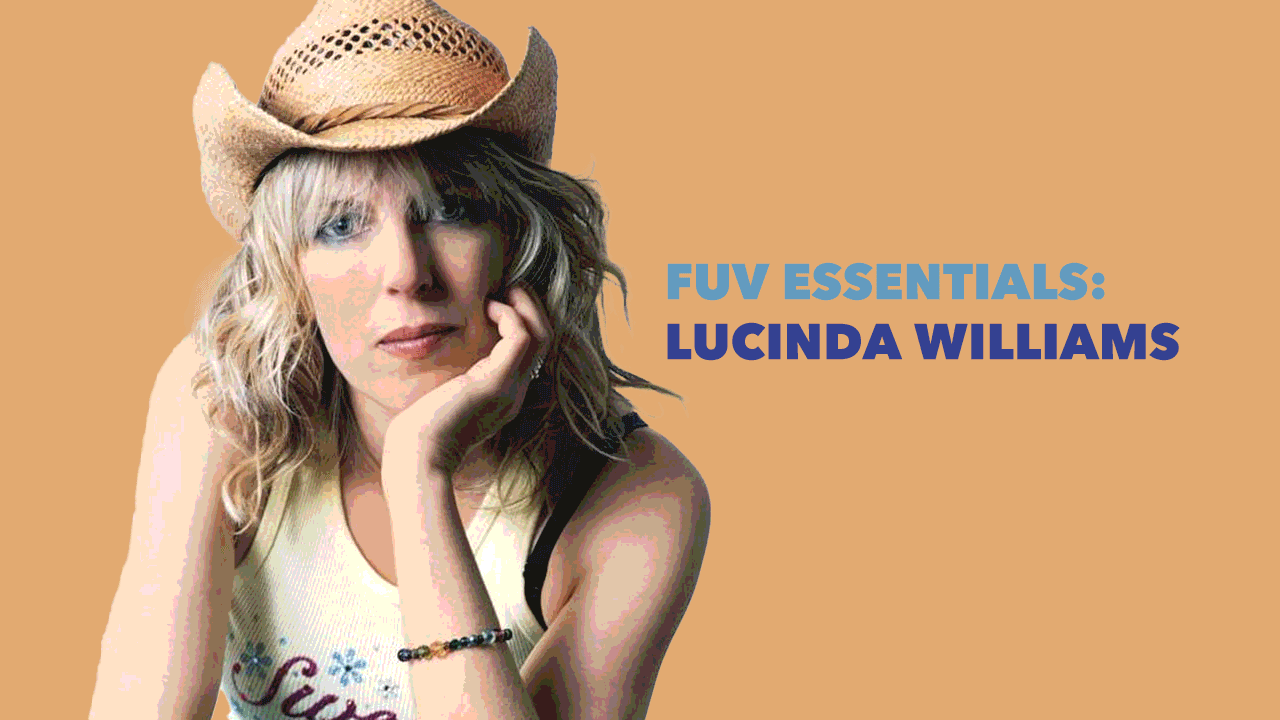 When the days of the Brill Building evolved into the days of Bob Dylan, music fans came to expect that songs be borne of personal expression by their hero on the stage. Since then, few artists have been lauded for their world-class songwriting as often as Lucinda Williams.
It would be an apt Southernism to say that she "came by it honest." As the daughter of poet-professor father Miller Williams and piano-playing mother Lucille, Lucinda's genes gave her a hearty shove in that direction. She was writing as a young kid and playing the guitar not long after. As a child of Louisiana, Mississippi and Arkansas, it turned out that she was a natural at turning dust, spit, and twang into art.
You wait in the car on the side of the road
Lemme go and stand awhile, I wanna know you're there but I wanna be alone
If only for a minute or two
I wanna see what it feels like to be without you
I wanna know the touch of my own skin
Against the sun, against the wind
— "Side of the Road" (Lucinda Williams, 1988)
Perhaps it's also apt to say she's always taken her own sweet time about it. The blues recordings she did for Smithsonian/Folkways in 1978 and '80 didn't catch on. Then it took over a decade for the next few albums, like Lucinda Williams in '88 and Sweet Old World in '92, to catch the ears of fellow musicians and start to build on that attention.
Those albums also cemented the initial impression that Lucinda's strongest work came from the more melancholy end of the emotional spectrum. The plain-spoken storytelling of "Pineola," which amounts to a step-by-step, slow-motion walk through the grief of losing a friend to suicide, resonates as deeply as any Latin hymn.
Born and raised in Pineola
His mama believed in the Pentecost
She got the preacher to say some words
So his soul wouldn't be lost.
Some of us, we stood in silence
Some bowed their heads and prayed
I think I must've picked up a handful of dust
And let it fall over his grave.
— "Pineola" (Sweet Old World, 1992)
The next chapter of writing and recording didn't go any quicker. But it was Lu's long-awaited next release, 1998's Car Wheels on a Gravel Road, that broke her into the mainstream. Never a neat fit in the traditional country music world, Lucinda's release of this album was not only a personal success that brought her millions of new fans, but it quickly established her as a pillar in the foundation of Alt-Country/Americana as a legit facet of the music industry.
Broken down shacks engine parts
Could tell a lie but my heart would know
Listen to the dogs barkin' in the yard
Car wheels on a gravel road
Child in the backseat 'bout four or five years
Lookin' out the window
Little bit of dirt mixed with tears
Car wheels on a gravel road
— "Car Wheels on a Gravel Road" (Car Wheels on a Gravel Road, 1998)
And as a beautiful and rare example of art being appreciated in its own time, Car Wheels received a Grammy Award for Best Contemporary Folk Album, hoo-ray.
Now Lucinda Williams had a hungry fan base. She also had a new label in Lost Highway, with folks who appreciated her and gave her a creative home (until it shut its doors in 2011). These factors led to the release of Essence, which further established her as the Queen of Alt-Country, and snagged her a performance Grammy for "Get Right with God."
I envy the wind
That whispers in your ear
That howls through the winter
That freezes your fingers
That moves through your hair
And cracks your lips
And chills you to the bone
— "I Envy the Wind" (Essence, 2001)
It was her collaborators who established Williams as an artists' artist. Many of them have recorded her work, including Mary Chapin Carpenter, Emmylou Harris and Tom Petty — and that's just pre-1993. Her unmistakable throaty drawl makes her an in-demand singing partner (David Crosby, Steve Earle, Elvis Costello, Don Henley). She's performed with Nanci Griffith, Bruce Cockburn, John Prine, Chip Taylor, Kasey Chambers, Graham Parker, Willie Nelson, M. Ward, Ray Davies, Amos Lee, Buddy Miller, Ann Wilson, David Byrne, David Johansen, Yo la Tengo, John Doe, Shelby Lynne, Boz Scaggs and dozens more — often in the name of a worthy cause, appearing on tribute albums and on the bill of fundraising concerts (even twice gracing the stage of our own Holiday Cheer for FUV shows).
Not only that, but her love and respect for other artists in return has led her to put down her pen and pay tribute to Bob Dylan, Neil Young, Howlin' Wolf, The Allman Brothers, Jimi Hendrix, Hank Williams, AC/DC, Shel Silverstein, Bruce Springsteen, Sam Cooke, and Thievery Corporation. Take that.
Her musical partnerships have helped her build her reputation for putting on seriously rocking live shows, as Lu can be counted on to bring stellar artists out on tour with her. Just the list of lead guitarists reads like a Who's Who of never cheesy: Doug Pettibone, Gurf Morlix, Charlie Sexton, John Jackson, Kenny Vaughan, Bill Frisell, Tony Joe White, Stuart Mathis.
Got in my Mercury and drove out west
Pedal to the metal and my luck to the test
Baby, sweet baby
I been tryin' to enjoy all the fruits of my labor
I been cryin' for you boy, but truth is my savior
— "Fruits Of My Labor"  (World Without Tears, 2003)
Highlights of the 2000's phase in Lu's career include the flirty fun of "Righteously" (World Without Tears), the aching live staple of "Unsuffer Me" (West), and the positively perky joy of "Honey Bee" (Little Honey).
Maybe it's a life lived among great artists, maybe it's finding more happiness in love, but the songwriting bug has an even bigger bite in Lucinda in recent years. She wrote more than 27 songs for 2007's West, and she says that for whatever the reason, she's "gotten more prolific" with age. The gaps between projects slimmed down with '08's Little Honey and '11's Blessed.
The genius at work, who knows her way around the darkest edges of the human heart, is still alive and well at this point, too. The loss of her longtime manager and good friend Frank Callari while she was on a European tour led to one of the most powerful songs of her career:
Thundering news hits me like a snowball
struck in my face and shattering
Covering me in a fine powder and mist
and mixing in with my tears
And I'm 57 but I could be 7 years old,
'Cause I will never be able
to comprehend the expansiveness
of what I've just learned
But you, have disappeared
You have been released
You are flecks of light
You are missed
Somewhere, spinning round the sun
Circling the moon
Traveling through time
You are missed.
— "Copenhagen" (Blessed, 2011)
Such are the thoughts of 2011's recipient of the lifetime Achievement Award in Songwriting from the Americana Music Association. One of the benefits of the respect garnered thus far was the offer of her own record label, Highway 20, under the Thirty Tigers umbrella. With true creative freedom came the biggest burst of songwriting yet, with songs for Lucinda's next two albums coming in a burst of inspiration.
For those you encounter
Have compassion
Even if they don't want it
What seems bad manners is always a sign (always a sign, always a sign)
Always a sign of things no ears have heard
Always a sign of things no eyes have seen
You do not know
What wars are going on
Down there where the spirit meets the bone
— "Compassion" (Down Where The Spirit Meets The Bone, 2014)
Among these recent successes is her first song based on her father's poetry ("Compassion"), which came to light in time for him to hear it before his death in 2015. She credits much of this confident stretch to her self-described stable and happy marriage to now-manager Tom Overby. And the woman who's spot-on expert at describing the personal is now reaching out more to the realm of the social, writing about the larger world with her unmistakably powerful voice.
All of this foolishness
All of you liars
All you talk about is pie in the sky
All of you fear-mongers
— "Foolishness" (Down Where The Spirit Meets The Bone, 2014)
Bring together the heart of a poet, the soul of a blueswoman, the mind of a lyrical perfectionist and the conscience of an activist — and you get the singular, the Essential, Lucinda Williams.
Listen