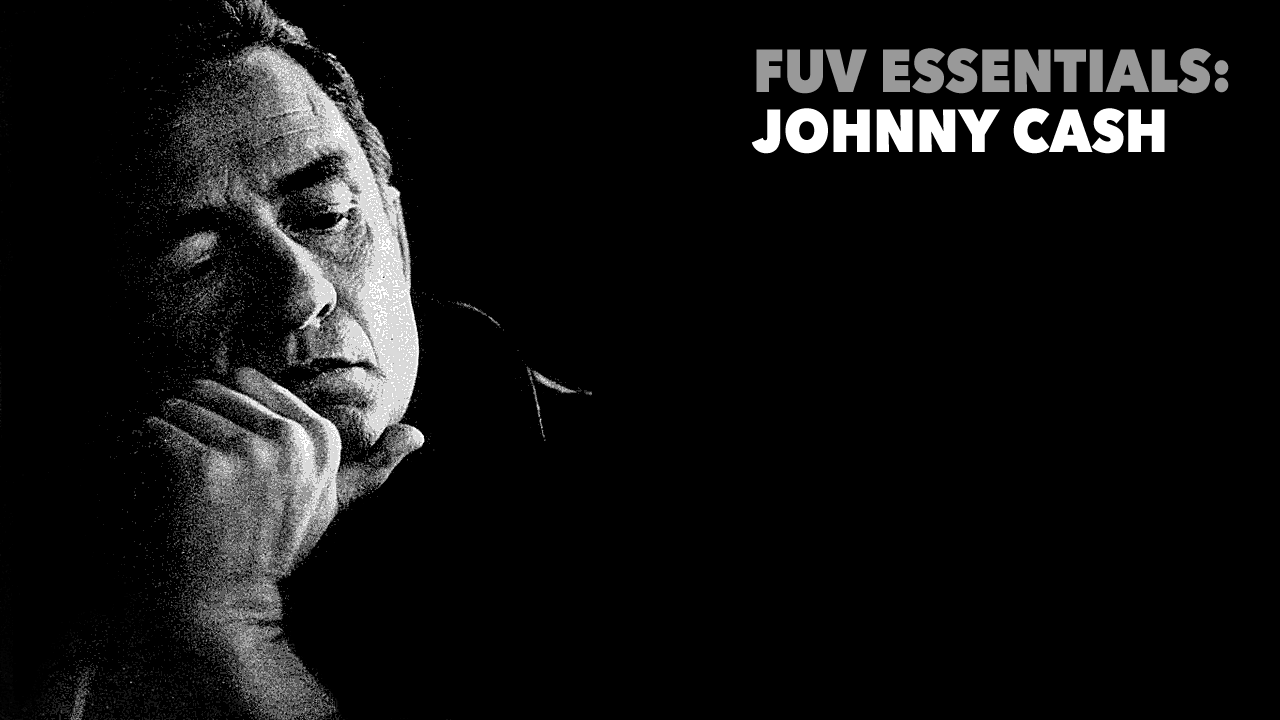 Johnny Cash, the brooding Heathcliff of country and western music whose deep, wounded baritone transcended the parameters of his genre, was a tempest of contradictions. His breakout single on Sun Records, the rollicking 1965 confessional "I Walk The Line," became a blueprint of both his public and personal life, a declaration of fidelity that he fumbled and then resurrected throughout his life.
He was effortlessly cool and tough as nails, but a vulnerable man too. In the throes of his addictions and rehabilitation, he was downright fragile. But Cash's tenacious search for redemption and spiritual peace, his fearlessness as an artist, his humble recognition of his frailities, and his refusal to be easily categorized shaped him one of the most towering figures in American music. Every time he slipped a guitar across his shoulder, he was an outlier and music's defiant outlaw. Even when the Nashville music industry turned its back on him, Cash always mesmerized rockers, rappers, and folk singers, all drawn to his mystique, his working man's poetry, the locomotive clatter and velocity of his songs, and the magnificent ache of his voice.
Cash ferociously loved his children and the strong, smart women in his life, even when he disappointed them: his mother Carrie Rivers, who encouraged him to sing; his long-suffering first wife, Vivien Liberto; his eventual soulmate, collaborator, and second wife, June Carter; and his four daughters and son, Rosanne, Cindy, Tara, Kathy and John. He wasn't a faithful husband and as a father, he traveled too much, but he tried his best. He was a complex, haunted figure—that mythic "Man in Black"—which only added to his mystique and appeal.
I wore black because I liked it. I still do, and wearing it still means something to me. It's still my symbol of rebellion—against a stagnant status quo, against our hypocritical houses of God, against people whose minds are closed to others' ideas. - Johnny Cash
While Cash didn't possess the buttery croon of Elvis Presley, his fellow member of the Million Dollar Quartet (along with Carl Perkins and Jerry Lee Lewis), there was a sonorous grit and startling honesty to his songs and covers—like "Folsom Prison Blues," "Don't Take Your Guns To Town," and Merle Kilgore and June Carter's "Ring of Fire"—that resonated far more deeply and thrives more dynamically today. His love songs, especially those that reflected his yearning passion for June Carter or their fiery duets, are marvels of romantic synchronicity and sensuality: Billy Wheeler and Jerry Leiber's "Jackson," Richard Fariña's "Pack Up Your Sorrows," or Tim Hardin's "If I Were A Carpenter."
Growing up in an Arkansas cotton farming family that struggled during the Great Depression, he cast a tender eye to hardscrabble lives, dealt an unfair blow in life. That empathy became a powerful stand in 1964 when he released Bitter Tears: Ballads of the American Indian, a concept album in support of Native Americans, their rights, and the bigotry they'd endured. Cash was shunned by the country music industry for that outspoken album, his 20th, but it vaulted him into the heart of the protest movements of the Sixties. His well-know advocacy for prisoners' rights and reform and years of live performance in prisons, beginning in 1957 at Huntsville State Prison in Texas and most famously, at Folsom Prison and San Quentin, released as concert albums (At Folsom Prison marked its 50th anniversary in January 2018). He testified for penal reform in front of a U.S. Senate subcommittee in 1972, suggesting humanitarian ideas that still deserve implementation today.
''Johnny Cash was the champion of the voiceless, the underdogs and the downtrodden. He was also something of a holy terror, like Abraham Lincoln with a wild side,'' said his friend, fellow singer and songwriter Kris Kristofferson, at Cash's 2003 funeral. ''He represented the best of America.''
Cash's foundation influences included the gospel of Sister Rosetta Tharpe, the bluegrass of Bill Monroe, and the honky tonk of Hank Williams. In turn, Cash has been a touchstone for an infinite queue of fellow musicians like Bob Dylan, Bono, Sheryl Crow, Willie Nelson, Pharrell Williams, Jack White, Frank Zappa, Loretta Lynn, Snoop Dogg, Jade Bird, Lucinda Williams, and the Jayhawks. Producer Rick Rubin, a devout fan, helped resurrect Cash's dormant recording career with the release of American Recordings in 1994 and the devastating cover of Trent Reznor's "Hurt."
On what would have been Cash's 86th birthday, February 26, a celebration of this #FUVEssentials artist whose career spanned nearly 100 albums, six decades, and all degrees of saintliness and sin. A tribute album, Johnny Cash: Forever Words, a compilation of his unreleased poetry and lyrics, put to song by musicians like his daughter Rosanne Cash, Kris Kristofferson and Willie Nelson (two of Cash's fellow Highwaymen), Elvis Costello, the late Chris Cornell, Carlene Carter, John Mellencamp, the Jayhawks and Alison Krauss and Union Station, will be released via Legacy Recordings on April 6.
Back in 1982, Cash told "60 Minutes" correspondent Harry Reasoner that his favorite song was "Pickin' Time," from 1958's The Fabulous Johnny Cash. It's a simple song, of farm life and making do, which reflects the early Southern Baptist teachings that meant so much to him and the hard times of his boyhood—a point of view that shaped this remarkable man and his music.
Last Sunday mornin' when they passed the hat
It was still nearly empty back where I sat
But the preacher smiled and said that's fine
The Lord'll wait til pickin' time
The Lord'll wait til pickin' time
- Johnny Cash
More
Listen
#FUVEssentials: Johnny Cash (Spotify playlist compiled by FUV's Rita Houston)