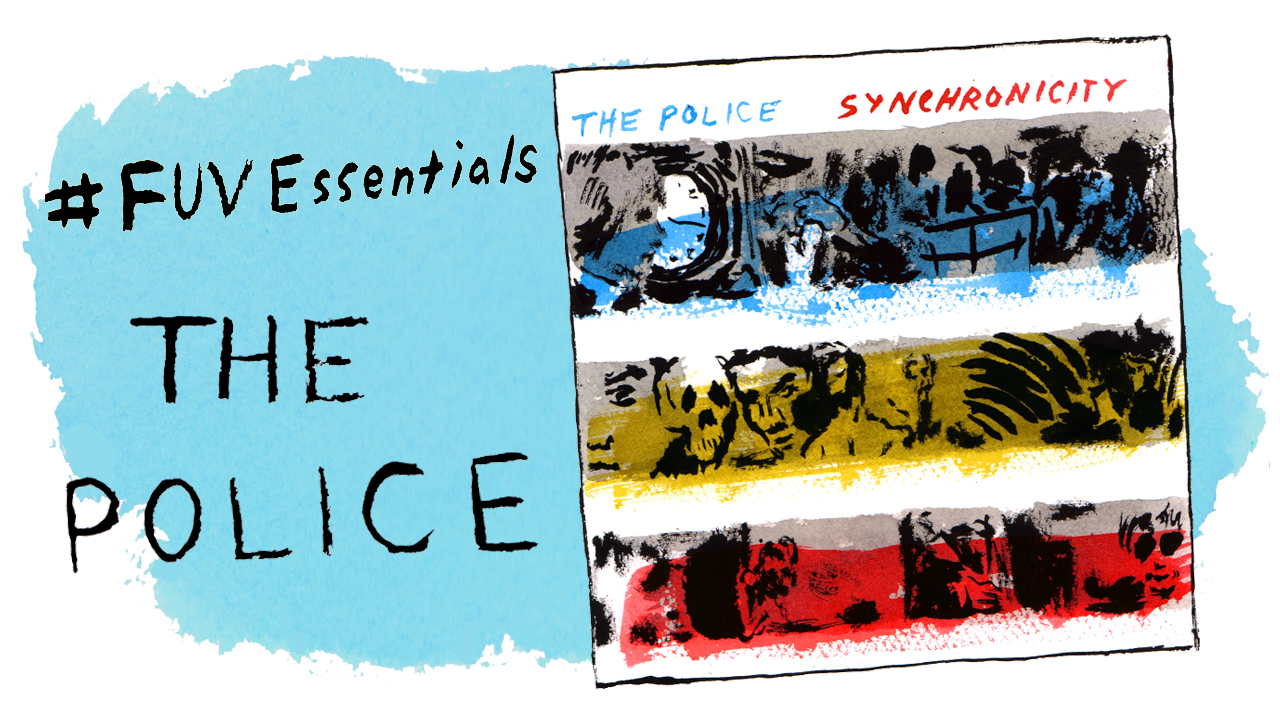 It's been forty years since the permanent lineup of the Police fused as a towheaded trio in the summer of 1977: a jazz-playing ex-schoolteacher, a virtuosic guitarist who had played with the Animals and the Soft Machine, and Curved Air's former road manager and drummer.
For nearly a decade, until 1986, this titanic clash of gifted egos — frontman, primary lyricist and bassist Sting (the scholarly Gordon Sumner from Newcastle upon Tyne), guitarist Andy Summers (the ex-Animal and Fender Telecaster-playing magician), and globetrotting American drummer Stewart Copeland (one of the greatest drummers to ever pick up a pair of sticks) — became one of the most successful, influential acts in the world. Managed by Copeland's brother Miles, who eventually founded I.R.S. Records, they swiftly segued from gigging in tiny clubs (their October 1978 Stateside debut was via back-to-back late night gigs at New York's CBGB) to headlining festivals and sold-out stadium shows in just a few years.
The Police flamed out by 1986, following the release of a singles collection (a demise hurried on by quarrels, Sting's solo aspirations, and an aborted sixth studio album). But over the course of their supernova career of five studio albums, they introduced a kinetic synthesis of rock, dub reggae, jazz and punk that infiltrated mainstream pop and rock radio. Summers, Copeland and Sting won the rock star trifecta: great music, cool charisma, and a roguish, handsome charm. Thanks to nearly-constant video presence on a nascent MTV,  the threesome became a kind of bleached-blond, post-punk Beatles of the early 1980s.
All accomplished musicians with strong, smart ideas, they improbably churned out intelligent chart hits built with quirky meters, arrhythmic beats, spacious guitar, minor key melancholy, and Sting's arcane lyrics. The songs veered between jittery breakdowns and dub dreamscapes, steeped in literary references, corrosive wit, and darkly subversive themes. There were songs about prostitution ("Roxanne"), Greek sea monsters and Faustian bargains ("Wrapped Around Your Finger"), and bitter isolation ("Message in a Bottle").
Novels by Paul Bowles ("Tea in the Sahara") or Vladimir Nabokov ("Don't Stand Too Close To Me") were immortalized in song and even seemingly sunny declarations of love were steeped in self-doubt ("Everything Little Thing She Does is Magic"). Befitting their dry sense of humor, the Police also gave the world one of the most misused wedding songs of all time, "Every Breath You Take," a sinister ballad that is far more about spiteful surveillance than romance.
All of the Police's studio albums —Outlandos d'Amour (1978), Reggatta de Blanc (1979), Zenyatta Mondatta (1980), Ghost in the Machine (1981) and Synchronicity (1983)—remain as visceral, wiry and compelling a listen today as they were when first released. The trio's own combustible relationship as bandmates fueled that artistic fire: the Police was a band of three active volcanoes.
In the decades that have passed since the Police disbanded, Sting has gone on to solo superstardom, releasing a dozen studio albums, most recently 2016's 57th & 9th. He's dabbled in acting in theatre (he even briefly starred in his own musical, The Last Ship, which debuted on Broadway in 2014) and films like "Plenty," with Meryl Streep, and Mike Figgis' directorial debut "Stormy Monday," playing a jazz club owner.  As a philanthropist, he co-founded the Rainforest Foundation and has actively aided scores of causes, including Amnesty International, Live 8, UNICEF, and Breast Cancer Cure.
An accomplished photographer and writer as well as musician, Summers has published several books, including 2006's acclaimed One Train Later, about his years with the Police (eventually made into the 2012 documentary, "Can't Stand Losing You: Surviving the Police"). He's released 13 solo albums, has a new band called Circa Zero, and has also composed extensively for film. Like Summers, Copeland has composed extensively for film and television, as well as ballet, theatre and orchestras. His own film about the Police, "Everyone Stares: The Police Inside and Out" premiered at the Sundance Film Festival in 2006.  Copeland's post-Police band, Animal Logic, briefly thrived from 1987-1991 before disbanding after their second album, although in 2013 they released a one-off single, "Whipping Boy."
In 2007, after playing together for the first time in over two decades at the Grammy Awards, the Police briefly united for a year-long world tour much to the rapture of an entire generation over 40, old enough to remember them from the heady '80s, and millennials too, far too young to recall the Police from anything but YouTube clips, classic rock radio, Spotify and their parents' record collections.
While it's unlikely that the Police might traipse across the globe on tour or record together again, the band—and the solo work of Sting, Summers and Copeland— are all FUV Essentials.
More:
Mike Doughty: Five Essential Police Songs
Paul Cavalconte chats with Sting (March 2017)
Listen