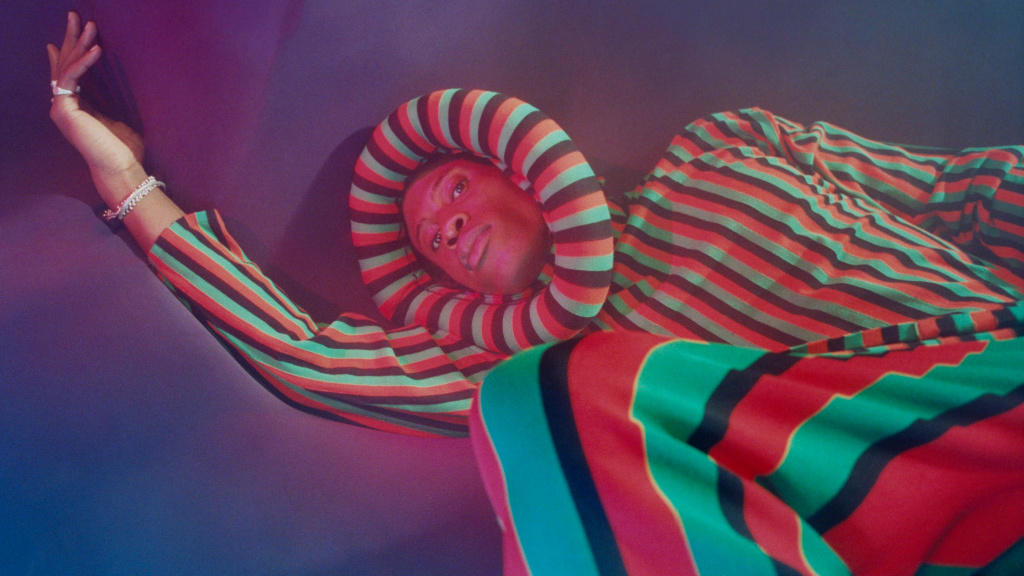 For the past handful of years, Lagos-born, London-based musician and singer Obongjayar, real name Steven Umoh, has been in demand as a co-vocalist of choice in Britain, bringing his alternately brusque and tender tenor to songs by Little Simz ("Point and Kill"), Pa Salieu ("Style & Fashion"), Jeshi ("Protein") and many other projects. Obongjayar has also released a string of EPs, including 2020's auspicious Which Way is Forward? which earned Umoh, and co-writer Barney Lister, a prestigious 2021 Ivor Novello award for Best Song for the track "God's Own Children."
His critically-acclaimed 2022 debut album, Some Nights I Dream of Doors, is quintessential Obongjayar: adventurously approaching all angles (and subangles) of Afrobeat, hip-hop, jazz, alt-pop, spirituals, and electronic beats, and showcasing his perceptive lyrical chops.
As a writer, he often draws on his family and the struggles in his life. He also fearlessly voices his rage with xenophobic conservative politics and authoritarian policies (in both his native Nigeria and Britain), expressing his desire for love and acceptance in a kinder world. Obongjayar's everchanging moods on Some Nights I Dream of Doors include the danceably lovelorn "Tinko Tinko (Don't Play Me for a Fool"), a rich, breezy pas de deux with saxophonist Nubya Garcia ("Wrong For It"), and the gentle  "I Wish It Was Me" (written for his brother).
As part of FUV's Juneteenth series of Q&As, FUV asked Obongjayar about the holiday's impact on him — an ocean away — as well as his songwriting activism and truly remarkable voice.
As a Nigerian-born, London-based artist, does Juneteenth in the States, and its upcoming second anniversary as a federal holiday here, hold significance for you?
I can't say I know too much about it, but the celebration of the emancipation of enslaved people is something that I can get on board with. We've come very far and, from where I'm standing, still have a very long way to go, but anything that brings our people together in joy is a beautiful thing.
The arresting lead single from your debut album, Some Nights I Dream of Doors, was "Message in a Hammer," your response to the October 2020 massacre of peaceful protestors in Lekki, outside of Lagos, Nigeria. What was key for you in expressing your grief and anger in that song?
I had to! It was necessary to voice my support for my people on the ground and express my frustrations, not for, but with them. Also, to give a voice, however loud, to what was going on and what is still going on in my country. The way I can express myself is through music, and that's why "Message in a Hammer" was born.
You've never shied from politics or social change in your music; your Ivor Novello award-winning song, "God's Own Children," from your 2020 Which Way is Forward? EP also drives home a need for resilience in the face of oppression. As an artist, what is most important for you in how your songs, especially on Some Nights I Dream of Doors, are heard and appreciated?
I have a sense of responsibility, to where and from where I love my people. I want more for us: better. I want fairness for us: beauty. And it pains me to see that things have hardly changed from when I was born until now. Songs might not mean much, but they might light a fire in those that are unaware that things can be better — that this isn't the way it should be! — and we won't accept it as it is. We should hold our leaders, parents, teachers, and preachers accountable for their actions and not let them get away with the things that they have been getting away with. A lot of us don't know how wonderful life can be, because of where we're from, financial positions, or education. We don't know any better until exposed to other things outside of where we are. I'm trying to be a window.
There's a gorgeous mutability to your voice — from a lush falsetto to a hoarse, thunderous roar. Are there one or two singers/musicians — either collaborators or artists you admired from afar — who taught you about your own vocal power and potential?
Thank you. It's not a thing I had to learn, it comes from me and is honest. It is me; it my truest and rawest form. It is, however, something I definitely had to grow to understand and master, and I guess I'm still learning and understanding. A couple of the people off the top of my head that helped me find that voice were Nina Simone and Fela Kuti. I remember listening to them and thinking, they're just being. No gimmicks, no bells, no whistles — just pure feeling, I obviously didn't know them personally, and what their motivations were, but that was my takeaway from what they did, and that is what I want to do.
It's not an easy time in the world, but what gives you the most hope in 2022?
That we have life. As long as we have life, we have hope.
Read more Juneteenth 2022 Q&As from Sudan Archives, Fantastic Negrito, and Brandi Thompson of Brandi and the Alexanders.