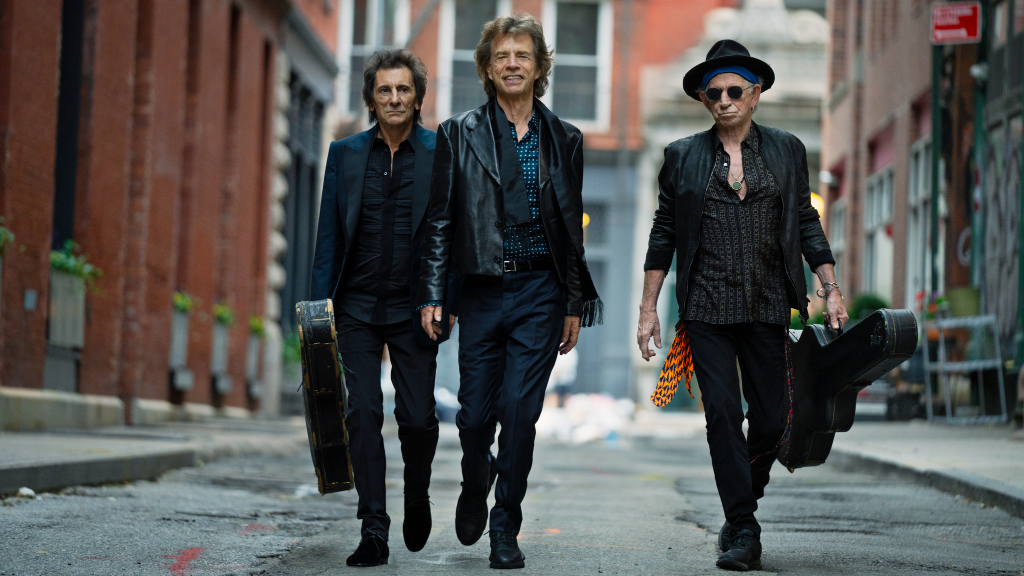 Below, a quick overview of some of the new songs you'll hear on FUV this week:
Blur, "Barbaric" 
The Ballad of Darren finds Blur — Damon Albarn, Graham Coxon, Alex James and Dave Rowntree —  wistfully contemplating middle age, loss, and the passage of time, but their first album in eight years, the band's ninth, has led them to a summer of triumphant gigs, including a two-night stand at Wembley Stadium in July. It was the first time they ever played that 90,000-seat venue.
"Barbaric," their latest single, also dwells on regret, despite its buoyant trappings: Damon Albarn told a German newspaper that the lyrics spun from "a lonely Christmas." Said Albarn: "The songs are already quite accurate inventories of my life. I'm pretty open here on this album." Albarn also told the BBC that The Ballad of Darren's songs (the album is named after their longtime bodyguard, Darren "Smoggy" Evans) came in the aftermath of losing friends Tony Allen, Bobby Womack, and Blur's tour manager Craig Allen; Albarn was feeling sad and lost. "Sometimes, if you're lost, it's exciting because you're in a place where you could discover something new," said Albarn.
Blur will be in North America this fall, playing Mexico City's Capital Corona Festival on November 18 with a South American tour to follow. (You can find Blur's 2015 FUV Live session, hosted by Kara Manning, in the FUV Archives).
Squirrel Flower, "Alley Light" 
Chicago's Ella Williams, who records as Squirrel Flower, releases her third album, Tomorrow's Fire, on October 13 on Polyvinyl. The third single from it, "Alley Light," is a yearning rocker, drenched with discordant, fuzz-blasted guitar with lyrics that Williams describes as "about the man in me, or a man who I love, or a man who is a stranger to me."
Williams worked with an all-star band on this album: drummer Matt McCaughan (Bon Iver), guitarists Seth Kauffman (Angel Olsen) and MJ Lenderman (Wednesday), and bassist Dave Hartley (The War on Drugs). Recording took place at Drop of Sun Studios in North Carolina with engineer Alex Farrar (Indigo De Souza, Waxahatchee).
Williams says that the whole of Tomorrow's Fire was inspired by the Indiana Dunes, a national park by Lake Michigan. She explains: "Every time I go [to the Indiana Dunes], it changes my life. You stand in the marshlands and to your left is a steel factory belching fire and to your right is a nuclear power plant." Squirrel Flower begins a North American tour in October and plays Bowery Ballroom on October 26. Look for her "Five Essential Albums" from 2022 at WFUV.org.
Low Cut Connie, "Don't Get Fresh With Me"
Low Cut Connie, the Philly band led by the ultra-charismatic songwriter and pianist Adam Weiner, released Art Dealers on 9/8 via Contender. "The record is all kink and no shame," says Adam. "With Low Cut Connie, I try to create a safe space for you to just absolutely get your freak on." (Something we definitely observed when Adam and his band played FUV's High Line Bash in 2022.)
This latest single, "Don't Get Fresh With Me," was one of the tracks that Adam played solo in Studio A when he did an FUV Live session earlier this year, hosted by Paul Cavalconte. For Art Dealers, Weiner says he was inspired by Lou Reed, Patti Smith, Bruce Springsteen and other "bridge and tunnel" musicians who invigorated New York's artistic identity of the past. Says Weiner: "People who came from the burbs had this vision of what they could achieve in the city, what attracted them to this art life, who they could turn into and what impressions they could make — if they could just get there."
Art Dealers is also the title of a documentary, co-directed by Weiner, that will premiere at the Richmond International Film Festival later in September.
Low Cut Connie has a six-show residency at New York's Blue Note, September 18. 19 and 20.
The Rolling Stones, "Angry"
The Rolling Stones are back with "Angry," the debut single from Hackney Diamonds, their first album of new material in 18 years, since the release of 2005's A Bigger Bang. The new album will be released on October 20 on Interscope. (The term "hackney diamonds" is British slang for the shattered glass left after a burglary.) The video for "Angry" features actress Sydney Sweeney ("Euphoria," "The White Lotus"), preening and posing in the back of a red convertible, zooming down a boulevard as vintage clips of the younger Stones serenade her from billboards (you get it once you watch the video).
Mick Jagger (80), Keith Richards (79), and Ronnie Wood (76) will be joined on the album by new drummer Steve Jordan who steps in for Charlie Watts, who died in 2021. In a livestreamed press conference from London on September 6, Richards said that Jordan was recommended by Watts and continuing with the album "would have been a lot harder without Charlie's blessing."
The 12-track Hackney Diamonds includes two songs with Watts, recorded in 2019, "Mess It Up" and "Live By the Sword." (Bill Wyman, who left the Stones in 1993, is also on one of the songs with Watts). Jagger said that the band made themselves go to the studio last December and cut 23 songs by January, mixing them in February. The Stones marked their sixtieth anniversary last year with their "Sixty Tour" in Europe and the UK.