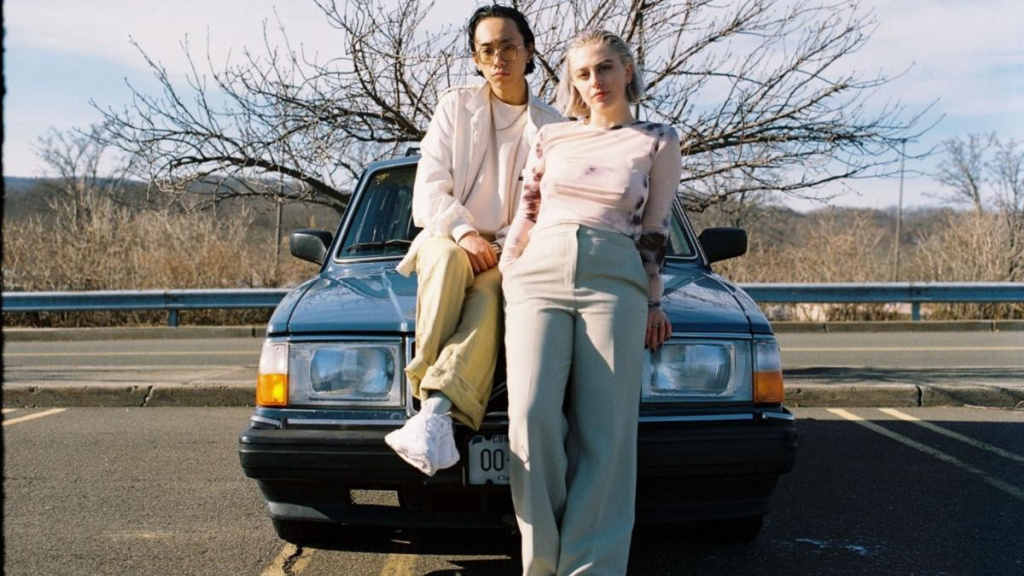 A snapshot of some of the new songs on FUV this week.
Cafuné, "Tek It"
New York-based duo Cafuné have a breakout hit with "Tek It," found on singer-songwriter Sedona Schat and writer-producer Noah Yoo's 2021 debut album, Running. The sweetly catchy, summery song, first released in 2019, has well over 50 million global streams — plus a sped-up version also went viral on TikTok. The pair, who met as students at New York University's recorded music program, toured with CHVRCHES earlier this autumn and will have their own headlining gig at Bowery Ballroom on March 28.
SAULT, "Stronger"
London collective SAULT has clung to anonymity since dropping the first of their eleven albums in 2019. The group puts social justice and spirituality at the helm and, to date, they've steered clear of live performances, videos, and interviews— even when they were nominated for a Mercury Prize in 2021 for 2020's Untitled (Rise). At the heart of the band is acclaimed producer Inflo (real name Dean Josiah Cover) and singer and songwriter Cleo Sol, but other collaborators over the past few years have included Little Simz, Michael Kiwanuka, Kid Sister, Chronixx, Jack Peñate, Laurette Josiah, and others. They branch into multiple genres — there's soul, grime, dub reggae, R&B, classical, gospel, Afrobeat, funk, rock, and jazz.
On November 1, SAULT announced on their social media that they were releasing five albums — Earth, 11, Untitled (God), Today & Tomorrow, and AIIR — for free on their website for just five days, if you guessed a password buried in their announcement (which turned out to be "godislove"). The stirring mantra "Stronger," with Sol's transcendent vocals, is one of the highlights from Earth.
Those who missed the deadline are in luck — on November 11, the group released all five albums for purchase on Bandcamp, plus four of the albums, with the exception of Untitled (God), are available on streaming services. In April, SAULT released another album, Air, of orchestral and choral compositions (of which AIIR is a continuation), and in October, an EP called X (Ten) which consisted of one song featuring Chronixx and Peñate, "Angel," which was 10:10 in length. In addition to SAULT,  Inflo produced Little Simz's 2022 Mercury Prize winning album, 2021's Sometimes I Might Be Introvert, and with Danger Mouse, he co-produced the 2020 Mercury Prize winner, Michael Kiwanuka's KIWANUKA. Inflo also produced Sol's second, critically-acclaimed solo album, 2021's Mother.
Marcus Mumford, "How"
The always-busy Brandi Carlile is not only a friend of Joni Mitchell, Pink, and Allison Russell, but she also collaborated with Marcus Mumford on "How," a song found on the British songwriter's darkly personal debut solo album (self-titled). While the focus of Mumford's album is harrowing — childhood sexual abuse, the aftermath, and how that assault has affected his life — it also encompasses the musician's strongest work. His Beacon Theatre solo show in early November included supportive guest performers, such as Taylor Goldsmith, Monica Martin, Oscar Isaac, The A's Amelia Meath and Alexandra Sauser-Monnig (who opened), and Mumford & Sons bandmate Ben Lovett. Back in June, at Los Angeles's Greek Theatre, Mumford and Carlile played the song in public for the first time and described the moving backstory that led to their collaboration.
Steve Lacy, "Mercury"
Likely the centerpiece of Steve Lacy's second album, Gemini Rights, "Mercury" was the first single from the album, flawlessly incorporating bossa nova and a vibe that gently echoed Stevie Wonder circa Innervisions.
Lacy's very good year has included charting a Number One song, "Bad Habit," on the Billboard Hot 100 — it also became the first song to top five other charts simultaneously — and an appearance on "Saturday Night Live" in early November where he played "Bad Habit" and "Helmet." And he has more 2023 Grammy nominations, including R&B Album and Record and Song of the Year ("Bad Habit").
Just 24 (and yes, he's a Gemini), he is hardly a newcomer: Lacy was 17 when, as a guitarist for The Internet, that band's Ego Death was nominated for a Grammy in 2016. Lacy's 2019 solo debut, Apollo XXI, was nominated for a Grammy (Best Urban Contemporary Album) too. He has collaborated with Frank Ocean and co-wrote or produced songs for Kendrick Lamar, Solange, Kali Uchis, and Thundercat. Lacy also joined Vampire Weekend for their single "Sunflower," from their 2019 album, Father of the Bride.
In a recent Billboard conversation with Lenny Kravitz, Lacy described the motivation behind Gemini Rights:
"Before, I thought of myself as a producer, so I just made sketches, and I was kind of in a rush to put stuff out. With this album, I was more intentional, more functional, more precise with what I wanted to say. But that was a personal process, too, getting clearer with myself. If you're not precise in your words, that bleeds into all aspects of your life. Right now, I'm on this path of transparency. I used to speak in codes, but people can't understand you when you talk like that. They feel left out. With this album, I wanted to say sh-t straight up — stuff that I would even be afraid to say to my friends or to myself."
Also in the mix:
Death Cab For Cutie, "Asphalt Meadows"
The title track from DCFC's tenth album, produced by John Congleton, and heralding a different kind of writing for the band, which bassist Nick Harmer described to the Seattle Times as "channeling our own feelings of anxiety." Revisit Death Cab for Cutie's recent FUV Live session with host Alisa Ali.
Gorillaz, "New Gold"
Damon Albarn and bandmates don't release their next album, Cracker Island, until February 24 but have released several songs from it so far, including this psychedelic groove with Tame Impala and the Pharcyde's Bootie Brown.  
The War on Drugs, "Oceans of Darkness"
From the deluxe edition of 2021's I Don't Live Here Anymore comes "Ocean of Darkness," one of two previously unreleased tracks from the album's sessions (the other is "Slow Ghost"). The song, according to Adam Granduciel, began life as a stripped-down demo. "We were frustrated and exhausted at the time, but we set up in a circle after dinner and worked it out as the tape was rolling," says Granduciel. "It's rare that a song of ours could feel this complete after only a few takes, but it had all the desperation and urgency that we had been looking for. Ultimately I didn't include it on the record because I couldn't find a home for it among the other songs." Revisit The War on Drugs' 2021 FUV Live session with host Alisa Ali.
Wet Leg, "Ur Mum"
This wiry pop confection is another track from Rhian Teasdale and Hester Chambers' Mercury Prize-nominated self-titled debut album. The Isle  of Wight band have multiple shows in New York next month, at Webster Hall (12/13), Elsewhere (12/14), Bowery Ballroom (12/15) and Music Hall of Williamsburg (12/16). Teasdale and Chambers have wrapped recording on their second album, but there's no release date on the immediate horizon – however they did snag five 2023 Grammy nominations, including "Best New Artist."