My Morning Jacket: Forest Hills Stadium 2017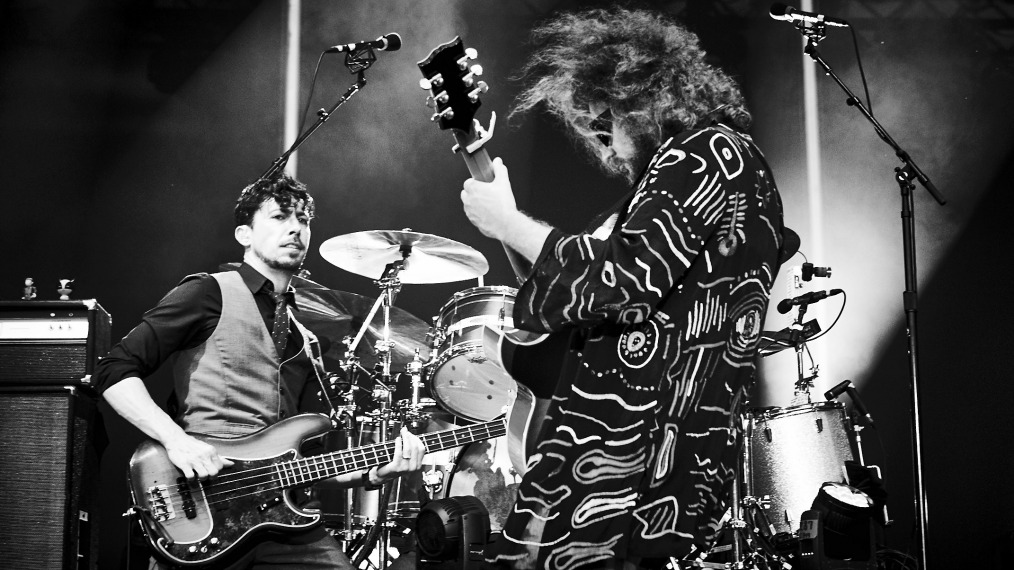 This band's command and creativity onstage is high on the list of reasons My Morning Jacket is one of our FUV Essentials. As if to prove our case, their Forest Hills Stadium show was epic as ever, and an incredible addition to our "Summer of FUV."
Many fans stopped by the WFUV Clubhouse before the show and chatted about songs they'd like to hear and told stories from previous MMJ shows they'd been to — a real testament to how great the band's live show is. Fans will keep coming out to their shows regardless of how many times they've seen them in the past.
The relationship the band has with its fans is a really close one, and when drummer Patrick Hallahan dropped by the WFUV Clubhouse to talk with me before he took the stage, he described that relationship as a dance between the band and the audience. The energy of the crowd is palpable. Fans jump up and down, sing along and roar with excitement often at the very first note of something they recognize.
Certain parts of My Morning Jacket's songs are also favorites. For instance, there is a section in "Run Thru" with motoring guitar lines and propulsive drums that really soars to great heights. The band stuck just that one part into the setlist and it was exhilarating.
Jim James is an amazing frontman and is widely recognized for his talents, but all of the players are top notch. Carl Broemel skillfully shreds on guitar (and plays sax too!), Tom Blankenship brings in some seriously funky bass lines, Bo Koster has really helped expand the band's sound with his inventive keyboard playing, and Patrick Hallahan is a whiz behind the drum kit, playing in a wide range of styles.
The Forest Hills show closed with "One Big Holiday," and that song is the perfect closer because the title is exactly what a My Morning Jacket show feels like.
If you missed the show in person or on the radio, you can listen to it anytime below. Gary Clark Jr.'s opening set is available in the Vault too. And stay tuned: we'll have more "Summer of FUV" shows to tell you about soon.
Setlist
Circuital
The Way That He Sings
A New Life
I'm Amazed
Lay Low
Mahgeetah
Golden
Tropics (Erase Traces)
I Will Sing
Compound Fracture
Evil Urges
Gideon
Spring (Among The Living)
Dondante
Victory Dance
Run Thru (end of)
Off The Record
Phone Went West
Encore:
State Of The Art (A.E.I.O.U.)
Wordless Chorus
Touch Me I'm Going To Scream, Pt. 2
One Big Holiday
[recorded: 7/15/17]