Django Django's Dave Maclean: Five Essential Dance Songs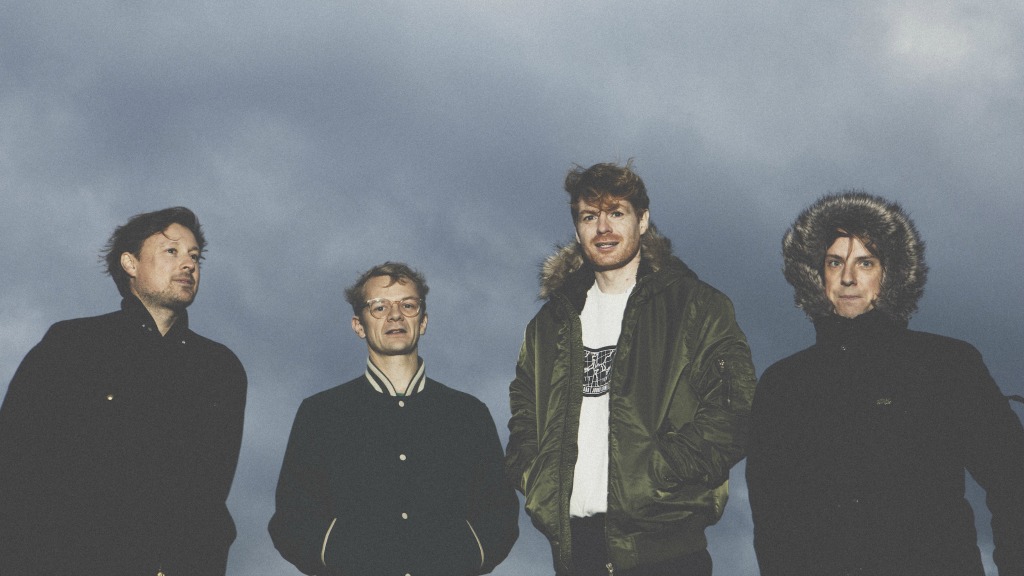 British rockers Django Django construct their robust, angular songs with innovative ideas that reflect a DJ's enormous crate of eclectic records. Like a club set, their songs restlessly shuffle between trippy psychedelia, percussive switchbacks, sleek New Wave synths, ebullient pop, dark rivers of Krautrock, and Pet Sounds-smooth harmonies.
That dynamic adventurism drives the band's new, third album, Marble Skies, which finds the 2012 Mercury Prize nominees again taking bold chances with gritty, jittery dance-rock ("In Your Beat") or even sci-fi spacewalks ("Real Gone").
It makes perfect sense that Django Django's drummer and producer Dave Maclean is an accomplished DJ and and confessed record-collecting obsessive, frequently spinning vinyl at assorted club nights and festivals (and in the early days, even for his older brother John Maclean's now-defunct group, the Beta Band). In addition to Django Django's own Because label, Dave has his own dance imprint, Kick + Clap, that has a strong vinyl presence (Rebecca Taylor of Slow Club released her first single as Self-Esteem on Maclean's label—and she's on Marble Skies too, singing "Surface to Air.")
For FUV Dance Floor Essentials, Maclean not only offers up a DJ's perspective on what works in a set, but what first catapulted him into his love of dance music in his "Five Essential Dance Songs."
Django Django's Dave Maclean: Five Essential Dance Songs:
Joey Beltram, "Energy Flash" (1990)
This is one of the very first records that got me into electronic dance music. It first appeared on Transmat in 1990, but I wasn't aware of it until I picked it up on R& S Records a bit later on. It kind of sums up everything that excited me and still excites me about techno. It's dark and pulsing, always building and mutating. It's minimal but sounds enormous on a big system. I'll never tire of of this record or playing it out.
Armand Van Helden, "Witch Doktor" (1994)
Dundee had a great record shop called 23rd Precinct in the '90s. Me and my pals went there every Saturday to hang out and listen to records. We were mainly into pretty hard techno, "hardcore" as we called it. The guys who worked there said I should check this record out and when I heard it, I was blown away. The whole EP is amazing and got me into New York and Chicago house and opened the door to collecting Strictly Rhythm Records which I still do. The track was in inspiration on our track, "Wor." The beat is a sample from a record by a fiercely ruling diva with this mad air horn sound and it sounds huge in a club.
Transglobal Underground, "International Times (Lionrock International Stomp: Justin Robertson Mix)" (1995)
This track was on a cassette tape that came free with Select magazine (a great music magazine no longer running). I loved this tape and I loved this track but it took me years and years to track this down. Justin Robertson was one of my favourite DJs back in the day. His mix on an old Cream live CD kicked off with the aforementioned "Witch Doktor" track and he was always pushing the boundaries as a DJ. This remix just bangs hard and I still play it out all the time. Again it's a track that's both minimal and huge sounding at the same time. It's a sweaty, dark basement track that pulses and builds with weird samples and brilliant rhythms.
Lone, "Airglow Fires" (2013)
Another R&S record, but this time a newer track. I'm a huge fan of Lone's sound. When I first heard this, I got goosebumps. It reminded me of hearing 808 State's "Pacific State" for the first time. It just grabbed me and took me somewhere else. Kind of Balearic, but very London too. A tough yet beautiful track.
808 State, "Pacific State" (1989)
I had to put this down after talking about it. It's another one of those records that enticed me away from listening to nothing but the Beatles and eventually dragged me into loving modern dance music at the time. It still gives me this weird feeling that I can't describe. It's turquoise in colour and transports me to a safe and sunny place! That's about as close as I can get to a description. Pure classic.
- Django Django's Dave Maclean
February 2018