FUV Dance Floor Essentials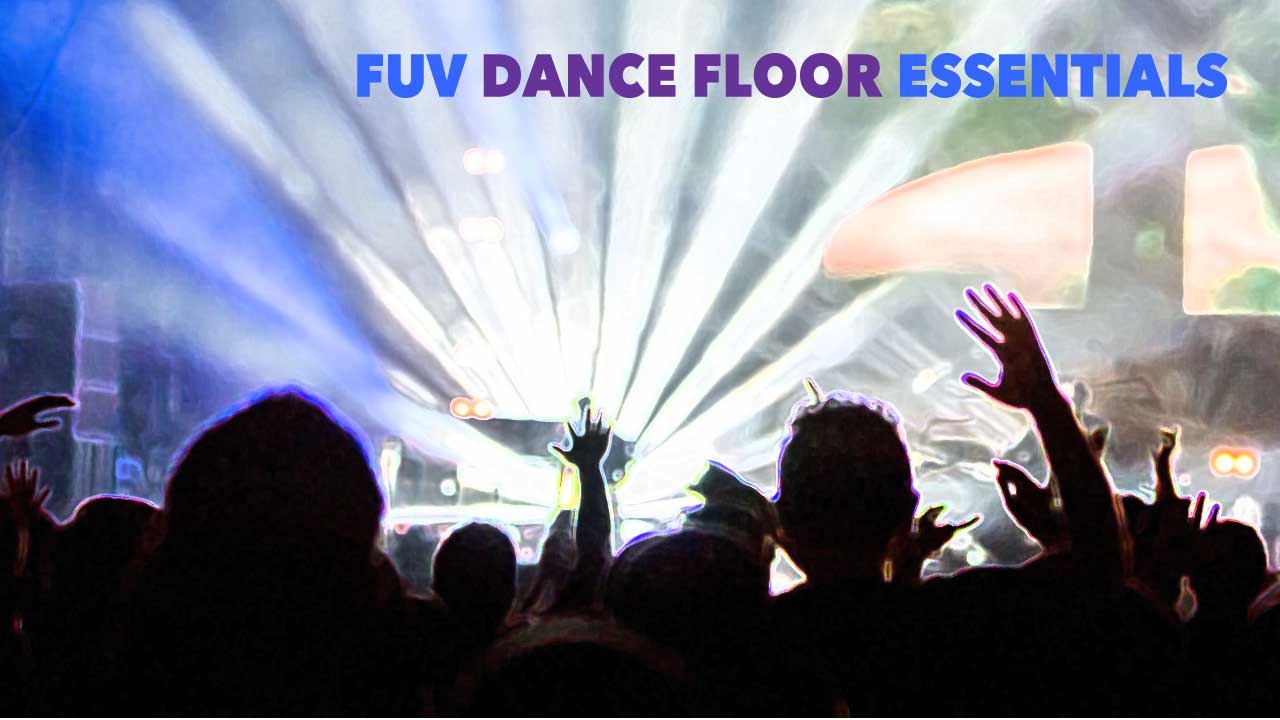 The FUV DJs have a question for our listeners — what gets you on the dance floor?
As music obsessives, we all have our fail-safe, top secret tracks that we know can revive a flagging floor, shift the BPM to a party-harder velocity, make for a mesmerizing segue, or gently bring the night down to a sexier groove. Sets can artfully tell stories, about love or loss or celebration. They can make us time travelers, as we trip back decades to what shaped our musical tastes as kids or steered us in more exciting directions. Dancing is communal, spans generations, and even releases us from a melancholy mood.
Our favorite dance floor songs are always deeply personal too. They're what makes us feel good and lose our inhibitions enough to flail around (or more gracefully move) on a dance floor. And while the term "dance" also refers to genres of house, techno, funk, grime, trance, acid house, trip hop, dubstep or dozens of other subcategories, a great DJ will try anything. There's no set formula, but good ones often depend on intuition to read the mood of a room, surf on an unpredictable set, and inspire folks to come along for the journey.
Below, check out some of the FUV staff's "Five Essential Dance Floor Songs" — and we even pulled together a Spotify playlist of our indispensable dance songs. Carmel Holt has counted down decades of dance floor songs on the FUV Mixtape, depending on your input to create the perfect hour. (Listen back to the Sixties, the Seventies, the Eighties, the Nineties and the Noughties Mixtapes.)
Check out "Five Essential Dance Songs" compiled by Django Django's Dave Maclean too.
Skip down to: Rita Houston | Corny O'Connell | Carmel Holt | Dennis Elsas | Alisa Ali | Darren DeVivo | Russ Borris | Paul Cavalconte | John Platt | Kara Manning
Rita Houston
FUV Program Director and Host of The Whole Wide World

Manu Dibango, "Soul Makossa" (1972)
One of my longtime DJ go-to songs. The combination of vintage soul, Latin vibes and Michael Jackson's nod to it make this a guaranteed song to forget your head and move your body.
Ecstasy, Passion & Pain, "Ask Me" (1974)
Disco is essential for any of my DJ sets and this is a vintage gem. The call and response brings everyone in and you can't help but wonder what it would have been like to hear this at Regines back in the day.
Chemical Brothers, "Go"(2015)
Out of the gate tempo brings instant drive to this undeniable sexy song with vocals delivered by the great Q-Tip.
Frank Sinatra, "Summer Wind" (1966)
Always need romance, always need a slow dance, always need Sinatra.
DJ Kool, "Let Me Clear My Throat"(1996)
A DJ always needs a closing song and when you have a packed floor and time for only one more, this brings the heat. From the starting riff of the classic Kool & the Gang sample to the opportunity for my favorite part — DJ and dance floor engagement so that we all become one in the groove and fun.
Corny O'Connell
FUV Morning Host
Charie XCX "Break the Rules" (2014)
This is from 2014, but it transports me to my high school bedroom.
The Roots, Cody Chesnutt "The Seed (2.0)" (2009)
Makes me feel like badass.
Bomba Estéreo "Fuego" (2008)
A Latin rhythm with attitude.
Michael Jackson "Don't Stop 'Til You Get Enough" (1979)
This will always get me out on the dance floor.
Talking Heads "Crosseyed and Painless" (1980)
This is the music of my people.
Carmel Holt
Assistant Music Director, FUV Midday and Saturday Morning Host

The Foundations, "Build Me Up Buttercup" (1968)
The Sixties. I don't know what it is about this song, but it seems to get absolutely everyone out on to the dance floor, smiling and singing every word. The very definition of "crowd-pleaser."
Michael Jackson, "Don't Stop 'Til You Get Enough" (1979)
The Seventies. It's really, really hard to choose just one song from this decade, let alone one song from this album, but without a doubt, this is a song I personally cannot resist dancing to. Every. Time.
Prince, "Kiss" (1986)
The Eighties were an amazing era for the dance floor, but no one ruled like Prince. This song is my forever favorite; a song that delivers an irresistible groove and lyrics I still love to sing at the top of my lungs.
Naughty By Nature "Hip Hop Hooray" (1993)
The Nineties. Okay, I have a real weakness for '90s hip-hop, and this one brings me right back to some of the best dance parties of my life, with everyone's hands in the air.
Tie: Beyonce "Single Ladies (Put A Ring On It)" (2009) and OutKast "Hey Ya" (2009)
The Noughties. Just couldn't choose. Please don't make me. I think we can all agree, no dance party is complete without both of these '00s songs.
Dennis Elsas
FUV Afternoon Host

Wilson Pickett, "Land of 1000 Dances" (1966)
A timeless shoutout to the soulful Sixties.
Rolling Stones, "Dance Little Sister"(1974)
Still "moves like Jagger."
Vicki Sue Robinson, "Turn the Beat Around" (1976)
Love to hear percussion.
C+C Music Factory, "Gonna Make You Sweat (Everybody Dance Now)"(1990)
Disco meets techno.
A Tribe Called Quest, "Can I Kick It?"(1990)
The title says it all.
Alisa Ali
FUV Evening Host

Rob Base & DJ EZ Rock, "It Takes Two" (1988)
No child of the '80s can resist this song.
Prince, "Let's Go Crazy" (1984)
It's really fun to watch people sing "Oh, no let's go!" while they're giving it all on the dance floor.
James Brown, "Get On the Good Foot" (1972)
You can't really go wrong with any JB, but I'm partial to this one.
Deee-Lite, "Groove Is In The Heart"(1990)
This song is...how do you say? De-Groovy? Deee-Lightful! It's immediately recognizable and so fun to dance to.
Madonna, "Like A Prayer" (1989)
I think this is the most beloved of all old-school Madonna songs for the dance floor and also for karaoke.
Darren DeVivo
FUV Night Host

Blondie, "Heart Of Glass" (1978)
I'll be honest — I was still 13 when this was released and I was totally drawn in by Debbie Harry! As I grew older, I realized what a fantastic song it was, my favorite by Blondie. I love Clem Burke's drumming on it.
Isaac Hayes, "Theme From Shaft" (1971)
There is no denying the adrenaline rush that builds up as this song develops. Can you dig it? From the hi-hat ride pattern intro, played by Willie Hall, to the funky wah-wah guitar of Charles Pitts, this is a bad- mother-shut-yo-mouth of a song! Right on.
Jamiroquai, "Canned Heat" (1997)
This is the song that exploded out of the film "Napoleon Dynamite." Classic disco beats meet smooth soul, funk and jazz.
Phantogram, "Fall In Love" (2014)
Sarah Barthel and Josh Carter, from upstate New York, are Phantogram and "Fall In Love" is a song that comes to synthesized life through a fuzzed-out bass line, metal on metal pulses, and otherworldly voices sounding like a robotic chorus. All of this programmed coldness is countered by Barthel's sweet and sultry vocals.
Red Hot Chili Peppers, "Love Rollercoaster"(1996)
Red Hot Chili Peppers take the Ohio Players' classic funk anthem and ramp it up with heavier bass, courtesy of Flea, kazoos in place of the horns, and Anthony Kiedis's nutty rapping. Get down and bang your head at the same time with this one!
Russ Borris
Music Director, Host of The Alternate Side and FUV Saturday Midday
I'm not not exactly the dancing type, but happy to share some of my favorites to spin.
Depeche Mode, "Personal Jesus" (1989)
This one's a must.
Grandmaster Flash & The Furious Five, "White Lines" (1984)
This one always works at dance parties. It's a go-to.
Justin Timberlake, "Can't Stop the Feeling" (2016)
This is my two-year-old daughter's favorite. That's enough for me.
Nathaniel Rateliff & The Night Sweats, "S.O.B." (2015)
A recent addition, I'm amazed how excited people are to sing along to this one.
Salt-n-Pepa, "Push It" (1987)
Nothing wrong with going a little old school. Nothing.
Kara Manning
Host of UKNY

It's impossible to choose five, so here's a quintet of tracks that could work nicely in a set, in order of play:
Ben Watt feat. Estelle, "Pop A Cap In Yo Ass" (2005)
Released on Watt's Buzzin' Fly label, this lush house track is propelled by a poignant narrative about shoplifting kids and council estate survival, delivered by a not-yet-famous Estelle.
Chic, "I Want Your Love" (1979)
Picks up where Watt and Estelle leave off in bittersweet longing. Not only an epic flashback to late night New York of the '70s, but a chiming, cool, and luxuriant declaration of unrequited love.
Missy Elliot, "Work It" (2002)
A dirty, slippery, scratchy groove and queen Missy casting a spell, sometimes in reverse. One of Timbaland's best productions too.
Mason feat. Stefflon Don, "Fashion Killa (Papapapa)" (2016)
From Missy working it, to Dutch producer Mason and London rapper Stefflon Don asking the same, with a catwalk strut. (The video is priceless too.)
Jaydee, "Plastic Dreams" (1993)
More Netherlands bliss, this time Jaydee's serpentine, hypnotic house classic that made the Hammond organ sound cool in a club.
John Platt
Host of Sunday Supper

Isley Brothers, "Shout" (1959)
Ever since "Animal House," it's been such a wedding reception/high school reunion staple that it's almost a cliché, but who can resist it?
The Spencer Davis Group, "Gimme Some Lovin'" (1966)
The insistent bass line, the Hammond organ, and a wailing young Steve Winwood make this arguably the best of the British invasion hits to dance to.
Stevie Wonder, "Part-Time Lover" (1985)
Between Stevie, Michael, and Prince, you could come up with not five, but 25 dance classics; this may be less obvious than "Superstition" or others, but it's infectious to bop to.
Adam Ant, "Goody Two Shoes"(1982)
A non-stop 3:28 adrenaline rush that challenges you to keep up. (Tip to D.J.s: a perfect segue into Elvis Presley's "Jailhouse Rock"!)
Michael Franti & Spearhead, "Say Hey (I Love You)"(2008)
Pure jubilation!
Paul Cavalconte
Host of Cavalcade and FUV Music Host

Martha & The Vandellas, "Dancing In The Street" (1964)
Still makes all of America get up and dance. Don't forget the Motor City!
Louis Prima, "Jump Jive an' Wail"(1956)
This Forties jump swing classic still wakes 'em up before they go go.
Chic, "Le Freak" (1978)
As classy a disco number as they come. C'est chic!
Wilson Pickett, "Land Of 1000 Dances" (1966)
Count 'em! The dance song about dances.
Daft Punk featuring Pharrell Williams and Nile Rodgers, "Get Lucky"(2013)
If "Too Hot" and "Fresh" by Kool & the Gang merged as one record, it would sound like "Get Lucky." Yeah, I'd play those too!
Listen
FUV Dance Floor Essentials (Spotify playlist compiled by WFUV DJs)