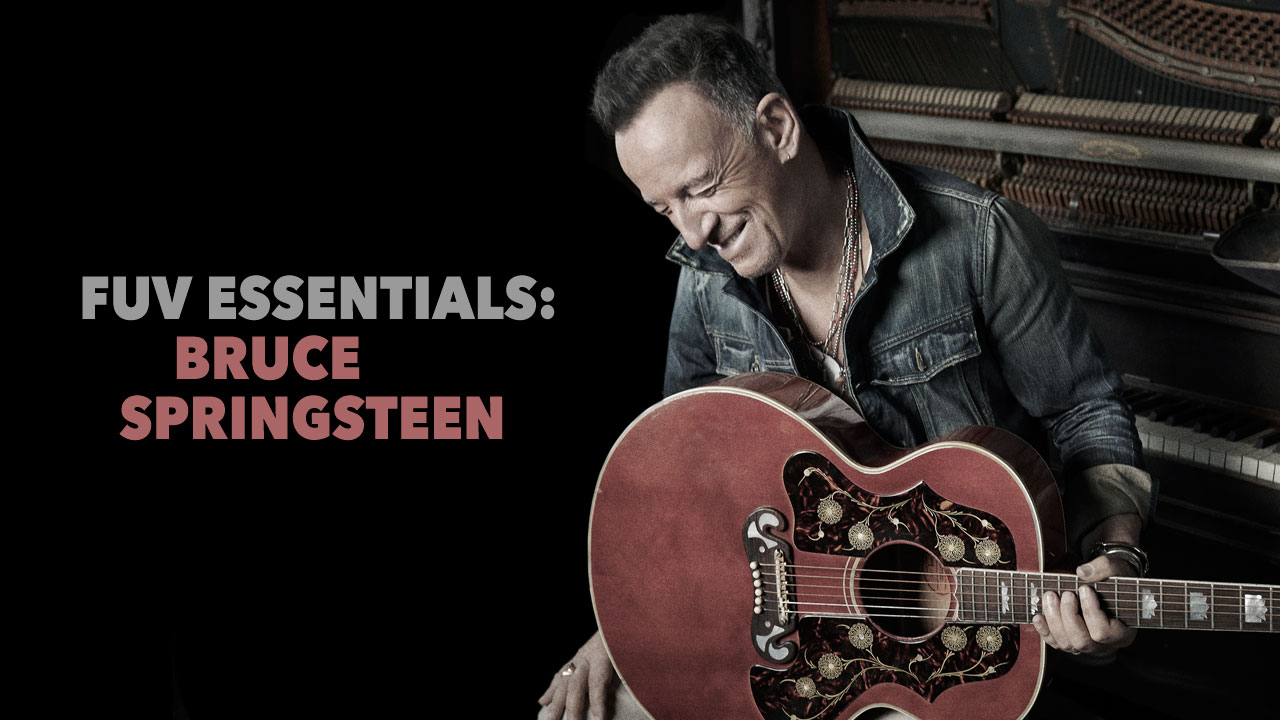 [September 2019 update: It's hard to believe that Bruce Springsteen is 70 years old on September 23 — but age is just a number, and the eternally youthful rocker shows no signs of slowing down. He released one of the best albums of his career, Western Stars, earlier this year and there's a concert film of the same name. That juggernaut arrives on the heels of a critically-praised theatre debut, Springsteen on Broadway, and a Netflix documentary of that event. 
There's a lot to say about Springsteen's impact on WFUV — he's pretty beloved not only by this radio station, but most of the artists who come by for our FUV Live sessions. So we put two and two together and released our original program The Bruce Project, a one-hour special of live covers of Springsteen's songs by artists who consider him an influence and inspiration. The auspicious lineup of performers includes The Head and the Heart, the Amy Ray Band, The Hold Steady's Craig Finn, The Tallest Man on Earth, and Robert Randolph & the Family Band. All performances were recorded at FUV's Studio A at Fordham University in the Bronx. Catch up to it on demand in the FUV Vault.]
If you frequently drive down New Jersey's Garden State Parkway, you know that Exit 102 leads you to Asbury Park, a seaside city with a name that still resonates like a classic rock anthem—thanks to Bruce Springsteen. In reality, New Jersey's local hero was born in Long Branch, closer to Exit 105, a town also stung with the salt of the Atlantic Ocean and the economic woes of the working class. No matter where Bruce calls home in Jersey, there's no denying that this native son has edged out one of his own influences, Hoboken's Frank Sinatra, in dominating not only that state's folklore, but a permanent state of mind in music.
Through Springsteen's fevered, fertile lyrics and gritty guitarwork, especially as he ascended in the '70s with albums like Greetings from Asbury Park, N.J. or Born To Run, the quotidian struggles of disenfranchised and dispossessed youth were dramatically vaulted into the American rock mainstream. His songs, shifting between the rasping, aching epic "Thunder Road" or the brassy hustle of "Rosalita (Come Out Tonight)," commanded the radio in ways that dramatically differed from Bob Dylan's thorny reflections, Marvin Gaye's inner city blues, the nonchalent cheek of British Invasion bands, or the earnest, sun-dappled songwriters of Laurel Canyon. Springsteen's characters were unemployed romantics, boardwalk dreamers, disconsolate losers, and restless, skinny kids in beat-up cars, yearning for something far beyond the dead end of the Jersey shore.
His songs were vividly colored by his extended family of collaborators too, the E Street Band, the members of which became an inseparable part of Springsteen's folklore and his luminous (and very long) live shows. In fact, it's fair to say that you just can't understand Springsteen unless you've seen him live and experienced his acolytes' bellow of "Bruuuuuuuce" whenever he saunters onstage.
More than 46 years since the release of his debut album, Springsteen's surname is as American an export as apple pie, "Hamilton," baseball caps and worn blue jeans. But it's Springsteen's thoughtful consideration of the inequities of this country—and his deep and loyal belief in its infinite potential and promise too—that is most affecting: just last week he cancelled a show in North Carolina in a mighty stroke of protest against what he, and many others, viewed as an unjust state law.
Along with dissent, hope informs Springsteen's writing too, even when things seem most dire. In 2014 he released his 18th album, gleaned from older outtakes, with the optimistic title of High Hopes. Yet his songs still warily ruminated on themes that have preoccupied him over the years; he powerfully raised his voice in protest ("American Skin (41 Shots))," but also sought solace too, as in the uplifting gospel of "Heaven's Wall."
Whatever exits you might prefer as you travel down the long highway of the man's 18 studio albums (so far), from the marital doubts of Tunnel of Love to the thoughtful, anti-anthems of Born in the U.S.A., to the quiet autobiography of Lucky Town, there's no disputing that Springsteen is not only an FUV Essential, but an American essential too.
More FUV Essentials coverage:
Listen
#FUVEssentials: Bruce Springsteen (Spotify playlist compiled by FUV's Russ Borris)