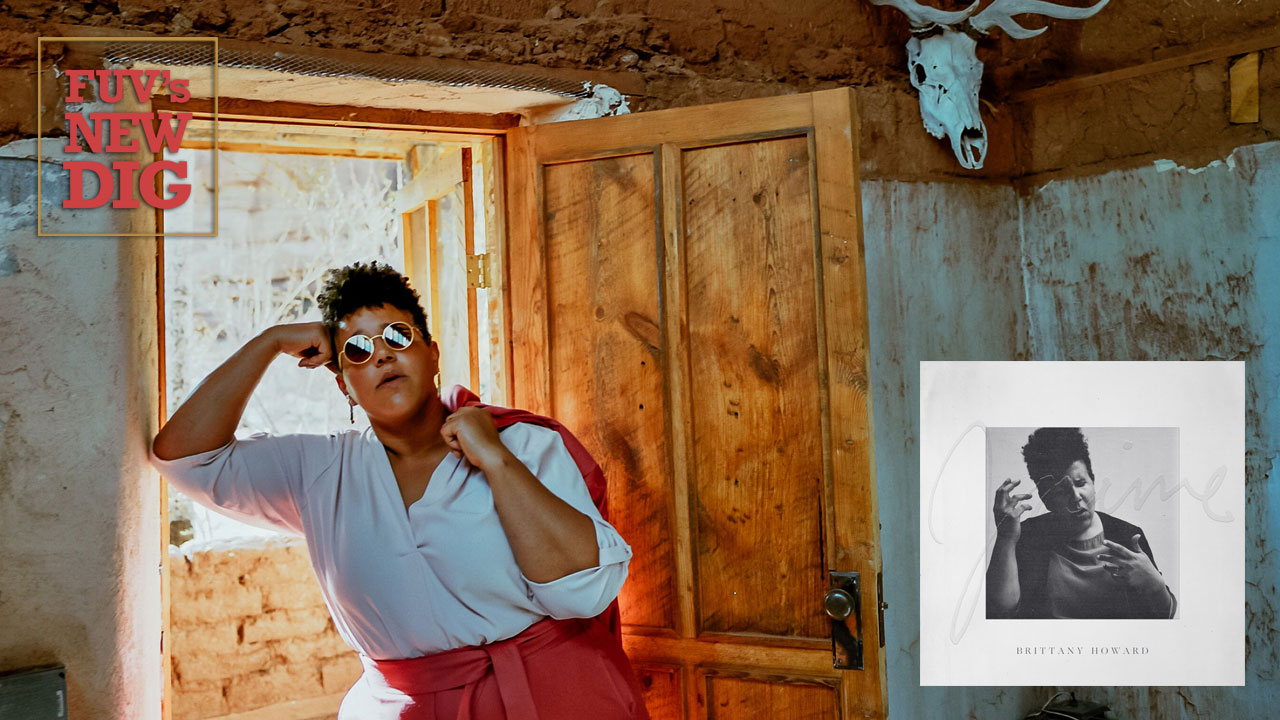 Brittany Howard
Jaime
ATO Records
Here's the one thing that Brittany Howard's solo debut is not: An Alabama Shakes album. Jaime is a singular artistic statement; it's an electrifying performer and seasoned collaborator taking a risk and stepping alone into an expectant spotlight with all she has and all she wants to be.
As frontwoman and lead songwriter for the Shakes, Howard's life went from bucolic to explosive, taking her on a world-travelling, Grammy-collecting whirlwind of a ride. No disrespect intended; success is hard work. She was exhausted.
So Howard called the band together to tell them she needed a break. She and her wife, Jesse Lafser (a novelist and musical partner in Howard's Bermuda Triangle side project), hit the road, weaving across the country. The plan was to relax and put her energy into more personal songwriting. But as she told WFUV's Rita Houston in an interview at Rough Trade NYC in September, "Creativity will make you crazy. It doesn't show up when you want it to. Once I gave up trying to write songs, that's when the songs hit me."
Howard's time spent writing about her early life for a memoir brought up thoughts about her childhood and her foundation. She'd gotten her artistic start from her older sister, Jaime. "My sister taught me everything about using my imagination," she explained to Houston and the gathered crowd of fans. "She taught me how to have fun, and it all had to do with music."
When Howard was nine, Jaime succumbed to retinoblastoma, a rare cancer of the eye that has left Brittany's vision damaged in one eye as well. "When she left the earth," said Howard, "she left me with everything that she loved."
The first single from the album that Howard named for her sister is about, simply, joy. "Stay High" has anything but a simple sound, though — this is Brittany the confident crooner, singing to her lady, reveling in a falsetto-smooth jam that wraps around you like a '70s Stylistics radio hit. "Everything is everything and everything is beautiful," she sings, telling us all that it's now time for some pure good feelings, appreciating the simple things.
Those childhood memories are the roots of a complicated life, and their innocence is the basis for the catchy and sweet "Georgia." As Howard told Apple Music, "I wrote 'Georgia' from the perspective of myself as a child. It's a love song to an older girl when you're a little girl and you don't understand what it means to be gay. It's just an innocent infatuation, the way crushes become your whole world when you're young." The track is a chill groove of drums and keyboard melodies, with Howard's voice small but clear, echoing back as if from many years ago, repeating: "I just want Georgia to notice me."
Those times of childhood naivete didn't last. Sheltered by her white mother and black father, who never wanted Howard to be afraid to do what she wanted to do, it was years before she started asking questions. When she was 14 years old, an incident shook the family to the core, a story that became a striking song on Jaime. Via an Apple Music conversation, she says: "This was the hardest song to write. I had these lyrics I'd written about what it was like growing up in the South, but they were weirdly cute: 'Tomatoes are green/Cotton is white,' and so on. They were from the point of view of a child making sense of the world, making sense of the South. Then it just hit me: 'Goat Head.' I went straight into this memory of, who cut off a goat head and put it in the back of my dad's car? It's painful stuff, and it's abrupt and shocking, but that's the point."
A long, percussive intro backs special guest Robert Glasper's piano riffs, then Howard breaks into the story-song-poetry: "I'm one drop of three-fifths, right?" As she told the Rough Trade crowd, "It really did affect me. This is not something that shouldn't be talked about, it should be talked about."
The most raucous, unpredictable track on Jaime, "13th Century Metal" comes in sounding like an urgent alarm—that's Glasper on keys, finding a staccato groove and riffing on it, in an improvised, single first take—and blooms out from there, Howard adding a forceful burst of poetry deep in the middle of the audio mix. Her voice sounds like a bullhorn's call to arms:
I am dedicated to oppose those whose will is to divide us
And who are determined to keep us in the dark ages of fear
I hear the voices of the unheard
Speak for those who cannot speak
And shelter the minds that carry a message
Of peace, love, and prosperity I repeat: We are all brothers and sisters.
As Howard told Houston, she wrote "13th Century Metal" to build herself back up from depression about living in an increasingly negative, cynical culture. She told herself, "I'm gonna build myself up. I'm gonna be my own beacon, I'm going to look to myself to be that kind of light that can change someone else's impression of humanity. I can be kind, even though it's scary to do. I can interact in a way that can change somebody's mind about who I am as a gay black woman. I'm not going to shun someone else because they shun me. That is my mission statement."
Howard produced the album as well, of course, gathering a small team to flesh out the complex sounds in her head. Besides Glasper, she pulled in Zac Cockrell from the Shakes on bass, and the dynamic Nate Smith on drums. The rest—the jazz, funk, rock, hip-hop and soul of it—is all her. This is as personal as music can get.
Houston calls the album "bold and tender and freaky and deep." It's an apt description for a piece of work that reveals new twists and turns with each listen. It takes a certain kind of bravery to dig into your own depths, pull out your deepest loves and fears, and turn them into art for all the world to hear. There's sadness and fear and urgency; there's sexiness and joy and her own inner Prince.
Give it to love, Howard sings. And to paraphrase, take no bulls**t, be true and brave — and give it to love. May she get it all back.