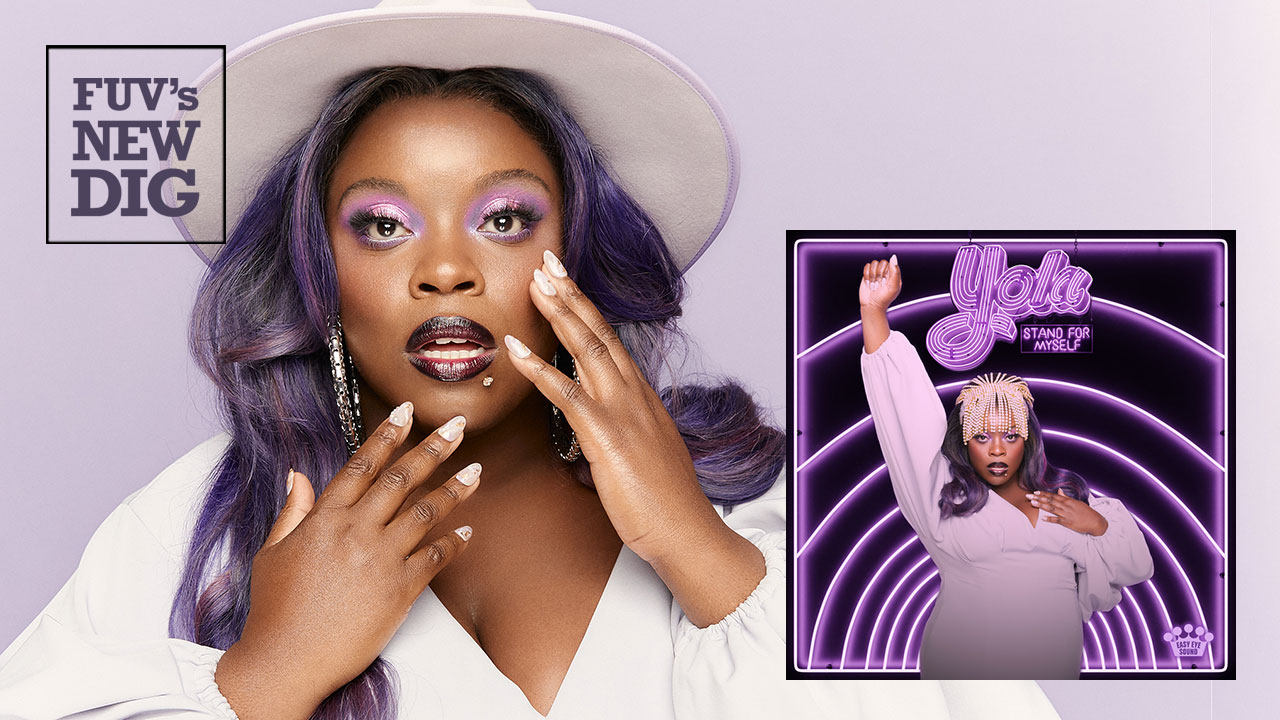 Yola
Stand For Myself
Easy Eye Sound/Concord
Why This Album Matters:
Stand For Myself is the much-anticipated follow-up to Yola's 2019 debut, Walk Through Fire. The British singer, songwriter and guitarist, who lives in Nashville these days, was nominated for four Grammys for her first album, which was produced by The Black Keys' Dan Auerbach at Easy Eye Studios. The pair teamed up again for her second album, and here, Yola expands beyond the roots, Americana, and country soul of her debut and dips into retro-Seventies disco ("Dancing Away In Tears"), commentary on British politics ("Diamond Studded Shoes"), and mortality with a Stax twist ("Break the Bough").
In Her Own Words:
 "I realized that I'd been too busy to be creative; I'd almost killed that part of my brain through sheer activity," Yola told The New York Times regarding her quarantine in Nashville during the early months of the pandemic. "The stillness was giving birth to all of these ideas, and so I started examining what it was that was bringing these ideas back. That meant a lot of experimentation with my writing process - staying up really late, getting into this dazed state - and when I wasn't overthinking anything, and my brain wasn't processing anything, ideas would just appear."
"The record starts with a song called "Barely Alive," co-written by Joy Oladokun," Yola told FUV's Kara Manning in an FUV Live session earlier this spring. "We were talking about being tokens, feeling like we had to minimize and all these kinds of things, and what that did to your sense of joy and your sense of being able to affect your space in a positive way. And by the time we get to the end of the album, we have done that."
Highlights:
"Barely Alive," "Dancing Away In Tears," "Diamond Studded Shoes," "Stand For Myself." "Starlight"
Why You Will Dig Stand For Myself:
The album blends diverse influences, like symphonic soul, disco, gospel, rock, jazz and pop. If Walk Through Fire was Yola's calling card, Stand For Myself is her full-blown declaration of presence. She sings in a powerful, confident, and determined voice and her songs often take on anthemic qualities. She navigates the landscapes of her songs with a voice that swings from tender and sweet to firm and self-assured. Occasionally, she touches on all these nuances in the same song, like on "Great Divide."
Whether she's singing about acceptance ("Be My Friend"), the collective Black experience and her own ("Barely Alive"), gender equality ("Whatever You Want"), or sexual and platonic relationships ("Starlight" and "If I Had To Do It All Again"), Yola's messages are always clear and strong. As a Black woman encountering a world of frequent racial injustice and inequity, Yola's words resonate with insight and invaluable perspective.
Recommended If You Like:
Brandi Carlile, Brittany Howard, Michael Kiwanuka, The Highwomen, Allison Russell, Nathaniel Rateliff, Sheryl Crow
FYI:
- There are a lot of friends on Yola's new album, including Brandi Carlile ("Be My Friend"), the McCrary Sisters ("Whatever You Want" and "Stand For Myself"), The Dap-Kings' Nick Movshon, and Aaron Frazer of Durand Jones and the Indications.
- Many of the songs on Stand For Myself were written while Yola was quarantining in Nashville in 2020.
- Yola also co-wrote songs with Auerbach, Ruby Amanfu, Joy Oladokun, Natalie Hemby, Aaron Lee Tasjan, Pat McLaughlin, and more.
-  Stand For Myself is available on CD, LP, cassette and, wait for it,  8-track tape!
Yola's 2021 FUV Live session, discussing Stand For Myself, is available on demand. Also, see photos of her Newport Folk Festival "Folk On" set in July 2021.