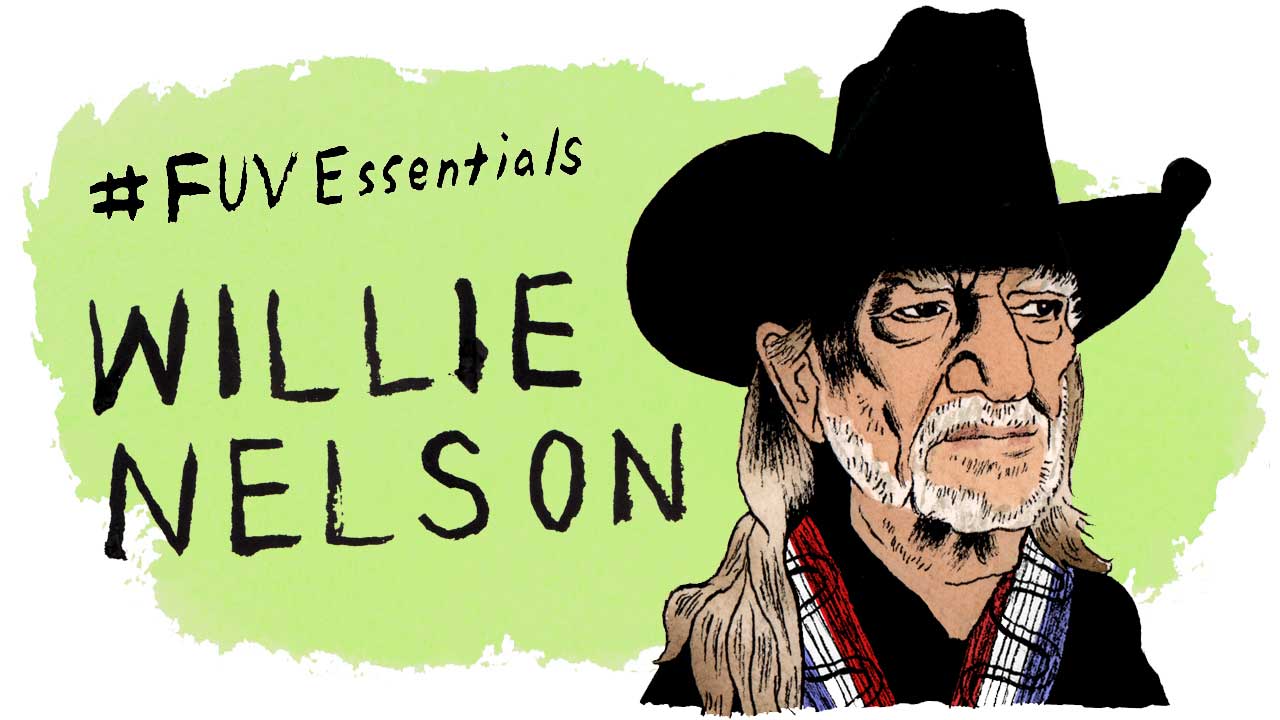 [April 2018 update: Willie Nelson knows he's a pretty blessed survivor. His album Last Man Standing, is his 73rd studio album and while it wrestles with mortality, it does so with a wistful grin, a shuffling groove, a hearty swig of beer, and a little (maybe more) weed. Last year's God's Problem Child was also released around Nelson's birthday too; there's no better way for the man to check off another year than doing what he loves best, especially when time is more precious. As on that album, Nelson's wit is firmly intact on Last Man Standing, observing on the title track, "I don't want to be the last man standing/On second thought, maybe I do." ]
Country music was a nice world until Willie Nelson showed up. It was full to the Stetson-brim of proper men and women wearing button-up shirts, pressed jackets and shiny boots.
Braids down his back and a blunt in his hand, that's more Willie-style. A genius songwriter with a gritty sound and the laid-back singing style of a jazzman, he's never made a secret of being a fast-living guy. Nashville just did not know what to do with him. It took some serious detouring to get him to where he is today.
Raised by his music-loving grandparents in Abbott, Texas, Nelson was writing songs since he was seven years old. He played guitar in a polka band at 10. He's been playing music with his older sister Bobbie since they were kids (you can spot her waist-long hair on stage at the piano in his band now).
Sure, Nelson tried to do a few other things. He sold bibles, encyclopedias and even vacuum cleaners. But the music was in him, and for a while he worked as a radio DJ, writing music on the side. In 1960 he moved to Nashville, and it didn't take long for his songs to get out there: Faron Young's version of "Hello Walls," Patsy Cline's legendary rendition of "Crazy," and Ray Price's recording of "Night Life" all hit the top of the country (and even pop) charts.
But Nelson did not fit the mold. Producers tried to clean up his sound, which erased all the magic. So 10 years later, he hit out for Austin, Texas, which was widely known to be weird, even then. It wasn't long before he had a smile on his face and a bandana on his head, and he gratefully threw a giant Fourth of July picnic on his ranch, which he still does every year, inviting his friends to play.
As for his records, the first album that really showed who he'd become was Shotgun Willie in 1973. The first one to hit No. 1 on the country chart was Red-Headed Stranger in 1975, with a crossover Top 40 hit, "Blue Eyes Crying in the Rain." That nabbed his first Grammy Award. (His total is 49 nominations, eight wins.)
The funny thing is, the album that cemented his status was Stardust, his 1978 release of 10 pop standards (think "Moonlight in Vermont") recorded in 10 days, with producer Booker T. Jones. (This was his 23rd album, if you're keeping track.) People thought it would be a disaster, wasn't he a songwriter more than a performer? It stayed on the country charts for 10 full years. Single "Georgia On My Mind" got him more Grammy love.
So Nelson was on the right track, and he found compadres along that crooked path. Waylon Jennings sang "Mamas Don't Let Your Babies Grow Up to Be Cowboys" with him in 1978 (for another Grammy). Starting in 1985, he recorded as the Highwaymen with Jennings, Johnny Cash and Kris Kristofferson. They pretty much defined Outlaw Country.  Establishment be damned, their first record went platinum.
He gives the love back to his record-buying fans, in many forms. Also in '85, Nelson teamed up with Neil Young and John Mellencamp to organize Farm Aid, now an annual event that has earned tens of millions of dollars to help family farmers keep their land.
It justly follows that he's a champion of the environment, and in fact has his own green fuel, BioWillie, made from soybeans. He works to save horses from slaughter, and has over 50 of them himself. As part of his lifelong "none of your business" mindset, he's been outspoken about LGBT rights, including recording "Cowboys Are Frequently, Secretly Fond of Each Other" in 2006.
Of course it hasn't always been good news. He was famously charged by the IRS in the '90s for owing $32 million in back taxes (which settled for a somewhat lower amount and the seizure of most of his property). And as an avowed pot smoker, he's run into some trouble with the law, with arrests for possession in 1974, 1984, 1994, 2006 and 2010. That series of joyrides made him an activist for legalization; he's co-chair of the advisory board of the National Organization for the Reform of Marijuana Laws (NORML).
An outsized character, Nelson was made welcome on the big screen, too. You can catch him in "The Electric Horseman," "Honeysuckle Rose" (where "On the Road Again" comes from), "Wag the Dog," "Half Baked," and "Swing Vote," to name just a few. He'll also be in Woody Harrelson's upcoming "Lost in London."
If all that isn't interesting enough, Nelson has a martial arts black belt, his own Sirius channel(s), and a co-host role of a TV interview show with Dan Rather. He says he's wrecked hundreds of cars, and once smoked weed on the White House roof (during the Carter administration). He's been married four times and has seven children, living mostly in Maui, where his neighbors include Kris Kristofferson, Woody Harrelson, and Owen Wilson. His favorite guitar, Trigger (a Martin N-20 Classical), which was saved from his burning ranch in 1970 and stashed away in hiding in the '90s so the IRS wouldn't find it, has its own page on Wikipedia.
Don't just take our word for it, he's written four books himself, and they're funny. (He's an even better joke-teller than a golf player.) Publishing credits include two memoirs, Willie: An Autobiography (1988) and My Life: It's A Long Story (2015); his happiness guide The Tao Of Willie, and Roll Me Up And Smoke Me When I Die, a kind of scrapbook of personal pics and stories.
Always making friends and influencing people, Nelson's still collaborating into his 80s, with folks like T Bone Burnett, Sheryl Crow, Cyndi Lauper, Toots and the Maytals, Rosanne Cash, Norah Jones (who named one of her bands the Little Willies), Mavis Staples, Asleep at the Wheel, and Snoop Dogg.
The next adventure is selling marijuana products (in legal states) — "I've bought a lot of pot over the years, and now I'm going to sell some back," he says.
If you're not already a fan and want to do some listening, don't waste time, Nelson's lungs aren't in the best shape. His discography is ridiculous — 72 studio albums, 10 live albums, 37 compilations, 2 soundtracks and 27 collaborations — but start with Red Headed Stranger (1975), Teatro (with Daniel Lanois and Emmylou Harris, 1998), The Essential Willie Nelson (to save time, 2003), and for a great collaboration, Two Men with the Blues (with Wynton Marsalis, 2008).
Whew. Now, that is a life lived, and on his own terms. Willie said f*** the rules and defined outlaw country. He made it okay to be a freak, not just in country music but in life: His fans include as many blue-haired ladies as bearded hipsters as rural Republicans. And for that, for his songs, for his sweet and shaky voice, and for his rebel soul, Willie Nelson is an FUV Essentials artist.
More:
Willie Nelson: Words and Music 2012
Listen
#FUVEssentials: Willie Nelson (Spotify playlist compiled by FUV's Rita Houston)